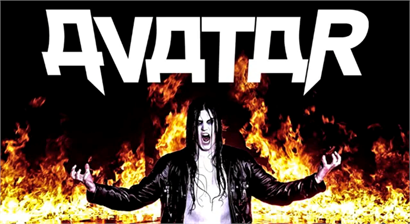 AVATAR RELEASES FIRST SINGLE, "LET IT BURN" NEW RECORD DUE OUT IN U.S. February 14, 2012
AVATAR have released the first single from their upcoming new release, "Black Waltz". NOISECREEP has the exclusive HERE.
The band recently signed a record deal with eOne Music for North America. Their latest full length "Black Waltz" will reach US shores on February 14th, 2012. Pre-orders are available via iTunes.
The band has been making waves in Europe with multiple appearances on festivals like Sweden Rock Festival, Metalcamp (Slovenia) and Metaltown (Sweden). AVATAR has supported acts such as Helloween, In Flames and Megadeth over the years as well.
AVATAR shot a video for the title track "Black Waltz" which can be seen HERE. Directed by Johan Carlén and shot in Sweden's largest amusement park along side the notorious American circus side-show act, Hellzapoppin the video no doubtably speaks for itself.
Or, as FEARnet states, "It's the most fun you'll ever have with a condom and a power drill!"
AVATAR is: Johannes Eckerström (vocals) – Jonas Jarlsby (guitar) Simon Andersson (guitar) – Henrik Sandelin (bass) – John Alfredsson (drums)