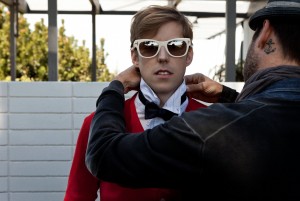 "Truthfully, I'm about to take a pretty good long break.  I finally got out of Los Angeles and moved back to the beach and in this period where I'm writing and recording and experimenting and just having fun bring back in a place where I can see a lot of people I haven't caught up with in a while.  So it's kind of going to be a moment of reinventing and thinking of the next thing."
The beauty of festivals is the musical diversity and checking out "people & things" you wouldn't otherwise get to experience.  This year at Soundwave Festival, Jacks Mannequin certainly epitomise that, featuring piano playing singer songwriter Andrew McMahon and their brand of piano laced pop rock.  Having toured Australia in early 2011 for a series of acoustic performances, 2012 will see Jacks Mannequin returning to play a bunch of songs from the stellar new release People & Things, the third release from Jacks Mannequin, as well as play a couple of Soundwave sidewaves with Relient K and Dashboard Confessional.
We chatted to Andrew a few days ago about funnily enough, "people & things" and everything in between….
So firstly, People & Things is your most recent CD release, for those that haven't yet heard it, but are familiar with your past releases, how would you describe and compare?
For me, it's certainly a record as far as sound goes and production, it's a little bit of a departure.  We certainly approached it differently in the studio and I think it's a pretty honest representation of the Jacks Mannequin live sound.  We went in there and pretty much recorded with myself, Bobby and Jay, sort of the three original live touring members of Jacks.  We kind of cut all these songs together as a band and pieced together the best takes and then did overdubs to that.  I think from a sonic perspective it's a much more honest representation of what people see when they come out to a Jacks Mannequin show.
As far as writing and recording for the album, where did a lot of this take place?
I was living in Los Angeles at the time and we were recording in a town about 45 minutes out of L.A called Valencia.  We worked with a guy called Jim Scott, he was sort of the engineer for Rick Rubin on Red Hot Chilli Peppers Californication, Tom Petty's Wildflowers, he also co-produced some of the Wilco stuff.  So we went out there with him to really capture the bands sounds and try and do what he does best and get a band in a room and get that down in tape.
Given the changes you described above with the recording process, did you find that you also wrote differently this time around to really try and emphasis that "band" sound?
Well I think the big difference with the writing was I was really methodical with the writing and took a lot of time.  I spent probably about a year writing the record itself and demoing it and putting it together.  So when I came to the band a couple of summers ago and said lets put this together, there was kind of an outline for the record and how it would sound and feel.  We took that outline and reinterpreted it together as a band, so I think it was more methodical in a sense of how the songs were written and came to the band to be played.
When it comes to songwriting, what do you feel are some of the key things that must be present in one of your songs?
That can change dramatically, depending upon the song and what it calls for.  To me, the number one thing about any song is that there is some line of truth and honesty that runs through it.  I've grown up loving singer songwriters and people who are fairly confessional and tell stories in their songs or at least have these relatable ideas that can connect with people.  I think anytime I set out to record a song with the band the goal is to find that essence of the track, the thing I sat down at the piano and wrote at some point, because I was really feeling something and saying, does that song capture that emotion?  So that's what I really look for in a song?
How much do you feel your song writing style has changed over the years, if you go back to the Something Corporate days, to say now?
There are certainly constantly changing and evolving methods with how I go about writing a song I guess, but at the core of that is really just the same thing that's always been there, which at some point in the day you feel this rush of energy or whatever that you've got to sit down and write.  I think to me, the best of my music that I've written over the years has always been predicated upon that urge and that "oh my gosh I've got to sit down at the piano" and put a song together.  I think in a lot of sense, that hasn't changed.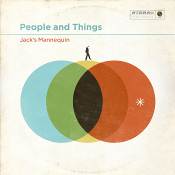 On this album you collaborated with Matt Thiessen from Relient K, how do you find collaborating with others and I guess specifically with Matt on this album?
This record was the first time I've really done that on an album of my own.  I think a lot of that stemmed from having done it with other artists and writing for friends and with friends for their records.  I found myself really enjoying it and figuring out this new adventure and using a new producer or working more closely with a band and the studio.  Knowing that I'd planned on calling this record People and Things it became this thing of let's get a couple of close friends in a room and see what happens when we write a song together.  Matt and I, we've been friends for a while now and had always talked about it, so I think when it happened, we were stoked we both had so much fun making the songs.
So with People & Things having been out for a while now, I would assume that a few of the new songs will make up the setlist here for Soundwave?
It's been amazing as it makes writing a setlist a kind of adventure.  Every day I wake up and think, I'm going to try these songs in this order and having three records to pull songs from and noticing from this last tour, seeing how well things fit together in so many different shapes and putting certain songs up the front or in the middle and moving songs around the setlist.  It's been really inspiring to see all the songs working together.
Moving onto performing at festivals, playing a large festival and particularly one like Soundwave which is dominated by heavier bands musically, do you find you project yourself and your music differently, than say at a smaller club type show?
Well look, on a festival were there's a lot of really good metal bands, I'm certainly not going to play a set of ballads (laughs).  I think without a doubt there's going to be some kind of effect, but you want to keep a balance to make sure you give your fans what they want too.  Generally on a festival set we try and come out and have fun and play songs that connect with people, not only your own fans but sort of connect with people on an instantaneous level and have a lot of energy and feel good about coming off of the stage.  With a festival yeah a goal is to obviously blow all your fans away, but it's also to make a whole lot of new fans that wouldn't have heard you if they hadn't of shown up to see their favourite band.  We will certainly be dedicating our performance to a pretty kick ass rock show, without a doubt!
Then the way things work out, you've got sell out shows of your own with Relient K who we spoke about earlier and Dashboard Confessional, it really is a small world at these festivals, even thousands of miles away!
The great thing about festivals is you can meet like minded people. Musicians can be a bit guarded when it comes to these situations, but the best way to handle it is just to be stoked to be surrounded by so many talented people in one space and make sure you do your best to head out to all the after parties and wherever people are hanging out and congregating so you get the chance to talk to people about their journey.  It's a bizarre life you know, to find a whole lot of people that live it, to be in one confined space, is also a pretty bizarre and special thing and I'm certainly looking forward to it.
You were out in Australia, what, about a year ago?  What are you looking forward to most about being back?
I've got to be honest, the country as a whole really does it for me.  I always make the joke when I come out there that I do some of my best thinking in Australia.  It's funny because it reminds me a lot of home, California, but I really like the people and the mentality and the vibe and energy of people from Australia, there's just something I connect with.  For me, it's going to be about playing a show and just trying to leave everything on the stage, then going out for a beer in whatever city we get to be in that day and meeting people and try and make some new memories!  I think that's what we always try and do when we travel.
So I have to ask, what drew you to the piano, was there a defining moment/ memory?
I had a buddies Dad teach me how to play Whole Lotta Shakin Going On by Jerry Lee Lewis.  Up until that point I always had a piano in the house and picked out melodies from pop songs and kind of had gravitated towards it, but that's the first time that anybody had taught me how to play like a piece of music that I was really into.  From that moment forward, I lost a family member who I was really close with and around about that same time that I learned to play, was when I started writing music.  From 9 years old growing up in this old house in a town outside Pasadena, just playing from the time I got home from school to the time they made me go to bed.
You have contributed a track to the Songs Of Bob Dylan – Chimes of Freedom release, how did that all come about and did you get to choose Mr Tambourine Man?
I'm a fan of what the Amnesty International folks do, I think what they do is really important and raising awareness about human rights violations and I think they just do an amazing job and do some amazing projects.  The last one I got to do was God by John Lennon which is one of my favourite songs and they was such a positive experience.  When they came back and said they were working on the Bob Dylan one, I grew up like most songwriters do, as a fan of Bob Dylan, I jumped at the chance.  I threw my cards in the ring pretty early for Mr Tambourine Man and they let me do it, it was a pleasure and a lot of fun.
After Australia, you have some shows in Japan, then what's on the horizon for 2012?
Truthfully, I'm about to take a pretty good long break.  I finally got out of Los Angeles and moved back to the beach and in this period where I'm writing and recording and experimenting and just having fun bring back in a place where I can see a lot of people I haven't caught up with in a while.  So it's kind of going to be a moment of reinventing and thinking of the next thing.
Well we shall wait and see what that next thing shall be, when it shall be…
Well I'm excited for whatever it is and I'm definitely looking forward to getting out and seeing you guys, so thank you for taking the time!
Essential Information
From: USA
Band members: Andrew McMahon, Bobby Anderson, Jay McMillan
Website:jacksmannequin.com
Latest release: People and Things (10 Feb 2012, Warner Music Australia)
Soundwave Festival 2012 Sidewave dates with Dashboard Confessional and Relient K
MONDAY 27TH FEBRUARY SYDNEY, MANNING BAR – 18+
www.ticketek.com.au / www.oztix.com.au
WEDNESDAY 29th FEBRUARY MELBOURNE, PRINCE OF WALES – 18+
www.ticketek.com.au / www.oztix.com.au / www.moshtix.com.au