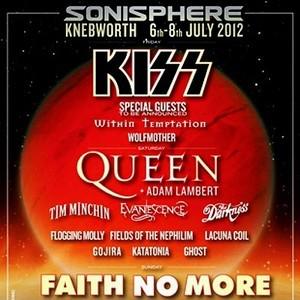 QUEEN RETURN TO KNEBWORTH PARK FOR SONISPHERE 2012
JOINED BY ADAM LAMBERT FOR UNIQUE ONE-OFF CONCERT
"Earlier on there were rumours of us splitting up, but I mean – f*** 'em – how can you split up when you have an audience like this."  Freddie Mercury. Knebworth Park, August 9, 1986
With a quarter of a century having since passed, rock legends Queen are to return to play a second concert at the venue that provided them with the setting for one of their biggest and most historic concerts.
Queen' Brian May and Roger Taylor today confirmed the band will headline the second day of this year's Sonisphere Festival  appearing  at the festival home ground  Knebworth Park, Stevenage, on Saturday July 7.
Knebworth was the setting for Queen's final concert with Freddie Mercury in August 1986.
May and Taylor also confirmed that for this special one-off concert –the band's only UK concert appearance in 2012 – they will be joined by US singer-songwriter  Adam Lambert.
Since first encountering each other during American Idol Season 8 in May 2009 where Lambert joined the band to perform We Are the Champions the two have repeatedly hinted at a future collaboration, most recently with Taylor telling Billboard Magazine ""He (Adam)has grown into a really great performer with an astonishing voice with a range that's great. We would like to work with him again. There's nothing signed just yet but …it could be very exciting."
After their brief meeting on American Idol, the potent chemistry between Queen and Lambert finally broke the surface when at the invitation of Queen's Brian May and Roger Taylor Lambert joined  them for the closing showcase at the recent  MTV Europe Awards where Queen were present to collect their Global  Icon award.
Their eight minute MTVE set ignited an immediate reaction across the internet with social network sites buzzing with excitement and campaigning for a more formal union between Queen and Lambert.  The Sonisphere 2012 Knebworth stage will at last provide an eager public the opportunity to see May, Taylor and Lambert delve deeper into exploring their very evident  artistic appreciation of one another.
Says Brian May :  "Judging by my incoming mail, this decision will make a lot of people very happy.  It's a worthy challenge for us, and I'm sure Adam would meet with Freddie's approval! And what better place to revisit, and walk those emotional paths than Knebworth ?  It will be a rush."
Lambert adds:  "I'm completely in awe of the Queen phenomenon. The thought of sharing the stage for a full set is so beautifully surreal. I'm honoured to be able to pay my respects to Freddie's memory. He's a personal hero of mine and I am deeply grateful for the chance to sing such powerful music for fans of this legendary band. I know the evening will be a huge milestone for me, and with the support of Brian, Roger and the rest of the band I know magic will be on display."
Queen's previous performance at Knebworth Park,  close on twenty-six years ago ,  August 9, 1986, was set up to be the glorious last stop for the band's monstrously successful Magic Tour which had spread out across Europe over eight weeks of that summer.  Over a million people had already paid to see them.
Now riding one of the highest crests in their career, Queen drew a record crowd of 120,000, their biggest ever UK audience.  Coming on the back of two stunning  shows at Wembley Stadium – to this day regarded as among their finest performances – anticipation was high.
Queen delivered the goods, winding up the crowd by arriving above their heads in a custom decorated helicopter, and then going on to perform a Queen textbook  set to a deliriously enthusiastic audience, winding up with an emotional 'God Save the Queen' and Freddie wishing his  audience 'sweet dreams'.
A baby was born during the show and departing fans created one of the biggest traffic jams in British recorded history.
What no-one in that Knebworth Park audience, and  as far as we know , not even the band could anticipate that day,  was that a new chapter in Queen's history was being written: after more than 700 concerts together,  what was taking place was the very last live concert of Freddie Mercury with Queen.
With the exception of an appearance in 1988 with Spanish operatic soprano Montserrat Caballe to launch Barcelona's successful bid for the 1992 Olympic Games performing their duet 'Barcelona', Mercury would never again be seen performing to a public audience.
On what will undoubtedly rate as one of this summer's most highly anticipated and emotionally charged concerts Queen's Roger Taylor says: "I remember Knebworth as being the most incredible gig, with the most amazing audience and the sound on stage was utterly perfect. It was a fitting last stand before a live audience for Freddie. It will be a real challenge to complete the circle by returning with Adam."
More on Sonisphere:
Shooting rockets. Blood spitting. Face Paint. Shiny Boots and utterly jaw dropping triumphant live shows: SONISPHERE is proud to announce KISS as Friday's headliner. With a reputation for being perhaps the most flamboyant and entertaining band on the planet, the American Kings will bring their stage extravaganza to SONISPHERE as their only European performance of 2012.
For the final, Sunday night, SONISPHERE KNEBWORTH is proud to announce the legendary FAITH NO MORE as the headline act on the APOLLO stage. Mike Bordin, Roddy Bottum, Bill Gould, Jon Hudson and Mike Patton are poised to set KNEBWORTH on fire when they close the last night at SONISPHERE with their only UK appearance in 2012. Of their set Gould comments: "It was over 2 years ago when we decided to reform and play those amazing UK shows. The good news is, we've had a couple of years to improve our skills; moving our song to error ratio down 3.5 full percentage points. Watch out UK, we're going to do it right this time!!"  
Joining the three superb headliners are some of the biggest names from the world of rock and metal including:
WITHIN TEMPTATION – only UK show of 2012, EVANESCENCE – only UK show of 2012, THE DARKNESS, INCUBUS – only UK show of 2012, MARILYN MANSON – only UK show of 2012, ANDREW WK – only UK festival show of 2012, REFUSED – only UK show of 2012, MASTODON – only UK festival show of 2012, THE BLACKOUT and more.
As well as the exciting names from the world of rock, SONISPHERE once again shows it's forward thinking nature, and invites musician/comedian TIM MINCHIN to headline the Saturday night on SATURN. Since his first appearance at SONISPHERE back in 2010 the TIM's success has gone from strength to strength, resulting in his first UK arena tour, his first West End Musical (Matilda The Musical) and numerous high profile TV appearances. After the astounding success of Bill Bailey's SATURN slot last year, TIM – with full backing band in tow – is bound to deliver a much talked about and highly memorable show at SONISPHERE.
Tickets on sale to the public from 9:00am Thursday 23rd February from www.sonispherefestivals.com / 0844 871 8803 priced at £145 for a weekend ticket (£180 with 4-day camping, £170 with 3-day camping), with a very limited number of day tickets available for £75.