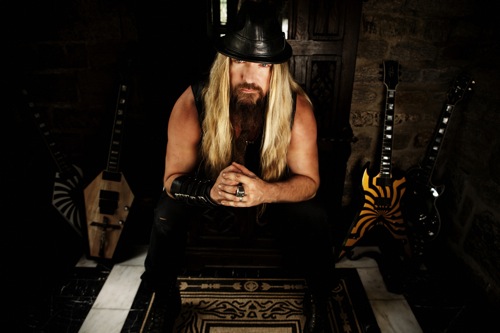 If you're going to be a doctor, you've gotta go to school and have a degree for that.  To be a plumber, or an electrician, you need to have a license.  But the music business it's like, who's your manager…"oh it's my buddy Jeff, or my buddy Scott".  So what did they do, go to Harvard or go to Yale…"no they didn't even graduate high school" (laughs)!
In Zakk Wylde, you have one of the most instantly recognisable figures in metal for over the past 25 years, whether aurally or visually.  Soundwave Festival 2012 will see Zakk Wylde's Black Label Society make a much awaited return to play for the Australian chapter.  We chatted with Zakk about returning to Australia, his upcoming book release and what's on the horizon for 2012…
Hey Zakk, thanks for taking the time to chat today.  So how are things going right now in the world of Zakk Wylde's Black Label Society?
Well we just got done rollin' with Judas Priest and then we went out and did some Guns N Roses dates and then the day I got home we recorded a Deep Purple song for a tribute record which we are mixing right now.  Then I've been doing some interviews with you guys for Soundwave, you know it just never ends, but everything's good man!
So just going back to the shows you did with Priest, how did that go given they are out on their farewell run?
Well the Priest guys I got to know personally when they did the Ozzfest a few years back.  They are all super cool dudes so that was a blast to be back playing with them.  And the GNR shows were awesome, it was great to see Axl again as I haven't seen him since 1995, so we just caught up and were laughing our asses off and talking about how ridiculous things are in the music business and other ridiculous, stupid stuff!  Axl was singing his ass off every night and the band sounded killer and the crew were all super cool people so that was an awesome tour as well.
Order Of The Black has been out now for what, nearly 18 months…what are your reflections on the album now, especially given you would have been playing a bunch of the songs live for many shows?
Well obviously it was the first album we did in the "Black Vatican", so we could actually test the studio out and see what it was capable of.  I couldn't be happier, sonically, I put that album up to anything I've ever done.  We can record, mix and everything from within the Vatican, so it's great.  Everyone was going like now you have got your home studio….well as far as I'm concerned, I think if you ask any band, no matter whether you record at Electric Ladyland or Abbey Road or your own home studio, or even anywhere out on the road, once you get into a recording studio, it's just a magic environment, it inspires you to write, record or play and do stuff.  To me it's not like because I have a home studio I'm going to be in there recording every day, I'll just put it on a tape recorder until we get the band together and we will do it for real.
Has there been any thought yet about starting work on a follow up to Order Of The Black?
Well right now we are talking about a live DVD, kind of an unplugged type thing, but with electric as well.  Like what we did for The Song Remains Not The Same where there's electric solos and stuff like that still in there.  Like if Pink Floyd did a stripped version of Comfortably Numb, Dave's still going to do the electric solo in it.  But we're talking about a string section, pedal steel guy, piano, some guests and the whole nine yards and with the band up there with acoustic guitars.
As you just mentioned, you released The Song Remains Not The Same earlier this year which contained some awesome re-workings and cover songs, what has the response been to that album?
The thing with Black Label is that as much as I love the heavy stuff, I love doing the mellow stuff.  With Zeppelin they will do things like Black Dog and Heartbreaker, but then also have Thankyou and Going To California and stuff like that.  As much as I love listening to heavier Sabbath stuff, I love listening to Elton John, Neil Young or The Eagles.  Usually what happens is when we are done blasting away on the heavy stuff, late at night or just to change things up I'll be sitting at a piano or pick up an acoustic guitar and start writing some mellow stuff.
You have recently joined the ranks of metal artists doing a Christmas album, with your release Glorious Christmas songs, can you share the story behind you releasing these tracks?
We did The First Noel on The Song Remains Not The Same and the people over at iTunes asked Zakk, would you be interested in doing a couple of Christmas tunes and I said yeah, no problems.  So before we jumped on the great Lizzy/Priest crusade, we went into the Vatican and said just Google up some Christmas songs and Sarah McLachlan did a bunch and I dig her, so I said lets check out some that Sarah did and YouTubed them and then I just learnt the chord progressions over what Sarah was doing and Black Labelised them.
Early next year you have a book coming out "Bringing Metal To The Children", how did you find the experience of writing a book, rather than writing a song?
Well the book is basically me and you, sitting around laughing our balls off talking about the music business and how ridiculous it all is.  When you think about it, you really don't need to have any great expertise in anything.  You don't have to have a college degree to be in the music business.  If you're going to be a doctor, you've gotta go to school and have a degree for that.  To be a plumber, or an electrician, you need to have a license.  But the music business it's like, who's your manager…"oh it's my buddy Jeff, or my buddy Scott".  So what did they do, go to Harvard or go to Yale…"no they didn't even graduate high school" (laughs)!  It's like it doesn't matter, that's why in the music and entertainment business in general you get this cast of characters that you can't even make up if you tried.  So it was like you and me sitting around taking about these ridiculous stories and I was like dude, we should write a book about some of this stuff.  Then it was me throwing my two cents and advice in there because if there's kids out there who are going to head into the doomsday that is the music business, then I can make their assrimming much less painful and pounding!  As far as the ridiculous high school garbage that goes on, it never stops, it's just an abundance of comedy that never ends!
In early 2012 you are headed back to Australia finally for Soundwave, it's been a few years now since you were last out here, it must be good to head back!
I'm looking forward to it and catching up with John Howarth our buddy down there, you know last time we were down there we were going out drinking every night after we had played.  Now it'll be like after the gig we'll go out and I'll head to bingo halls and play bingo (laughs)!
Where are you at as far as choosing a set list these days with such an expanse of material, particularly when time is an issue at these festivals!
Well it's not as bad as someone like The Rolling Stones!!  It's like where do you start and where do you end.  You can either make it a 14 hour show or….  What we try and do is cover something off each record and given you're excited about a new record, you also want to do a batch off stuff off the latest release, and so that's how we usually break it down.
Any mention of your own headline tour whilst you are out here?
Well I think we might be doing three headline shows outside of the festivals, but we will wait and see!
Speaking specifically about festivals, for you personally, what are the best and worst aspects of playing them?
You know it's cool to be playing in front of a tonne of people, but when you are playing your own show, you are playing in front of the Black Label family so it's a Black Label event you know, that's the cool thing about that.  When you are doing smaller things and it's all your people there, it's like a contained insane asylum with the energy and all of that.  Which one I like better, well that's like do I like to be in a recording studio or out playing live?  I love them both. The studio is a controlled environment and you're painting pictures and then live is just a free for all.  I've got to be honest with you, whether I'm playing in a bathroom stall, so long as people show up and we are having a good time, it really doesn't matter to me!
Before we finish up, anything going on in the guitar space that you wanted to give a shout out such as new signature models or anything?
Well with Gibson we are working on an all maple Les Paul Vertigo, Zakk Wylde Custom which I think they will be pushing out at the NAMM show this year.  I'm also putting together my next signature Marshall, Black Label Steel Curtain Marshall, so that's new in the works. Then I'm also working on a new pedal with the Dunlop boys.  Black Label is 25/8, 366 days a year, so there's always something going on!
So aside from obviously the visit to Australia in February and getting roasted in January, what's the battle plan for 2012?
We'll decide after the roasting, which I'm sure will be a lovely experience haha!  There are obviously the Australia dates, South America, maybe some dates in Europe and then the Unblackened thing, but you'll see what happens man!
You can read our review of The Song Remains Not The Same right here….
You can check out our interview with Zakk from 2010 right here…
Essential Information
From: USA
Band members: Guitar / Vocals – Zakk Wylde, Rhythm Guitar – Nick Catanese, Bass – John "J.D" DeServio, Drums – Chad Szeliga
Website: www.blacklabelsociety.com & www.zakkwylde.com
Latest release: The Song Remains Not The Same (2011, Riot! Entertainment)
SOUNDWAVE FESTIVAL VENUES AND DATES
SATURDAY 25 FEBRUARY – BRISBANE, RNA SHOWGROUNDS (SOLD OUT)
SUNDAY 26 – FEBRUARY SYDNEY, OLYMPIC PARK
FRIDAY 2 – MARCH MELBOURNE, SHOWGROUNDS (SOLD OUT)
SATURDAY 3 – MARCH ADELAIDE, BONYTHON PARK
MONDAY 5 – MARCH PERTH, CLAREMONT SHOWGROUNDS