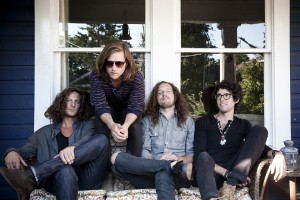 "[the] sound of a track that's been played on your favorite bar's jukebox for years." – MTV Hive
"gorgeous heat seeking harmonies…your new favorite Pacific Northwest obsession." – Alternative Press
"a wonderful mix of guitar-led intrigue, where Paul McCartney meets Crosby, Stills, Nash and Young." – Billboard
 Yukon Blonde Unleash Tiger Talk on March 23.
 The chatter has been non-stop about Yukon Blonde since they played a string of shows in Australia over the New Year period, and now the Vancouver four-piece have announced the release of their highly anticipated sophomore LP on Dine Alone Records on March 23, 2012.
The album's first single Stairway has been added to full rotation on Triple J and is now available for free mp3 download!
Over the past two years, Yukon Blonde has earned no shortage of acclaim for its hook-heavy brand of pop rock. From having their debut album Polaris Music Prize listed, to being talked about on the major US Network television show How I Met Your Mother, Yukon Blonde has been turning heads everywhere they go. But despite their love of vintage rock 'n' roll, the members aren't the kind of guys who cling to the past.
Despite the success of the group's previous material, the musicians were initially uninspired when they set about writing like-minded new songs. Instead, the members were drawn to the fast, punk-tinged tracks that Innes has been penning in his spare time. Danceable and unrepentantly poppy, these new tracks evoked late-'70s/early-'80s post-punk and drew inspiration from artists like the Buzzcocks, Ramones and Talking Heads.
After an intensive three-week writing retreat to a cottage in British Colombia that saw the band pulling twelve-hour days, the band hunkered down in the studio with Colin Stewart (Black Mountain, Ladyhawk). Eschewing the analog tape of their past work in favour of a crisp digital approach with synthesizer flourishes, the band agonized over tones and meticulously crafted 15 new songs.
Check out our interview with Yukon Blonde right here…
Tiger Talk is out via Dine Alone Records on March 23.
Tiger Talk Track Listing:
1. My Girl
2. Radio
3. Stairway
4. Iron Fist
5. Oregon Shores
6. Six Dead Tigers
7. For LA
8. Breathing Tigers
9. Guns
10. Sweet Dee
 Yukon Blonde: http://yukonblonde.com/