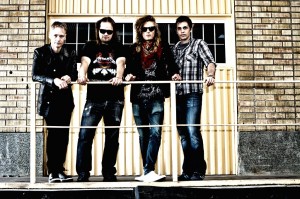 Official Bio: "The Rockford Heroes is a hardrock/heavy metal band who managed to find a sound which is both unique and still very natural and easy to listen to. No matter if you like the very early hardrock from the end of the 60s, the more intricate from the 70s, the polished from the 80s or modern rock bands, The Rockford Heroes will have something to offer your. This is the essence of rock history, concentrated in one single band.
The band was founded during autumn 2010 by Jonas Arvidsson (guitar) and Dan Hultstrand (sång). Jonas, previous guitarist in VII Gates, wanted to do something more complete, and found that the so far unknown super talent Dan wanted the same thing. After a few demo recordings to show the music, drummer Marcus Johansson and bass player Pekka Kiviaho were recruited as well, thus formed a complete line-up.
During Spring 2011, the band did some intense rehearsal and recording sessions. The first EP "Light scares" was released in July 2011 and consists of newly recorded versions of the first demo songs. Another EP as well as two singles are planned for the spring 2012."
Let's start with the basics first, when did the first band get together and how would you describe the music of The Rockford Heroes?
The later part of the question would have been much easier to answer in Swedish, where we have the term "hårdrock", which probably could include everything from the heavier side of The Beatles (like "Helter Skelter")  to the most extreme Norwegian black metal.  But as far as I know, there is no real translation for that.
But I guess you can call everything we do some kind of rock music, usually on the hard and/or heavy side.  Everything from AOR to heavy metal, including the different meanings those terms have had over the decades.
If it's ok to do some name-dropping, I guess I will mention a couple of our common favourite artists which might help; Rainbow, Queen, Styx, Whitesnake, Talisman, Deep Purple, Rush, Bon Jovi, Kansas, Led Zeppelin, Thin Lizzy, Queensrÿche and so on.
Dan and me have known each other for about 2.5 years.  Got together through some Internet service for music ads, and found out that we had a lot in common. First played with some other guys for a little bit for less than a year, but it wasn't until we found Marcus in December 2010 things really started to feel right.
What was the inspiration behind your band name?
Jim Rockford from "The Rockford Files" of course! 🙂
Can you introduce each member of the band and give us a rock 'n' roll fact or myth about each?
Marcus is the drummer, and that kind of drummer who just like Keith Moon would have preferred to have his drum kit at the front of the stage.  Very energetic and honest guy who learns songs faster than any drummer I ever played with.  At his second audition for the band, he had one hell of a hangover and spent the time between the songs lying in a foetal position on the floor or talking to the toilet.  But his playing between his visits to the floor and the toilet was just as excellent as ever.
Dan is a singer who could hit virtually any note out there and hold it more or less forever.  That's definitely a freedom when you are writing songs, never having to worry about the key or the range of the melody.  There have been rumours that he didn't study on MI, but rather had an operation performed where they added a bio mechanical nano-based pitcher to his throat.
Pekka plays bass and as are most bass players, he's very good at making coffee. We actually don't know much about him, but the fact that he is from Finland and still talks a lot is a mystery enough.  This might be a unique combination, never heard of anything like it before.
Jonas, me, play the guitar (and some keyboards as well), addicted to dark chocolate, audio books and Italian cars.  Always walking on the edge between being very active and go-ahead with a lot of ideas and being considered as a dictator.  Hopefully usually the first thing is a lot more common.  Finding a rock'n'roll fact about me might be somewhat hard, since I don't have any tattoos, never tried cigarettes nor snuff, not even coffee, and don't like beer and wine. Have nothing against alcohol though.  But I prefer when it not tastes like it, like with good cocktails.
The respective musical backgrounds of the band members that make up The Rockford Heroes are rather different, have you found this diversity to be a positive thing in developing the intended sound and style of the band?
Most certainly! As it is now, you guys have not heard that many of our songs, since we only recorded five of them so far.  But I, who have a little bit more insight, have noticed that our playing styles together makes a somewhat unique sound.  Which means that we can play any kind of song, and it would sound like us.  More or less at least.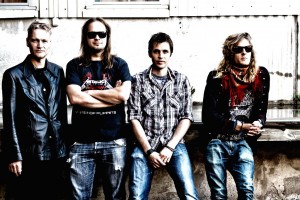 What or who inspires and influences your music the most, in both a lyrical and musical sense?
It could be anything, from the shape of a rock to the sound from the escalator on the subway station.  But usually from other music of course.  Not necessarily from rock music though.  Lyrically it can be anything that interests me, books, movies, and newspapers.  Or sometimes I just find a good title somehow, and build the lyrics around that.
In terms of your song writing, what do you consider to be the most important ingredients that need to feature in one of your songs?
The two most important are probably some kind of hook and unpredictability. But it's a balancing act, neither of those two have to be to obvious, it have to sound as a natural part of the song.
The sound of The Rockford Heroes does indeed have it's own uniqueness, in delivering the style of rock that you do, what did you think you could bring to the music scene that you thought might have been missing?
To be honest I don't think we really thought about it that way. I mean, there are so many great bands out there.  We just play what we like, and probably would have liked to listen to even if we didn't compose and perform the music our self.
Is the process of song writing something the whole band is involved in, or are there a few key contributors?
So far, it's been Dan and me who have written all of the songs.  Everyone agrees that this is the most efficient way to do things.  You don't have to spend that much time in the rehearsal room when you always have more or less complete songs to rehearse on.  But it's also important to point out that it's very common that we find things when we start to rehearse on the songs, which we change later on.  And of course Marcus and Pekka add their own personal touch to everything.
So far we have had very good communication within the band and a very prestigeless way of talking how to play/record/compose the songs.  Let's hope this honeymoon goes on as long as possible!
You have released your first EP "Light Scares" in July 2011, can we expect another EP release or even an album at some stage in 2012?
Since we started to record new songs this weekend, we should really hope so! 🙂 I mean, the second album with my previous band VII Gates took about 3 years to record, so you can never know for sure.  But our intention is to release 3 EP:s each year. Or whatever you call it those days…a bunch of songs.  No plans for an album, doesn't really apply to our way of doing things. But if someone gives us a lot of money to do one, we probably wont say no.
If you were a person in the crowd at one of your gigs, what five words would you walk away using to describe the performance you just witnessed?
"In 20 years, I can brag about being one of maybe 20 people who attended The Rockford Heroes first concert ever".
As you might have guessed, we have only made one gig so far. Which leads us into the next question…
 You hail from Stockholm, Sweden, how would you describe the live rock scene there at the moment…is there a thriving bunch of bands playing similar styled hard rock to yourselves, or is it mostly dominated by sleaze rock, AOR/melodic rock or the heavier end of metal?
There are some really good bands who have had great success, like HEAT, Crash Diet, Houston and Dynazty.  For the heavier bands, I don't really know.  I guess we are somewhere in between all those bands, some elements of glam/sleaze and AOR, but not too much so we would probably still appeal to the heavy metal fans.  But the live scene in Stockholm isn't that good. There aren't many places where bands can perform, especially not if you want to play your own songs.
With 2012 only being a few days old, here's a chance to gaze into your crystal ball. By the end of 2012, The Rockford Heroes will have:
1. Released about 300% as many EP:s as in 2011
2. Have about 500% as many likes on our Facebook page as in 2011
3. Made about 2000% as many gigs as in 2011
Essential Information
From: Stockholm, Sweden
Sounds like: Rock with elements of classic rock, AOR and hard rock
Band members: Jonas Arvidsson – Guitars, Dan Hultstrand – Vocals, Marcus Johansson – Drums, Pekka Kiviaho – Bass
Website: www.therockfordheroes.com
Latest release:  Light Scares EP (2011, Independent)