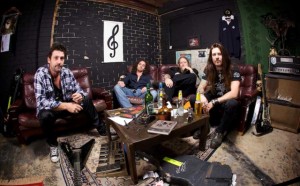 March 2012 will see The Poor bring the beast out of the garage and clear the cobwebs for a handful of select shows to kick start the year with their No Bullshit, Straight Up, Rock N Fucken Roll approach.
After some well received shows with ZZ Top and Rose Tattoo in 2011 the band is keen to get out and attack some of their own dates and possibly test drive a few new tunes..
This year will see the guys working on new product along with making their entire back catalogue available to new and old fans!
TOUR DATES
Friday, March 16 – Wheelers Hill Hotel, Melbourne
Sat, March 17 – House Of Rock, Palace Theatre, Melbourne
Fri, March 23 – The Sando, Newtown, Sydney
Sat, Mrch 24 – Clarendon Tavern, Sydney