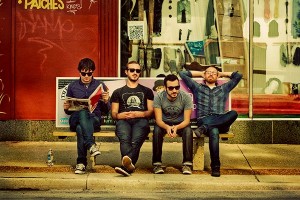 THE MENZINGERS BEGIN TOUR WITH RISE AGAINST IN THE U.S
TOURING AUSTRALIA FOR THE FIRST TIME AS PART OF THE SOUNDAVE FESTIVAL
New Track "Gates" Out Now
Up and coming punk rock band The Menzingers are premiering a brand new song from their forthcoming Febuary 17th debut, On The Impossible Past as they begin a new tour in the U.S with Rise Against and A Day To Remember. The band will be in Australia for the first time as part of the Soundwave Festival in Feb/March with sideshows supporting the legendary Bad Religion.
The track "Gates" is a soulful mid tempo punk anthem filled with powerful guitars, poetic working class imagery and a ton of heart.
Listen to the new Menzingers' song "Gates"  by going to: http://soundcloud.com/epitaph-records/the-menzingers-gates
The Menzingers, from Scranton, Pennsylvania, are quickly making a name for themselves with their rousing live performances. The new album was recorded at Atlas Studios with long time collaborators Matt Allison (Alkaline Trio, The Lawrence Arms) and Justin Yates. While it retains the liberating sound of the band's earlier output, stylistically it's an enormous leap forward for the band.
SOUNDWAVE 2012 DATES.
Brisbane, 25 February 2012, RNA Showgrounds
Sydney, 26 February 2012, Olympic Park
Melbourne, 2 March 2012, Melbourne Showgrounds
Adelaide, 3 March 2012, Bonython Park
Perth, 5 March 2012, Claremont Showgrounds
SOUNDWAVE SIDESHOWS
Bad Religion, Strung Out, Street Dogs, THE MENZINGERS
Melbourne, Monday February 27, The Palace
Sydney, Wednesday February 29, Big Top Luna Park