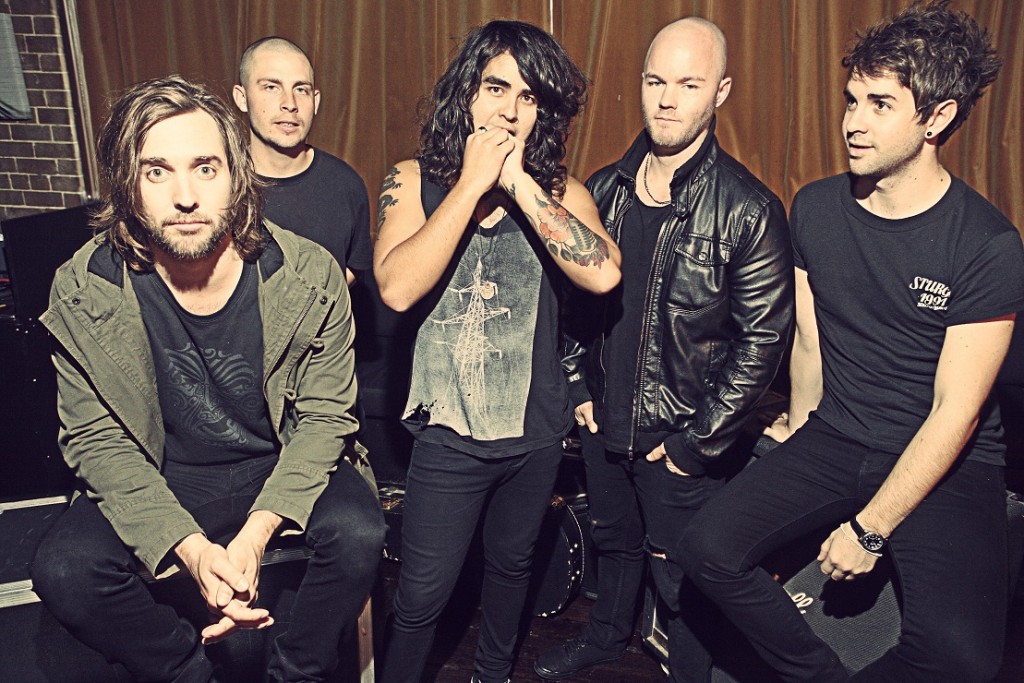 From Biography:  The journey began in 2007 when the boys hit the road with fellow Central Coast band Something with Numbers. Quickly building a loyal fan base further national tours followed with The Lazys sharing the stage with bands such as Against Me (US), Hollywood's Ms Juliette Lewis, UK's The Answer and Aussie bands such as Gyroscope, The Living End, Grinspoon and more. They also secured many of their own headline tours and made festival appearances at both Come Together and Coaster festival.  With an EP and debut album over the last couple of years, the band drew attention from the likes of Michael Chugg and MMM radio as well as their music being used on Fox Sports and throughout the 2010 NRL finals series,  and now the guys are firing up the crowds as part of their involvement with Brisbane Heat in the KFC 20/20 Big Bash Series.
They have just released a new EP called 'Temptation Never Liked You' and are about to embark on an Australian tour in support of it, so we got front man Leon Harrison to answer some questions for us about The Lazys and why they're one of our Best Things You've Never Heard…
Let's start with the basics first – for those that aren't aware of the band, what brought the band together and what is the inspiration behind the band name?
The band came together like any band does, jamming and having fun. The name came about because we were all on the dole at the time and it just stuck i guess.
Can you introduce each member of your band and give us a rock 'n' roll fact or myth about each of them?
Leon Harrison -Vocals- Loves a beer
Matt Morris- Lead Guitar- Loves a chunder
Glenn Williams- Bass- Loves to groom
Jay Braslin- Drums- Ultimate sportsman
Dom Sweeney- Rhythm Guitar- Has a baby face
You have twenty seconds in an elevator to try and convince someone to listen to your new EP, what do you tell them?
We are a great Aussie rock band who have just released a new ep. If ya like good honest music that actually has meaning take a listen, you won't be disappointed!
With a debut album out in 2010 and now the new EP 'Temptation Never Liked You' which is a balls out rocker, is this just a tease for what may be soon to come for a new album?
Thanks for that!! Yeh We are definitely writing a new album at the moment!
So is the second album in the works and when can we expect to hear it?
You can expect to hear it late this year I reckon!! Gotta finish writing it yet!!
In terms of your song writing, what do you consider to be the most important ingredients that make up a Lazys song?
I think honesty is a major compenent to writng a lazys song. I like to write about things that I believe in. Of course too, it has to have a great hook and have loads of passion/energy/substance you know what I mean.
Both lyrically and musically, what or who inspires/influences your music the most?
I draw from a lot of past and present issues within society for inspiration. It's always nice to draw from musical influences but at the end of the day you want to sound like 'you' not 'them'. Life experience is the big key I believe, to writing great music.
You're hitting the road this month in support of the new EP, and for those that haven't seen you play before, what can people expect if they come and see you live?
They can expect to see a great rock show and have the night out they have been craving!
Over your years as a band, you've scored some pretty big support slots with the likes of The Answer and The Living End, did this opportunity allow you to pick up any tips from these guys that have now helped The Lazys as a live band?
Yeh for sure, you're always learning no matter what you do in life. Its a great feeling to be part of something like that especially when the band you're playing with is one of your idols!!
Leading in to your fifth year as a band, over those five years what do you feel has been the biggest change / accomplishment for The Lazys?
Sticking together through the good and bad times.
Lastly, here's a chance to gaze into your crystal ball. In 2012, The Lazys will:
1. Play BDO
2. Tour with QOTSA
3. Wake up from the dream!!
Essential Information
From: NSW, Australia
Sounds like: Rock
Latest release: Temptation Never Liked You EP (2012).
Website: http://www.sonicbids.com/thelazys
'Temptation Never Liked You' available NOW on iTunes
 Check out our review of 'Temptation Never Liked You' here…
The Lazys – Temptation Never Liked You Tour Dates 2012
Friday 13th January – Entrance Leagues Club, Central Coast NSW
Tickets from Oztix 1300 762 545 www.oztix.com.au
Friday 20th January – Beetle Bar, Brisbane QLD
Tickets from Oztix 1300 762 545 www.oztix.com.au
Friday 3rd February – Sandringham Hotel, Sydney NSW – with special guests – GrimSkunk
Tickets from Zombie Dog Entertainment www.zombiedogentertainment.com
Saturday 4th February – Fitzroy Hotel, Windsor NSW – with special guests – GrimSkunk
Tickets from www.fitzroyhotel.com.au
Friday 10th February – New Market Hotel, Bendigo VIC
Tickets from Oztix 1300 762 545 www.oztix.com.au
Saturday 11th February – Cherry Bar, Melbourne VIC
Tickets at the door only
Friday 17th February – Spurs Tavern, Devonport TAS
Tickets at the door only
Saturday 18th February – Brisbane Hotel, Hobart TAS
Tickets from Zombie Dog Entertainment www.zombiedogentertainment.com