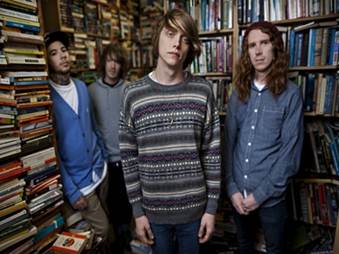 THE GETAWAY PLAN ANNOUNCE THE RECKONING TOUR
TO HIT EAST COAST SUBURBAN AND REGIONAL CENTRES
It was a special start to 2012 as The Getaway Plan spent NYE playing their third slot on Pyramid Rock Festival. Now as they prepare for their second stint on the Big Day Out national touring bill, they will also take time out of their already busy 2012 schedule with a suburban run in March.
Since the release of their long awaited sophomore album Requiem in November last year, The Getaway Plan have done their own capital cities headline tour and are now in the middle of an impressive festival run that will include Pyramid Rock, Big Day Out and Breath Of Life festivals. Following the festivals, the band will finally get a chance to play their new album to fans in suburban and major regional centres.
With first single The Reckoning taking off at commercial radio, and triple j spinning current single Flying Colours on rotation, it is an eventful time for the four-piece who recently reformed after a two year hiatus.
Each show is over 18s with tickets on sale from Thursday 19th January at midday. Good friends and incredible rock band Gatherer will be main support on all shows, with locals chosen by the venues to be added to shows.
UNFD and Premier Artists Present
THE GETAWAY PLAN
THE RECKONING TOUR
w/ Special Guests Gatherer
TICKETS ON SALE THURSDAY 19 JANUARY
Thursday 15 March  – Village Green Hotel, Mulgrave (18+) VIC
Tickets available via Ticketmaster – ticketmaster.com.au
Friday 16 March  – Ferntree Gully Hotel, Ferntree Gully (18+) VIC
Tickets available via Ticketmaster – ticketmaster.com.au
Saturday 17 March  – Pier Live, Frankston (18+) VIC
Tickets available via Ticketmaster – ticketmaster.com.au
Wednesday 21 March  – Clarendon Tavern Windsor, Windsor (18+) NSW
Tickets from the venue and bigtix.com.au
Friday 23 March  – Hornsby RSL , Hornsby (18+) NSW
Tickets from venue, iwannaticket.com.au & bigtix.com.au
Saturday 24 March  – Harbord Diggers, Freshwater (18+) NSW
Tickets from the venue, bigtix.com.au and moshtix.com.au
Thursday 29 March  – Kings Beach tavern, Caloundra (18+) QLD
Tickets available from Oztix – oztix.com.au
Friday 30 March  – Fitzy's, Loganholme (18+) QLD
Tickets available from Oztix – oztix.com.au
Saturday 31 March  – Runaway Bay Tavern, Runaway Bay (18+) QLD
Tickets available from Oztix – oztix.com.au
THE GETAWAY PLAN – TOURING NATIONALLY WITH THE BIG DAY OUT
Sunday 22 January – Gold Coast Parklands Gold Coast QLD
Thursday 26 January – Sydney Showgrounds Sydney NSW
Sunday 29 January – Flemington Racecourse Melbourne VIC
Friday 3 February – Adelaide Showgrounds Adelaide SA
Sunday 5 February – Victoria Park Foreshore Perth WA
www.Facebook.com/TheGetawayPlan
www.TheGetawayPlan.com
www.WeAreUnified.com