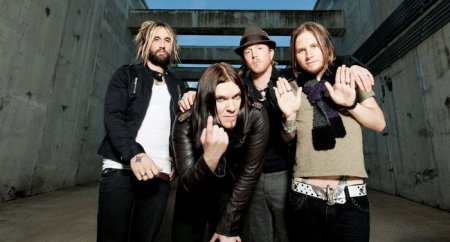 ROADRUNNER RECORDS WELCOME FLORIDA ROCKERS SHINEDOWN AND ANNOUNCE NEW ALBUM 'AMARYLLIS' TO BE RELEASED MARCH 23
Roadrunner Records is delighted to welcome multi-platinum rock band Shinedown to the family. In addition, Roadrunner and Shinedown are excited to announce the much anticipated release of their new album, titled Amaryllis.  Amaryllis will arrive in stores and at all digital retailers on March 23, 2012.
"Bully" is the first single to drop at radio on Monday 15th January 2012. The track is Shinedown's first new music since seeing all six singles from 2008's 'The Sound Of Madness' go to #1 on the US rock radio chart.
Check out the lyric video for "Bully" at www.shinedown.com
Shinedown frontman Brent Smith comments, "I've always seen Shinedown as its own entity – this living thing that's been growing and developing and evolving over the past 10 years.  During the recording, the vision of what Shinedown is and where it's going became completely clear.  'Amaryllis' is the manifestation of that vision, the centerpiece of what Shinedown is.  It reflects on everything we've done and where we're heading.  It's a message of empowerment, perseverance, and inspiration that I think speaks to fans that have been with us since the beginning as well as those who are just learning about who we are and what we're about.  I can't wait for the world to hear it."
Recorded at Cavallo's Lightning Sound studios outside of Los Angeles and a pair of Hollywood landmarks, Ocean Way Recording and Capitol Studios, Amaryllis sees Shinedown joining forces once more with multiple Grammy Award-winning producer Rob Cavallo (Kid Rock, Green Day), who previously collaborated with the band on 'The Sound Of Madness'. That album proved Shinedown's mainstream breakthrough, debuting at #8 on the Billboard 200 before spending 120 consecutive weeks on the chart.
Shinedown supported The Sound Of Madness with a wide range of live TV appearances, including performances on ABC US Jimmy Kimmel Live!, NBC's The Tonight Show with Jay Leno and The Today Show, CBS' The Early Show, and the 2010 NHL Awards show.  In 2009, the band received an American Music Award nomination for Best Alternative Rock Band.
Shinedown is: Brent Smith (vocals), Barry Kerch (drums), Zach Myers (guitars), and Eric Bass (bass).
Amaryllis is out on the March 23 through Roadrunner Records