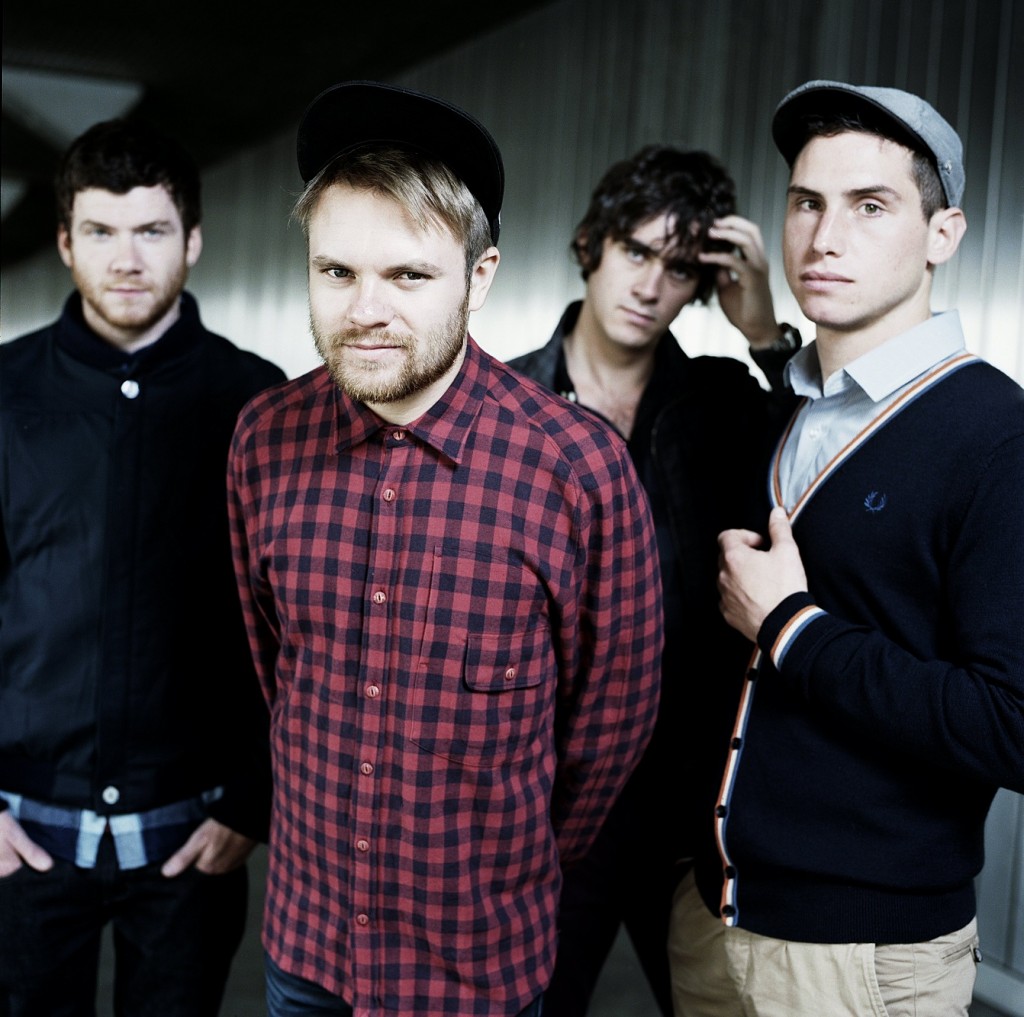 " The thing is when we've got new material out we want to play nothing but the new material, but obviously a lot of our older fans are gonna want to hear the bigger old songs that they know and love as well, so it's always a difficult one, especially at a festival where you only get a relatively short set time, you have to be very choosy at the songs you put in the set"
Enter Shikari have just released 'A Flash Flood Of Colour', their third album and first in three years, to celebrate they are about to bring their fusion of electro / hardcore / metal to Australian shores again as they head down for Soundwave in February to showcase the album.  As well as the festival they will also be playing their own sidewaves giving their fans a chance to catch them in a smaller venue but with the same amount of intensity you can expect at Soundwave.  Definitely not one to miss!
We chatted to Enter Shikari drummer Rob Rolfe about the new album, touring and what you probably shouldn't do on your first tour of Australia…
The new album has just been released and has entered the UK charts at Number 1, how do you feel when you hear news like that?
Overwhelmed, when we first heard it was Number 1 in the mid weeks, we couldn't really believe it.  People around us and our record label people are always going 'It's going to do really great, it's going to do really great' but we've heard that so many times where it gets to the point where you go 'yeah, yeah' and don't really believe it.  Then this time it actually happened and we're all sort of slapping ourselves trying to come back to reality and realise that we're actually number 32 or something, but no, it's still there and it's amazing, it's really humbling that our fans are backing us so much and it's doing so well and we felt so happy and pleased and over the moon about it to be honest.
What's the meaning behind the title 'A Flash Flood Of Colour'?
It's one of the lyrics from one of the songs called 'Warm Smiles Do Not Make You Welcome Here' off the new album and we wanted it to basically be a positive title, cause the last album 'Common Dreads' was a little darker and a lot of the themes on this album are very much positive in saying that we still have time to change things, we still have time to move forward and save ourselves and save our species and planet.  Now's the time to start working.  A Flash Flood Of Colour also we felt sort of rounded the album up nicely, it's a big flood of every kind of genre or think or sound you could think of and that's the best way we could visualise it really was a flash flood of colour.
In the three years since the last album, what was it that inspired the songs for this album?
Well everything really, our creativity never really stops, whether we're on tour or at home, we're constantly working making new stuff, whether it's our own personal stuff or Roderick or our Enter Shikari stuff we're constantly getting inspired by the new music that we listen to, Rou obviously gets very inspired lyrically by things he sees going on in the world around you every day that it's crazy that not more bands talk about.  So it's basically everything that we see and hear and around us that we take from.
Tell us how you got involved with using Dan Weller as your producer on this new album.
We were always a big fan on his band SikTh and he's quite a local guy, he just lives a couple of towns over from us and yeah, we just got in touch and we actually got him in to help us with the guitar sounds on 'Common Dreads.' We like the way he works, he's a really nice guy, obviously have massive respect for him from being in the band that he was in and just got in touch to do that and we found that we work really well together, we did a couple of singles 'Quelle Surprise' and 'Destabilise' together before we actually did the full album and we just thought that he brings the best out in us.
Now you're heading out here for Soundwave starting next month, can we expect to hear a heap of new material on this trip?
Definitely, absolutely yeah yeah, the thing is when we've got new material out we want to play nothing but the new material, but obviously a lot of our older fans are gonna want to hear the bigger old songs that they know and love as well, so it's always a difficult one, especially at a festival where you only get a relatively short set time, you have to be very choosy at the songs you put in the set.
You're also playing some side shows on this trip in Melbourne and Sydney, how if at all do you treat your own shows differently to that of playing as part of a festival?
Not really, to be honest any show that we ever play, we put 110% into it.  Other than the fact that the people at the festival could just be passing by, you know that there's a percentage of people at the festival that aren't fans, but at your own show everyone's bought a ticket to see you.  Whereas other people, you try and catch them out, try and stop people walking past and to get them to be interested in you and the only way we do that is by doing exactly the same thing that we do at our own show which is be our normal wild selves.  It gives us a good hour and twenty minutes to play with and those ones will have a bigger chunk of new material.
Are there any bands on the bill you're hoping to check out?
Yeah, the bill is actually awesome this year, I haven't seen it for a while, can you remind me who's on it? (I list some of the bands)  Slipknot I've seen a couple of times and they're always crazy on stage, and they're going to be wicked.  I know Dillinger Escape Plan are on it, they are a huge influence on us so that's going to be good.  We've actually got friends in 'LetLive', and 'Your Demise' who we've toured with and we're actually doing our sideshows with so it's going to be a nice little reunion for us three bands.
Playing here in Australia a few times over the bands career, do you have a fond memory of being or playing or being in Australia you can share with us?
Yeah, absolutely, first time we came over for Big Day Out, we were absolutely shocked and flabbergasted at the reaction we got, it's literally the other side of the world. We'd never been there before and there were people there with so much passion about our music and our lyrics and shouting the words back at us, it was really fantastic.  Touring Australia is one of the funnest things, the funnest places in the world to do, it's so relaxed and so easy going and nice weather and you have a lot of days off especially for the festivals like Big Day Out and Soundwave, there are quite a few days off.  You get to go out to the beach and relax and have BBQ's and just the people are always very easy going, very welcoming, very warm and I find really easy to get on with.  There's one specific one the first time we were over in Australia, we went a little bit too hard at the beginning, party wise.  I think it was the first night, the hotel had a roof top swimming pool and we'd all had a couple too many to drink and we were all jumping off a little roof area down into the swimming pool which was like a ten foot gap that we had to clear to not break our legs on the floor, so that was quite ridiculous, it certainly paved the way for the rest of Australian touring.
How long are you out on the road in support of this new album?
It's probably going to be a couple of years until we can come home again for any substantial amount of time.  We've got, the Australian tour is actually the first sort of proper tour, we've done a couple of little shows, like release shows this week, but our first proper tour will be Australia.  Then in March we're going to be doing a big European and UK tour and then April, we're going to be doing a huge North American tour and then, yeah in the Summer there's going to be a lot of European festivals which are always a lot of fun and just normal touring, I can't see it ending for at least 18 months.
Tell us a bit about your label Ambush Reality and how it all came to be…
Well basically we started up the label because we needed to release our music, but none of the proper record labels wanted anything to do with us, so to be able to release any kind of music we had to have a label and we had to make one.  At the time we had a publishing deal which gave us the ability to be able to set up our own record label, and then it came to the point to releasing our first album 'Take To The Skies' when actually a lot of the music industry were jumping on board and taking us out for meals and at that point they were all 'Yeah we want to sign you, we want to sign you…' It didn't really feel right to have done so much ourselves and then hand it over to a record label and give away so much of our music and our creation.  We were mothering it like it was our baby or something and it felt really wrong to give it away to someone so we just released it ourselves and it worked out great.
Are you hoping to have other artists represented on the label?
It would be great to be able to help out other artists, but at the moment we don't have the time or the money to focus on anyone but ourselves.
We'll wrap it up there Rob, thanks for your time and I look forward to seeing you at Soundwave.
I hope you enjoy it.  Thanks.
Essential Information
From: St Albans, UK
Band members: Roughton "Rou" Reynolds — lead vocals / programming / keyboards/  synthesizers / acoustic guitar, Liam "Rory" Clewlow — guitars /  backing vocals, Chris Batten — bass / backing vocals, Rob Rolfe — drums / percussion / backing vocals
Website: www.entershikari.com
Latest release: A Flash Flood Of Colour (Ambush Reality)

Sidewave show dates:
TUESDAY 28TH FEBRUARY – MELBOURNE, BILLBOARD– 18+
www.oztix.com.au / www.ticketek.com.au / www.moshtix.com.au
WEDNESDAY 29TH FEBRUARY – SYDNEY, THE METRO – LIC A/A
www.ticketek.com.au
Presented by Soundwave Touring