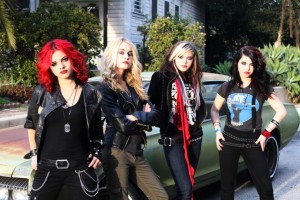 This time last year, L.A based, teenage all girl band Cherri Bomb hadn't even released their EP, so probably the last thing they expected to be doing in 2012 was travelling to the other side of the world and playing Australia's biggest rock and metal festival, Soundwave!
2011 was definitely a huge year for the band, releasing their EP Stark, touring with the Smashing Pumpkins, Foo Fighters, signing to Hollywood Records and playing some of the biggest festivals in Europe.
We had a chat with drummer Nia Lovelis about the year that has been and that year that will be.  The inadvertent encouragement of underage drinking at Melbourne's Cherry Bar, was unintended haha…
Hey Nia, thanks for taking the time to chat!  Now firstly, a little bit about the band, how long have you girls been together?
We've been together for almost four years!
Now you didn't originally all grow up in Los Angeles did you?
No, we were all from the East Coast and oddly enough we all moved here around 2004.
And then you all found each other and formed Cherri Bomb?
Yes that's right, we all found each other and we made the band in 2008!
How is the dynamic of having a couple of sisters in the band, with your sister Rena also in the band.  Did you ever talk about having a band together when you were younger?
Actually, I never really thought about that.  That's a great question!  It's great as we are really close and we are the rythym section so it works out really, really well.
It's not like a female version of Oasis's Gallagher brothers, with moments of fighting up on stage or out on tour haha?
(laughs) I'll just punch her in the face if it gets to that!
What are the musical influences in the band, are they pretty diverse?
We all have really different views on music and stuff.  I'm really into ambient stuff like Boards Of Canada and Aphex Twin and very kind of chilled stuff.  I also really like Foo Fighters and A Perfect Circle.  So I'm really into eclectic music.
In about 5 weeks you are headed out to Australia for Soundwave Festival which is going to be an amazing opportunity!
We are so excited for that!
Playing here in Australia was probably the last thing you expected to be doing this time last year?
That is true, it's awesome, amazing!
Had you heard much about Soundwave Festival prior to being on the lineup, which is Australia's biggest rock and metal festival?
No not really, we hadn't.  So have you been then?
Yes I've been the last three years, it's going to be a great day again this year.
So have you checked out the lineup, who are you excited to be playing with?
I'm really excited to see Bush and Marilyn Manson.  I also want to see Circa Survive, I've really gotten into them too.
You mentioned Bush, you are getting to play some sideshows with them also and Staind.
Yes we are!  We're excited to see Staind too!
So what are the expectations of playing here in Australia, what are you looking forward to doing down here?
Well I really want to see the Bridge Climb, have you ever climbed that?
No not me personally, I've got a small issue with heights haha!
Well how about AC/DC lane?
Yes definitely been there, that's here in my hometown Melbourne.  Actually you need to make sure you check out Cherry Bar which is in AC/DC lane!
Oh my god, we will try and check it out and everything!
What can we expect from Cherri Bomb down here, you have played a few big festivals now, how do you find them?
Were super excited about it and it will get our adrenalin pumping!  Every country has been different so far, America is really different to Europe, but they've all been great.
How would you describe your live show?
Well if you mixed Paramore and the Foo Fighters and Muse in a blender and the scratching sound that it makes, it would sound like us!
What would you say are some of your favourite things about playing those big festivals?
Well I've got to say the crowd, everything is really feeding off each other.  And of course the guys flashing their man boobs at us, is always fun!
So what would you say has been the biggest learning experience for you girls so far…..
I've got to say recording was really fun.  Throughout the whole time we've been bonding like crazy, we are all best friends and every experience we have is a bonding experience!
And getting the opportunity to tour with the likes of Foo Fighters for example,  that must have been an awesome chance to see how some of stadium rocks biggest bands do things, not to mention them being such a big influence on the band!
Yes they are.  Actually, one time right before the show we had dinner with them.  Besides being completely sweet, they have us a bunch of advice and really open with us and everything.
So you released your EP late in 2011, are there any plans for another release in 2012?
Well in Spring we are going to be releasing our album and heading out in tour in the US and hopefully Europe as well.
Where is the album at, have you finished recording now?
We've actually just finished recording it a month or two ago and now we are onto deciding the album name and album art.
So is it a similar style musically to the EP, or have you found your sound and style on the album?
Well we are going to try and surprise everyone with versatile songs and people will relate to it in a different kind of way.
Well Nia, it's been great chatting, hope you have an awesome time down here in Australia!  I plan on catching one of your shows with Bush and Staind!
It would be great to see you there Scott, thank you so much for the interview!
Essential Information
From: Los Angeles, USA
Band members: Julia Pierce-Singer, Nia Lovelis – Drums, Rena Lovelis-Bass, Miranda Miller-Guitar
Website: www.cherribombband.com
Latest release: Stark (2011, Hollywood Records)
Sidewave dates with Bush and Staind
MONDAY 27TH FEBRUARY SYDNEY, ENMORE THEATRE- LIC/AA
www.ticketek.com.au
THURSDAY 1ST MARCH MELBOURNE, THE PALACE 18+
www.ticketek.com.au and www.oztix.com.au