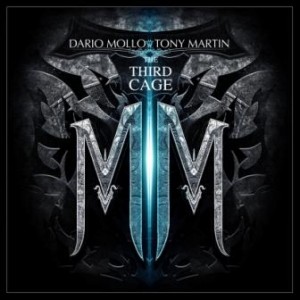 25 words or less: If you've been a fan of the past installments of Mollo/Martin or their past work, then this is a worthy addition to the collection…
So if the "/" in made you think that Mollo/Martin involves two people…well you are spot on!  Mollo/Martin is made up of Italian guitarist Dario Mollo and former Black Sabbath singer Tony Martin who had a couple of stints with Sabbath during the late 80's to mid 90's.  Back in 1999, Mollo and Martin joined forces to release the first The Cage album, and followed that up with another in 2002.  Fast forward to 2012…and here we are with The Third Cage. Speaking of the partnership of Mollo/Martin, Mollo himself explains: "As usual we are 50/50 partners".  I write all the music and Tony then contributes with the melodies and lyrics. We also try together different structures of the tracks and we rearrange them to better fit the vocal parts.  Then I go ahead and take care of the entire production of the album, tracking, mixing and mastering".  If you haven't heard of Mollo previously, then having worked with the likes of vocalists Glenn Hughes, Graham Bonnet and of course Tony Martin, then he must be doing something right.
For the most part The Third Cage consists of songs in a style of heavy riff inspired classic rock that treads a line between the likes of Black Sabbath and Rainbow.  Production, guitar playing from Mollo and the vocal performance of Martin can't be faulted.    Opening track Wicked World has a menacing feel to it and an accompanying video which you can check out below.  For me it's probably one of my least favourite tracks on the album, so persevere past this song to find the real gems on the album.  Cirque De Freak has one of the best chorus's on the album, a big massive hard rock song in the style of say a Lynch Mob.  With the real melodic feel on the tracks One Of The Few and Don't Know What It Is and the funk inspired Can't Stay Here, things are mixed up enough to deliver a bit of a respite amongst the epic tracks such as Wardance and Violet Moon, or the heaviness of Blind Fury. 
For those that have been a fan of the past installments of Mollo/Martin or even their other past projects, then there's no reason why you wouldn't find this to be a well worthy addition to the collection.  Otherwise, this album is probably destined to suffer the fate of many Frontiers Releases….released in a trio of albums overshadowed by a more prominent release, in this case Primal Fear's – Unbreakable.
Essential Information
From: Italy/UK
For fans of: The Cage, Tony Martin, Dario Mollo and classic metal
Release date: 20 January 2012
Record label: Frontiers Records/Riot! Entertainment (Australia)
Track listing:
Wicked World
Cirque Du Freak
Oh My Soul
One Of The Few
Still In Love With You
Can't Stay Here
Wardance
Don't Know What It Is About You
Blind Fury
Violet Moon