SET TO RELEASE NEW ALBUM PEOPLE AND THINGS FEBRUARY 10
TOURING AUSTRALIA IN FEBRUARY / MARCH WITH SOUNDWAVE
Jack's Mannequin is back. Andrew McMahon and his crew return with a new record, People and Things available in Australia on February 10.  The album debuted in the USA at #1 on Billboard's alternative rock albums chart and in the top 10 on Billboard's top 200 albums chart.
The Australian release of People and Things will coincide with performances at the 2012 Soundwave Festival.  Jack's Mannequin will also join Dashboard Confessional (Chris Carrabba) and Relient K for sideshows in Melbourne and Sydney.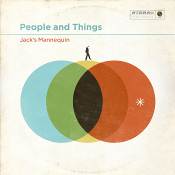 The new album delves into the joys and conflicts of the first few years of marriage, as well as living with someone for the first time. "Everybody wants to say it's all sunshine and roses, but when you start living with someone and you get married there's a whole growing pains stage, at least there was in my world, and I think a lot of this record was about that period of time."  First single My Racing Thoughts can be viewed as the catalyst of that theme.
People and Things marks McMahon's third studio release as Jack's Mannequin, following up 2005's Everything In Transit and 2008's The Glass Passenger. In 2009, Jack's Mannequin released the documentary Dear Jack, which followed Andrew's treatment and recovery from leukemia.
New album – PEOPLE & THINGS – out 10 February 2012

 JACK' S MANNEQUIN – TOUR DATES
Saturday 25 February – RNA Showgrounds, Brisbane QLD*
Sunday 26 February – Sydney Olympic Park, Sydney NSW*
Monday 27 February – Manning Bar, Sydney, NSW**
Wednesday 29 February – Prince of Wales, Melbourne, VIC**
Friday 2 March – Melbourne Showgrounds, Melbourne VIC*
Saturday 3 March – Bonython Park, Adelaide, SA*
Monday 5 March – Claremont Showgrounds, Perth, WA*
*Soundwave Festival
**Dashboard Confessional (Chris Carrabba solo) / Jack's Mannequin / Reliant K side show
www.facebook.com/jacksmannequin
http://twitter.com/#!/jacksmannequin