"HYRO DA HERO Is an undoubted star in the waiting" – Kerrang!
"Traditional rap fare bumps against raging Bad Brains-esque hardcore with a power few are currently harnessing" – 4/5 Rolling Stone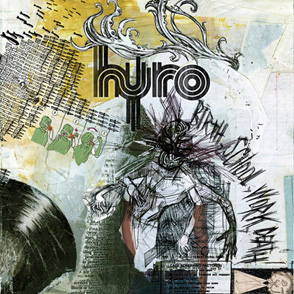 There are cycles in everything.  Seasons come and go. Trends pop and deflate. Careers rise and fall. Genres of music live and die. Once in a while, an artist steps up who doesn't quite follow the cycle. He doesn't pay heed to "What's cool." He doesn't give a shit about "Who's hot." He doesn't follow the zeitgeist but, rather, the zeitgeist follows him.
HYRO DA HERO is about to flip rap upside down, inside out and all around loading rock 'n' roll attitude into explosive, engaging and enthralling rap music resembling Nas fronting Rage Against The Machine.  This is evident on HYRO DA HERO's debut album 'Birth, School, Work, Death' with Rock Sound calling it "groundbreaking for any genre" and Blunt magazine touting the tracks "generational anthems".
However there is nothing quite like seeing HYRO DA HERO live, an enigmatic performer with a fiery live show "It all really goes down on stage. You need to hear and see this live." – HYRO DA HERO.
Check out our interview with Hyro Da Hero right here…
TICKETS ON SALE FRIDAY 27th JANUARY 9AM AEDT
MONDAY 27th FEBRUARY SYDNEY, CANDY'S APARTMENT 18+
www.oztix.com.au
THURSDAY 1ST MARCH MELBOURNE, THE LAUNDRY 18+
www.oztix.com.au

Presented by Soundwave Touring