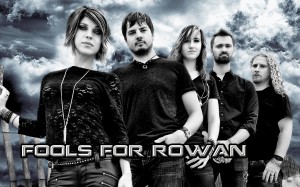 From Official Press Release: "Fools for Rowan, the Nashville based rock band, is set to release a new album and music video in 2012. It has been almost two years since the band has released new material. Fools For Rowan has written most of their record while on tour over the last year and recently started recording the new songs. In order to achieve the aforementioned goal, the group needs the help of their dedicated fans. The band has launched a Kickstarter campaign to assist in their efforts, which you can check out right here…..Fools For Rowan Kickstarter 
The powerhouse rock group, Fools For Rowan, is defined by their soaring vocals, powerful guitar licks and intense personal lyrics. The band has grown a large committed fan base partly due to the success of their first album, Twisted. Tied Up. Tangled.  The album's first single, "Burnt Around the Edges" received acclaim from the college-age demographic in both the U.S. and Canada.  In addition, the second single, "Dead" received spins on Top 40, College and Modern Rock radio. In addition, the video for the song was featured on Fuse TV.  Due to their zealous live performance, Fools For Rowan has had the privilege of sharing the stage with such artists as: Evanescence, Trapt, Halestorm, Sick Puppies, Gin Blossoms, Adelitas Way, Art of Dying, Tonic and Candlebox.
"It's been two years since our last album, so we're really anxious to get our new music into the hands of our fans," says lead vocalist, Erin Mullins.  Fans have until January 21st to help the band meet its goal.   As always, the group is looking ahead.  Fools For Rowan will continue to tour the U.S. in hopes of spreading the power of rock 'n' roll!"
And speaking of spreading the power of rock 'n' roll…the band are currently offering their last release Twisted. Tied Up. Tangled. as a free download from their website.  So head on over to www.foolsforrowan.com and check out what is a stellar album!
Thanks for taking the time to chat!  So first things first, with our Aussie based readers probably not familiar with Fools For Rowan, can you describe what the band is all about in a musical sense?
Fools For Rowan is all about energy, passion, and intensity!  Our music is very dynamic and holds every emotion or feeling you can think of.  Happy, sad, angry, love, danger.. you name it!  If you come to one of our live shows we are going to give it everything we've got and leave it all out on the stage.. blood, sweat, tears, and rock and roll!
You are currently in the midst of working on your new album and you have launched a Kickstarter campaign to help with this!  Can you update where you are up to right now with working on the new album, have you started recording?
Yes, we've started writing and recording a little bit for the new record!  Nothing is complete yet but we've started digging our heels into the recording process and it's gonna be awesome!!
Kickstarter is certainly an innovative concept that brings fans of a band to a whole new level of involvement and inclusion!  How have you found the process so far?
Kickstarter is a really cool thing!  It's not just asking for money or donations, etc.. it's allowing the fans to buy their own reward.  Music careers ultimately live and die with the fans so why not put our new project in their hand?!  It's awesome and our fans are awesome!
So if you were a Fools For Rowan fan considering pledging, which one do you think you would be wanting to pledge towards….surely the arm wrestle with Jordan haha?
Ha!  I think I'd choose the shopping day, just because I love to shop!!  But I'll take Jordan on any day 😉
When you first sat down to chat about writing and recording for the follow up to Twisted. Tied Up. Tangled, what were the general thoughts on what you wanted to do with this album musically in comparison to your first?
We want to make the new record reflect more of what our live show is like!  We want to make sure that you can feel the energy and the passion the way that you can when you're front and centre and an FFR show.. that's our main focus.
And as far as reflecting on the process you undertook for the writing and recording for Twisted. Tied Up. Tangled, what were some of the key learning experiences you are looking to capitalise on for this second album?
I think it comes down to writing what you love and just going with it in the studio.  If something unexpectedly awesome or different happens during the recording process, why fight it?  I think we've learned to just go with it and trust our guts.
Speaking generally, Twisted. Tied Up. Tangled has been out for around about 2 years now and you have done a stack of touring playing a bunch of those songs…what are your thoughts when reflecting on this first album now?
Honestly, when I think back on our first record it just makes me excited for the new one!  We have grown so much in all aspects that I just can't wait to see how that growth translates to the new songs and recordings!
Most of the songs for the upcoming album have been written whilst you have been out on the road… have you found that this has influenced the lyrical content of the songs/album?
Not so much the lyrical content, but the musical stylings maybe.  Because now we know more of what really works live, what we enjoy playing, etc.
In terms of your song writing, what do you consider to be the most important ingredients that need to feature in a Fools For Rowan song?
Crazy energy, dynamic, relatable lyrics, and the highest notes that I can squeeze out.. Ha!
If you think back to beginnings of the band, compared to right now, January 13, 2012, what do you feel have been some of the biggest changes and developments in the band?
We got a new bass player at the end of 2011 so that was a pretty big change and development, but it's going great!  In addition to that, our biggest developments have been on a personal level.  As the band's success progresses and we gain more momentum, I've found that it really pushes us to grow as musicians, artists, and just to become better versions of ourselves.
How would you describe the live performance aspect of the band, what are you like as a live band?
Two words.. Intense Energy!  That is the best way to describe our live show.  We really leave it ALL out there on the stage, we give it all we've got for our fans.  When the show is over, we are covered in sweat and have nothing left to give and we want our fans to feel that way too!
As far as the musical influences within the band, do you share a common thread of influences or do you all come from vastly different musical upbringings?
We all come from different musical backgrounds.  I think that really contributes to our live shows as well because we're all drawing from something different, which in turn makes FFR unique.
So as far as worldwide domination for Fools For Rowan, have you been aware of much international interest in the band as yet?…aside from this interview for an Australian media outlet of course haha!
We've been so blessed, we have fans from all over the world!  It's really incredible.  I don't know how they found us, but I'm sure glad they did!
So looking forward over the course of 2012, obviously at this point in time, is getting that new album finished the main focus at this point in time?
Yes!  Getting new music in the hands of our amazing fans is numero uno right now!!  We want to keep them happy!
Essential Information
From: Nashville, USA
Sounds like: Alternative Arena Rock!
Band members: Erin Mullins-lead vocals, Rachel Brandsness-lead guitar, Ryan Nanney-rhythm guitar, Jordan Cullen-drums, Andrew "Gibby" Williams-bass
Website: www.foolsforrowan.com
Latest release: Twisted. Tied Up. Tangled. (2010)