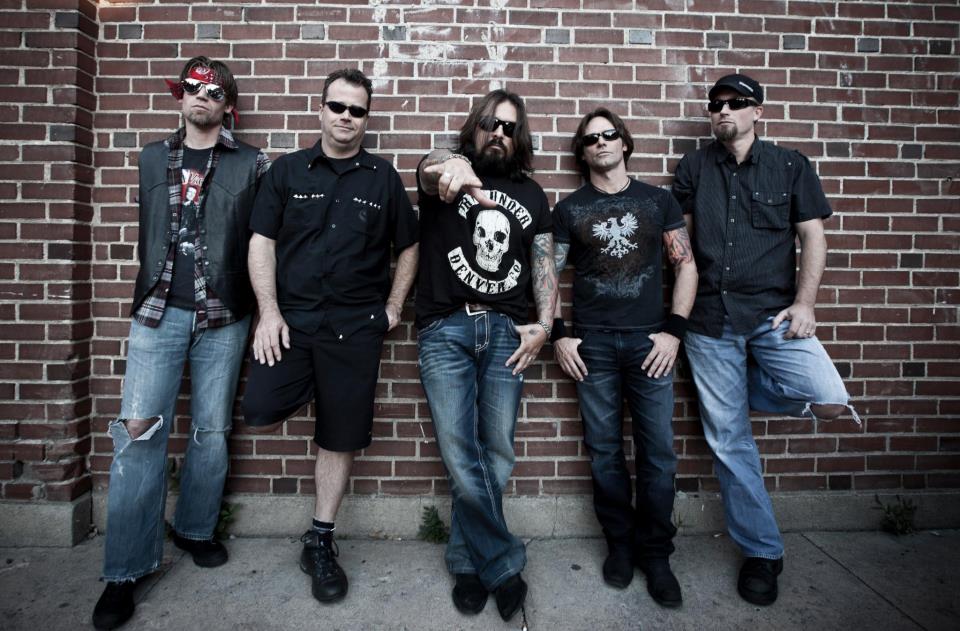 From Bio:  From the Mile High City of Denver Colorado comes DRUG UNDER, an explosive 5 piece hard rock/melodic metal band that got it start as the underground alt/nu metal band, SICK ("Seize The Day"). Featuring the dynamic musicianship of brothers Aaron & Eric Greenwall on bass & lead guitar respectively, progressive rock drummer Mike Crisler (former- Angelic Rage), rhythm guitarist Patrick Searcy & vocalist Christopher C. Romero, the band delivers its own brand of rock for a new era.
DRUG UNDER's 1st single, "Forgive & Forget" from its debut CD of the same name hits radio in January 2012.The band recently signed with Down Boys Records & Music Placement, the new label and music placement company launched by Warrant members Jerry Dixon & Erik Turner.
"This record is so explosive and well over due, Drug Under is for real!! It's rare to find such a heavy band that can mix power with excellent melodies and lyrics.  This is how music is supposed to make you feel " Down Boys Records.
We liked the sound of these guys and wanted to give everyone a chance to check them out, so we give you our newest Best Thing You've Never Heard…
Let's start with the basics first – for those that aren't aware of the band, what brought the band together and what is the inspiration behind the band name?
Brothers Aaron & Eric Greenwall,& myself (Romero) were in a band prior to DRUG UNDER, we were very underground, but had a little mainstreem success with a song called 'Seize The Day" back in the late 90's, the three of us went to the same highschool, but played in different bands growing up, but always had some sort of history. Aaron came up with name, it has no meaning as far as i know.
Can you introduce each member of your band and give us a rock 'n' roll fact or myth about each of them?
Aaron Greenwall – bass: this dude is the most underated bass player in the biz, hes was born a "rock star", hes Flea, John Taylor, John 5, Manson & Sid Vicious all in one.
Eric Greenwall – Guitar: Graduated from GIT, studied with Russ Parrish( Steel Panther), full on Star Wars geek!
MIke Crisler-drums: Is a full time pilot & flight instructor.
Patrick Searcy-guitar: Should be an action figure, I think hes George Lynch's long lost little brother.
Christopher C Romero-vocals: Full on fan boy, loves everything about horrro films &rock n roll,also a full time actor, appeared on screen with Andy Garcia & Christopher Walken, also had a cameo in Rob Zombie's" Halloween 2″
So, you have twenty seconds in an elevator to try and convince someone to listen to your new album 'Forgive & Forget', what do you say to them?
First I'd ask them "what floor?" Then I'd tell them Drug Under rocks, plain & simple!
You're signed to Down Boys Records, how did you get involved with them?
Ive know all the Warrant guys for many years my old band SICK recorded some demos with Jerry Dixon & we used to open for them alot here in Colorado back in the day with our old band.
What's the story behind your debut single and albums namesake 'Forgive & Forget'?
The song is basically about dealing with negative people/person..you know the type, no matter how much you give & give theyre never happy…im an optimist, the glass is always half full, never empty..
The album itself is killer and needs to be heard by many, many people, how long was it in the making and how would you personally describe the end result?
The deal came togther fairly quickly…but the band has been working very hard for a long time,in this day & age its all about the interenet, word of mouth… but in the end our live show is it what draws the fans in..high energy, swagger, confidence, not too cocky, but we grew up on the Crue,G n' R & Pantera… so you kind of see where our influences come from.
In terms of your song writing, what do you consider to be the most important ingredients that make up a Drug Under song?
I get alot of shit for wearing my heart on my sleeve, but the lyrics are real..Eric has a riff, then I get inspired by that & come up with melodies, then the lyrics.
Both lyrically and musically, what or who inspires/influences your music the most?
We listen to alot of different music, Mike is into VH, Sabbath, Maiden,me..Motley, Kiss,Rob Zombie, VH, Pantera, Aerosmith, Eric loves Kings X, & AC/DC Aaron is into Duran Duran & RHCP, Patrick is huge Van halen guy
You've shared the stage with everyone from Rob Zombie, Iron Maiden, Papa Roach, Staind, & Three Days Grace to bands like Whitesnake, Tesla, Ratt, Cinderella, Alice Cooper & Warrant, from these did any of the guys give you any advice and what have you learned from playing with bands of such calibre?
These guys are legends,and and every show means we have to step it up, but the one thing I really dig is these guys love thier fans, & seem very grateful to be doing what they do…
Touring wise, what have you got in the pipeline in support of this new album?
We hope to hit some festivals in the spring & summer…
Now for those that haven't yet seen you perform before, what can people expect from one of your live shows?
We leave it all on the stage… tons of energy & attitude!
Tell us about the soundtrack you've been working on to an independent movie called 'Killer Ink' and how you became involved with this project?
I teamed up with the guy hired to do the score, we got together & wrote the theme song for the movie, which then turned into my 1st solo record,Im also the star of the film, I play "Gage" a serial killer, its "Dexter" meets "Death Proof", very cool but cheesy in a good way , its a grindhouse b-movie…Peter Mayhew who played Chewbacca in Star Wars is in it, he plays my uncle in the film.
Lastly, here's a chance to gaze into your crystal ball. In 2012 Drug Under will:
1. Land a major tour
2. sell lots of records, uh I mean Cd's… yes Im old school!
3.Have a BBQ at Erik Turners house!
Essential Information
From: Denver, Colorado USA
Sounds like: Modern Hard Rock / Metal
Band members: Romero – Vocals, Eric Greenwall – Guitars, Aaron Greenwall – Bass, Pat Searcy – Guitars, Mike Crisler – Drums
Website: Drug Under Facebook
Latest release:  Forgive And Forget (2012, Down Boys Records Inc)
Check out our review of 'Forgive And Forget' here…