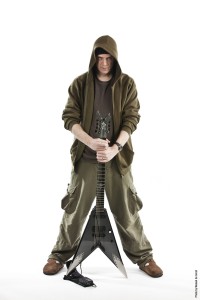 DEVIN TOWNSEND; one of the most admired and lauded figures in the metal world will be bringing his astonishingly deep and varied catalogue of mind-blowing music to Sidewaves in Sydney and Melbourne.
Devin Townsend has amazed, beguiled and occasionally baffled all comers in numerous incarnations spanning the extreme noise metal of Strapping Young Lad to the intricate melodies of Ocean Machine; Devin has had his hand in almost every genre of music, from industrial metal to progressive rock to ambient sounds.  All of these projects had one thing in common: GENIUS.
In his incarnation as DEVIN TOWNSEND PROJECT, 'Hevy Devy' makes his most grandiose musical statement with an extravagant conceptual quadrilogy showcasing his talents and diversity as a songwriter.  From the extreme metal to his more mellow work. 'Ghost', the final chapter of the quadrilogy is among the most celebrated creations of his career, a blissfully laid back opus. "Townsend has delivered on a level not previously imagined" – Metalinjection.net
Touted by Rolling Stones as "one of the 10 most important hard and heavy bands" acclaimed Swedish metal outfit MESHUGGAH have been leading the metal world with their ground-breaking approach to songwriting.
MESHUGGAH'S sixth studio album 'Obzen', a genre classic, sees them at their unrelenting and vicious best "having perfected their already unparalleled craftsmanship…it's a phenomenal record" – Lords Of Metal
With a new album 'Kooloos' due out March 2012, the metal world waits in anticipation of what the metal giants have in store. In the meantime don't miss your chance to witness "The most important band in metal"– Alternative press.
Driven by a desire to change and evolve, DREDG have been experimenting and pushing the boundaries throughout their 15 year career.  With their 5th studio album 'Chuckles and Mr Squeezy' DREDG is firmly cementing their place as one of rocks most innovative artists breaking new ground in an unexplored realm, "DREDG do pull the new approach off with real success" – Revolver Magazine
TICKETS ON SALE THURSDAY 26th JANUARY 9AM AEDT
TUESDAY 28TH FEBRUARY SYDNEY, THE FACTORY– LICENSED ALL AGES
www.oztix.com.au
WEDNESDAY 29th FEBRUARY MELBOURNE, THE FORUM– 18+
www.ticketmaster.com.au
Presented by Soundwave Touring