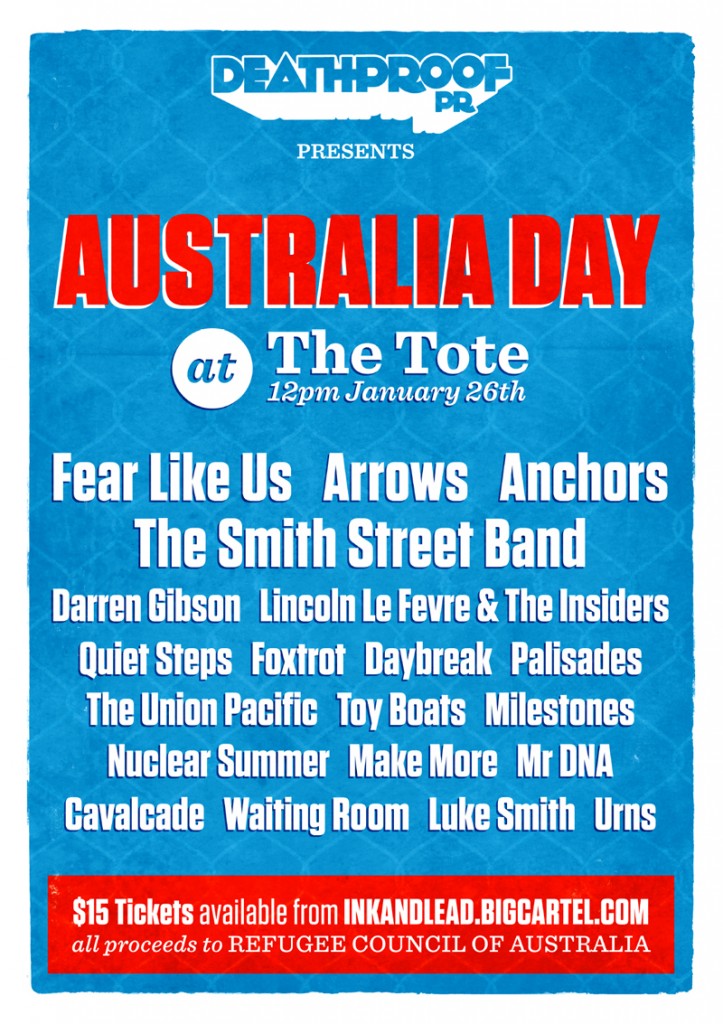 DEATHRPROOF PR PRESENTS – AUSTRALIA DAY AT THE TOTE- January 26, 2012 
Fear Like Us | Arrows | The Smith Street Band | Anchors 
Darren Gibson | Quiet Steps | Lincoln Le Fevre | Foxtrot | Daybreak | The Union Pacific | Palisades | Toy Boats | Milestones | Nuclear Summer | Make More | Mr DNA | Cavalcade | Waiting Room | Luke Smith| Urns 
Entering its second year as a non-profit fundraiser for The Refugee Council of Australia, over 20 bands from all over the country will come together at Melbourne's live music hub, The Tote, for another year of heat, noise, friends and good times!
Running from midday to midnight on Thursday January 26, the event returns in triumphant fashion after last year's inaugural Australia Day event raised more than $3000 for the Refugee Council of Australia.
Event organizer Tom Jenkins explains the impetus behind the cause;
"After seeing things like Cronulla riots happen and a general decline in positive activities surrounding Australia Day, it seemed like more people felt it was necessary to focus on being a drunken, racist asshole rather than acknowledge the horrible conditions asylum seekers are put through and what immigrants have contributed to Australian culture. 
"My friends and I were discussing how there could be a way counteract all this, raise a bit of money and generally have a bit of fun, and from there it grew into the very first Australia Day at The Tote." 
This year the event welcomes headliners ARROWS for the second year on the now historic Tote stage. Melbourne's folk rock legends FEAR LIKE US have also been confirmed as headliners.
Joining them, are two of Melbourne's most beloved up and comers, invigorating rock quintet THE SMITH STREET BAND and hardcore heroes, ANCHORS. All this plus a further sixteen local and interstate bands are donating their talents to this fantastic cause.
Tickets available now from inkandlead.bigcartel.com for just $15.