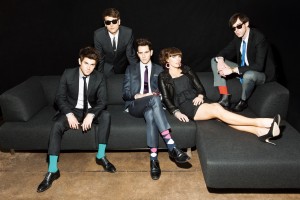 COBRA STARSHIP's front man Gabe Saporta once said, "No band can ever make more than three good records."
He couldn't have been more wrong. Nor could he have predicted just how much of his owns band's career would defy that philosophy. COBRA STARSHIP's 4th studio album 'Night Shades' has spawned some of their most acclaimed work to date and "screams 'party' right from blast off". – Rock Sound
With a string of previous sold out Australian shows in the bag, COBRA STARSHIP returns playing two exclusive Sidwaves in Sydney and Melbourne. "With true showmanship the band blisters through their set list of dance floor anthems leaving, as far as pop punk goes, one hard act to follow." – Rave Magazine
Described by Alternative Press as "Picture perfect up-tempo Pop Punk" FOREVER THE SICKEST KIDS have been amassing a legion of dedicated fans throughout the globe with their pop punk anthems.  On the back of their recent self titled album FOREVER THE SICKEST KIDS continue their meteoric rise leaving a lasting impression on fans.
With a platinum selling hit 'Jumpstart' under their belt and their infectious sing –along dance pop songs, THESE KIDS WEAR CROWNS are winning hearts and taking over the airwaves throughout the world.  As bassist Alan Poettcker enthuses "We want everyone to get on their feet and dance when they hear our songs". 
Earmarked as 'the future of rock' by smashing pumpkins front man Billy Corgan, KILL HANNAH pushes the listener into every emotional corner with hauntingly beautiful, dark and heartfelt reflections.  'Wake Up The Sleepers' KILL HANNAH's latest effort solidifies their status as true visionaries with Kerrang! calling it their "finest hour" 4/5.
——————————————————————————————————-
TICKETS ON SALE MONDAY 30TH JANUARY, 9AM 
MONDAY 27TH FEBRUARY MELBOURNE, THE FORUM – 18+
www.ticketmaster.com.au
 WEDNESDAY 29TH FEBRUARY SYDNEY, THE HI-FI – Licensed All Ages
www.thehifi.com.au
Presented by Soundwave Touring