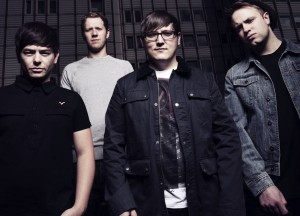 Hailed as the British flag bearers for the post hardcore movement ATTACK! ATTACK!  is the latest act from the UK blowing away audiences and creating a feverish buzz across the globe.
ATTACK! ATTACK! is set to continue their rapid rise on the back of their sophomore album 'The Latest Fashion' with Rock Sound declaring the album to "Blow the cobwebs from your speakers" and Killyourstereo.com calling it "beautifully crafted and pulled off with finesse".  It's Australia's turn to witness what all the fuss is about.
From the hallways of Las Vegas' Liberty High School to the cover of Alternative Press THE CAB has been on a wild ride that has no end in sight. The release of their sophomore album, Symphony Soldier, is receiving rave reviews with absolutepunk calling it a "Masterpiece" and Music Tone declaring it "a must have in any music collection".  This is just the beginning for THE CAB.
Masters of the art of story telling RIVER CITY EXTENSION embody passion and genuine ambition with their unique take on indie folk. Possessing high-spirited melodies with sincere ballads its easy to see why the world is captivated by RIVER CITY EXTENSION, with Paste Magazine calling their latest album 'The Unmistakable Man' "A kind of secret that can't be kept for long".
——————————————————————————————————
TICKETS ON SALE FRIDAY 3FEBRUARY 9AM AEDT
MONDAY 27 FEBRUARY MELBOURNE, THE ESPY – 18+
WEDNESDAY 29 FEBRUARY SYDNEY, THE ANNANDALE HOTEL – 18+
Presented by Soundwave Touring