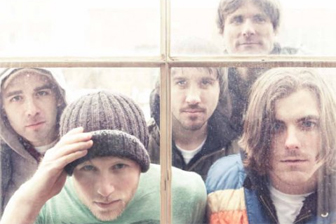 Having formed in 2004, Circa Survive have certainly grown to be a remarkably adaptable band, having played with everyone from My Chemical Romance, Coheed & Cambria, Thrice and festivals as varied as Vans Warped to Coachella.  But that's just all part of the appeal of Circa Survive and their much hailed live performances.
Hitting Soundwave Festival next month, we chatted with lead singer Anthony Green about the follow up to their last album Blue Sky Noise as well as what we can expect from them at Soundwave!
Hey Anthony, thanks for taking the time to chat!  So first things first, with 2011 nearly over, how has the year been for Circa Survive, it sure looks like a busy one of touring and working on the new record!
2011 was a great year, both for the band and myself.  Circa did some really great touring and I think we've made some really awesome decisions about who we are going to work the record with, songs we've just written in general and the first year of me being a dad in the band which has been a really positive experience learning how to adapt with that.  So it's just been a really fun, challenging year.
So whilst we are on the new album, what do you care to share with us at this point, are you in the early stages of writing, is there a fair chunk of recording laid down, are there general release dates earmarked?
Well I actually found out that my wife and I are going to be having another baby, so the Circa record we were planning on putting out in the Spring, we probably won't be putting out until somewhere around the end of Summer or the fall.  We are going to record it as soon as we get home from Soundwave.
Going back to the start, when you first sat down to chat about writing and recording for the follow up to Blue Sky Noise, what were the general thoughts on what you wanted to do with this album in comparison to your last?
Well it took us about two years to write that last album and we really went through gruelling processes and trial and error trying to figure out the best way for us to write.  This album, the writing sessions have been easier, because of the experiences and things we learnt writing the last album.  It was much less painless and I think we started trying to write these really big rock songs in the beginning, then they turned into almost trip-hop style, weird beats and experimental things for us, so there's a lot of interesting sounds now that we are toward the end of the writing cycle.  Just because of the direction that we've gone and having it change so much, it's hard to say what the album is going to sound like.
And speaking generally, Blue Sky Noise has been out for around 18 months now and you have done a stack of touring no doubt playing a bunch of those songs, what are your thoughts on the album?
I know as a group we were really proud of that album and personally it represents a chapter in my life.  I think all the records I end up doing will be that, one way or another.  I look back and listen to those songs and perform them and feel really confident that they represent what we are going through at that time.
How have you found the transition from an indie label, to now the experience of being on a major label for that album?
It's been a very positive experience, we never had to deal with any creative stifling or anything like that.  All the people were extremely helpful and it definitely seemed they understood the music and gave us the trust and creativity that we wanted.  I don't know necessarily whether it worked out for them, but I'm sure they had some rap artist that sold 8million copies which made up for the half million that they spent on our band!
If you think back to your very first album and where you were at as a band, compared to now, what are some of the biggest changes do you feel?
I think just like anybody in a relationship that grows up, you learn what risks are worth taking.  I think in the beginning of the band we took a lot of stupid, careless risks in places we didn't realize how it would affect us down the line. There were things that really hurt us as a band, but we didn't utilize a lot of the resources we had.  Now that we are older, we just realize that we want to make as much music as possible and to not waste any time.  Our communication has really changed a lot, we were a really passive/aggressive group before in the way that we were not trying to start fights with each other and we didn't really know how to talk to each other about art and creativity in a way that we weren't stepping on each others toes, or feeling arrogant about it.  I think we have developed a really sweet line of communication now where we can get our thoughts across and really listen to each other and have the song benefit from it.  It's now more about the song benefitting, rather than somebody not getting what they want.
So early next year you are heading back to OZ for what is your second visit isn't it?  Last time was back in 2007 with My Chemical Romance, things will be a bit different this time around being part of the massive Soundwave lineup!
I think I'm almost looking forward to watching shows, than I am playing our show.  It's hard to imagine that we have a following other there.  I mean I can barely remember what those My Chemical Romance shows were like.  The one thing I do remember is that the audience would dance and move around, even if they didn't know who you were.  It wasn't like something whether they were saying they liked you or not, they just came to the show to have a good time and they were having a good time to the music.  That made us feel really comfortable, even though I think we got booed in between every song!  While you're playing and to see the audience getting into it, even if it's a selfish thing for them, it makes us feel good.
I've never seen Meshuggah, so I'm really excited about that.  I love Mastodon, they're great.  The Black Dahlia Murder is also really great and I've never had a chance to see them.  Then there are also our friends in Saves The Day and Thursday that are always really fun to watch.  It doesn't matter how many times I've seen those bands, I've been seeing them since high school, I've just always been so impressed by them.  Dredg will also be great and there's just so many new bands that I've never even heard of that will also be great and get to make some new friends.
And you also have some Sidewaves you will be taking part in with Thursday, a band who you go back quite a few years with, as you mentioned just before
Yeah, I can't wait for those shows. We just did a couple of shows with them over in England before they even announced their break up.  They're such an energetic band and their catalogue is just full of different styles and influences.  It's a pretty entertaining show!
For those coming to Soundwave, seeing you perform for the first time, how would you describe Circa Survive as a live band?
We are super passionate about what we do and of our band.  I think we all come from a place where we appreciate performers who you never have to question when you are watching them.  Bands that are drunk on their own music and they feel everything.  We really try to do that and let our inhibitions get moved with the music.  Sometimes that can be in a really energetic way, or sometimes more stoic.  There's always a lot of tension between our bodies and the sound and a lot of emotion.  I think if I was a concertgoer and I saw our band, I would be really interested and captivated you know.  But there's just me, I love watching performers that look like they're losing their mind in a song. I think maybe because I enjoy that so much, that it's something that I put into our set.
As you travel the world playing at such a variety of festivals and touring with so many different styled bands, you guys really must have become a pretty adaptable band haven't you?
It's weird, because that's something I feel like has been a given for us from the beginning.  When we started touring, I felt like every crowd we went in front of was a crowd we had to win over, who didn't understand Circa Survive.  Like we didn't even really understand it and I always feel like wherever we go we are adaptable to anything as we don't really fit anywhere.  I feel we could play with a hardcore or metal band and we have those qualities, but at the same time maybe we are easier to swallow for those people that prefer a bit more melody and more melodic sounds.  Maybe that's one of the bonuses of our band is that we have a good blend of that stuff.  It's crazy because we will play in like Germany and to a really small crowd and there will be people there around our age, then there's 16 and 17yo's as well.  To us it's just great to have that diverse fan base, you want to keep attracting new fans and not feel like being pigeonholed to a certain age group or demographic.
Well Anthony, thanks for taking the time to chat, and look forward to catching the show at Soundwave Festival!
Thanks so much Scott and thanks for paying attention to our band!
Essential Information
From: USA
Band members: Anthony Green, Colin Frangicetto, Brendan Ekstrom, Nick Beard, Steve Clifford
Website: www.circasurvive.com