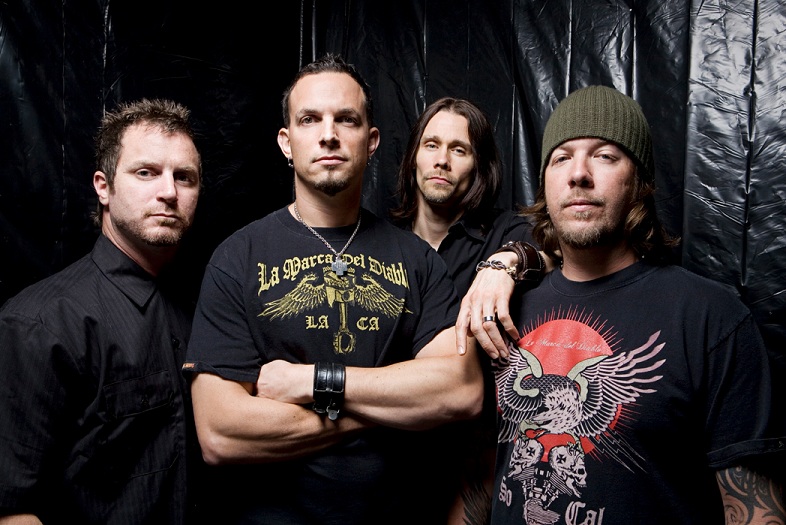 ALTER BRIDGE TO RELEASE INTIMATE DOCUMENTARY & BONUS SONGS
OUT ON ROADRUNNER RECORDS ON FEBRUARY 10
ALTER BRIDGE are pleased to unveil a limited edition of their October 2010 album AB III – to be titled AB 3.5. The special release will be available in Australia from February 10 to coincide with band's appearance at the national Soundwave Festival and their sold out Sidewave shows alongside Steel Panther.
Since Alter Bridge formed in 2004, the band have built a diehard fanbase through relentless touring and stellar live performances, in the process becoming one of the most respected rock bands in the world. Their third studio album, AB III, rocketed up the charts internationally, and was phenomenally received by critics and fans alike, firmly lodging itself in many 'Top 10 "end of year" lists.
AB 3.5, the special edition release will include three additional songs – Zero, Home, and Never Born To Follow – making a total of 17 tracks on the album, as well as an extraordinary hour-long DVD documentary called One By One. The DVD was filmed by award-winning filmmaker and 'Live From Amsterdam' director Daniel E Catullo III and intended to be an intimate behind-the-scenes look into the rise of Alter Bridge.
It features brand new interviews and concert footage shot all over the world, plus special interviews with Slash, Alter Bridge's management team, and dozens of fans from every corner of the globe, viewers will learn about the sacrifices made by the band to get where they are today and why they continue to do what they do so passionately.  With never-before-seen live content, and photos, One By One is a must have for any Alter Bridge fan.
Ghost of Days Gone By, the latest single from the band's current release AB III which was also produced by Michael "Elvis" Baskette (Iggy Pop, Incubus), is at radio now.


SATURDAY 25 FEBRUARY – SOUNDWAVE FESTIVAL, RNA SHOWGROUNDS, BRISBANE SOLD OUT
SUNDAY 26 FEBRUARY – SOUNDWAVE FESTIVAL, OLYMPIC PARK, SYDNEY SOLD OUT
TUESDAY 28 FEBRUARY – SIDEWAVE, SYDNEY, ENMORE THEATRE SOLD OUT
WEDNESDAY 29 FEBRUARY SIDEWAVE, MELBOURNE, THE PALACE SOLD OUT
FRIDAY 2 MARCH – SOUNDWAVE FESTIVAL, SHOWGROUND, MELBOURNE SOLD OUT
SATURDAY 3 MARCH – SOUNDWAVE FESTIVAL, BONYTHON PARK, ADELAIDE
MONDAY 5 MARCH – SOUNDWAVE FESTIVAL, CLAREMONT SHOWGROUNDS, PERTH
AB 3.5 will be released on February 10, 2012 through Roadrunner Records. AB III is out NOW.