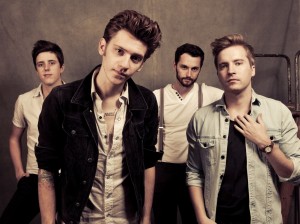 A ROCKET TO THE MOON has never had an interest in pigeonholing themselves into one genre. With a penchant for monstrous sing-along choruses A ROCKET TO THE MOON has firmly established themselves as one of pop rocks most exciting acts.
A ROCKET TO THE MOON's debut album "On Your Side" showcases their versatility from heartfelt piano ballads to dance floor anthems with Alternative press calling it "a hook –filled album that's as diverse as it is refreshing".
Jordan Witzigreuter, the force behind the mammoth pop sound of THE READY SET is taking over stereos and mosh pits across the globe. THE READY SET's debut album 'I'm Alive, I'm Dreaming' showcases a lifetime of influences from pop, techno and rock whilst displaying Witzigreuter's abilities – he plays every instrument on the record.
At the forefront of the new wave of pop rock bands is Arizona's THE SUMMER SET whom are consistently evolving and refining their sound.  Veering into previously unchartered territory their new album 'Everything Is Fine' is "one that will make future bands say hey, let's make out music sound like that." Absolutepunk
THE DANGEROUS SUMMER have crafted a throwback to the days when music was charged with hope and contained a much-needed brand of sincerity. This is evident on the bands stunning sophomore album 'War paint which is one of the "most beautiful and honest creations that has been released in a long time" – Killyourstereo.com
——————————————————————————————————-
TICKETS ON SALE FRIDAY 3FEBRUARY 9AM AEDT 
TUESDAY 28 FEBRUARY SYDNEY, THE ANNANDALE HOTEL – 18+
www.annandalehotel.com
THURSDAY 1 MARCH MELBOURNE, THE HI FI – 18+
www.thehifi.com.au
Presented by Soundwave Touring