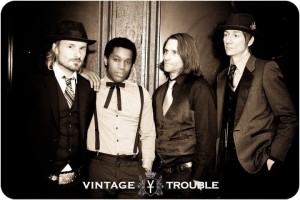 Vintage Trouble are bringing their live-wired, straight-shootin, dirty-mouth'd pelvis-pushin' juke music to Australia for the first time
East Coast show dates announced for January 2012 including 3 dates at Sydney Festival, Spiegeltent and the East Brunswick Club – Melbourne
Hailing from Los Angeles, California Vintage Trouble put the soul back into rock. Vintage Trouble is a sensational, soulful four-man band featuring Ty Taylor, Nalle Colt, Rick Barrio Dill and Richard Danielson whose very essence screams out loud of the late 1950's to 1960's. Turned on by and tuned into the evolutionary period in music and life when there was a razor thin line between Rhythm & Blues and Rock & Roll, the band reconnects us all to one universal vibration. Their modern day classics transport the mind, spirit and body back to a sweaty, swinging, heart-thumping speakeasy. Their live shows feel like a sweet southern down-home revival mixed with a gritty, downtown edge. Inspirationally, Otis Redding, Chuck Berry and Ike and Tina Turner can all be felt in woven clothe that tailor-suit the band like honey to the bee. When the buzz tells you they're near, get to them…and be prepared to be moved.
The documented times of a hard working live band on the road 100 Days. 80 Shows. 400,000 People.
VINTAGE TROUBLE EPK – WATCH IT HERE
"Acts like VT are why I'm still in this business. Pure music, straight from the soul.. you can't teach acts that shit"
Legendary Manager – Doc McGhee
"Vintage Trouble are here to reactivate the stomping vibe of the 1960s R&B."
BBC, UK
"L.A. Dudes plating hip-shaking, pelvis thrusting dirty blues rock with seriously soulful Motown vocals"
Total Guitar Magazine
"Vintage Trouble, who formed just over a year ago, didn't sound like they were going to be the next big thing; they sounded like they already were."
Live Music Scene
Vintage Trouble. Get into it. And be prepared for the awakening.
Sydney and Melbourne show dates announced for January 2012
Friday 27th | Sydney Festival, Spiegeltent | Sydney, Australia
Saturday 28th | Sydney Festival, Spiegeltent | Sydney, Australia
Sunday 29th | Sydney Festival, Spiegeltent | Sydney, Australia
Tuesday 31st | East Brunswick Club | Melbourne, Australia
THE BOMB SHELTER SESSIONS
Out 27 JANUARY 2012 via Shock
http://www.vintagetrouble.com
http://www.youtube.com/vintagetrouble
http://www.twitter.com/vintagetrouble