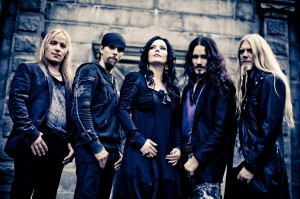 Having released their most ambitious and diverse album yet with Dark Passion Play back in 2007, the big question was always going to be what Nightwish were going to come up with next?  Well that question has been answered with their new release Imaginaerum which takes Nightwish to a whole new level when you are talking about bombastic, symphonic, theatrical and adventurous.  Not content with just releasing an album, this time a new dimension has been added with the vision of the songs featured on Imaginaerum being used to form the basis of a major motion picture that is set for completion in April 2012, with a likely release date also maybe in 2012.
One his very last day of interviews for the year before taking a well earned rest to enjoy the Christmas period in native Finland, we were lucky enough to chat with Nightwish mastermind, composer and keyboardist, Tuomas Holopainen about the four year journey of writing and recording the latest Nightwish epic.
Hey Tuomas, thanks for taking the time to chat.  So first things first, after over four years in the making, it must be a great feeling now to have Imaginaerum released around the world and to be getting such a great response from media and the fans so far?
I'm going through some really mixed feelings.  Imaginaerum has been in the working for four years and now it's finally finished and its out, there's nothing we can really do about it anymore.  You get this mixed feeling of ultimate relief, happiness and melancholy.  It must be a similar feeling when you have a kid living with you for 18 years and then you have to let them go and leave home.  You are proud that they are going to the world, but also feel a bit sad.   The response for the album has been immensely positive and that's something I wasn't expecting to this extent.  So that makes us feel really happy.
Just taking your previous answer a little further, what was your own personal response when it was finally finished, you had the disc in your hands with artwork and booklet and you got a chance to sit down and listen to the album for the first time..or have you actually had a chance to do that yet?
It's funny that you should mention because the first time I could listen to the whole album was two nights ago.  It was Saturday night and I just decided that okay, now I'm going to listen to the album for the first time from beginning to end and with the booklet and everything.  I really felt good about it, there weren't any misspellings in the booklet or stuff like that and all the songs sounded how they were supposed to sound like and that made me feel really good.  We couldn't have done it any better!
At the very beginning, when you decided it was time to start writing for the new album, what was your most overwhelming vision with what you wanted to achieve?
Well obviously it was the movie.  After the previous album I was just so lost thinking what the hell are we going to do next because that album was so bombastic, long and diverse and it was really taking things to the extreme, so what's going to be the next hook, how can we challenge ourselves and the listeners with this next album?  Then it just occurred to me that since we have always been very cinematic and I take a lot of inspiration from movies and soundtracks, why don't we try and do a movie to go along with the album.
As the principal songwriter/composer for the album, how did the writing compare to past albums for example, was it more difficult to turn your ideas and visions into the songs?
The writing process was very smooth really.  It took a long time, years to get all the songs done.  Basically what I did was provide twelve short stories, one of them happened in a circus, one of them was about a roller coaster ride and then I tried to paint those short stories alive with music.  So it was kind of like writing film music on top of a screenplay.
Where do you actually write the songs, is that at home, or in a studio, or some other place that you escape to?
I do every single song at home, I have a keyboard and a stand in front of a window and every single song from the past five albums has been made right there!  Whenever I have writers block, I have one cure above everything and that is to go out hiking.  The thing I have noticed that when you push yourself to the limit physically and go take an 80km hike for example, I'm so tired, but purified that the writer's block is gone.
So how many kilometres did you hike for this album haha?
I didn't have a writer's block for this album, which was pretty amazing!
Can you remember the bands initial reaction to the songs when you first presented them to them?
I always do a rehearsal tape for the other band members to listen to so they can go through the songs even before the first rehearsal.  I only got positive feedback from the guys, even with the jazz song (Slow Love Slow) which I wasn't sure how they would react to that one, but everybody loves the atmosphere of jazz but not really know how to play it, so we took that as a challenge.   All the band members said this is the best album so far.
So this is now Annette's second album with Nightwish, how did she go with recording this album, in particular with such a wide variety of musical styles and vocal performances required on the songs?
This album really gave her the chance to be more diverse and versatile.  She loved every single song from the beginning and I could really sense her enthusiasm about the songs.  The most magical thing happened when she came to the studio for the first time and started to sing, because she had done her homework so well, she knew all her songs by heart.  When she started to sing, it was unbelievable.  She did a good job on the last album, but on this one she takes it to a while different level.  It came down to the fact that she admitted that for the first time she finally feels comfortable and relaxed to be in the band and that's how she dares to be herself and that can really be heard through the whole album.
With the wide variety of musical styles, whilst this has always been a strong element of Nightwish, this time you have gone much further, recording a jazz song for example as you mentioned above, was it difficult to try and make all these styles blend seamlessly across the album?
Well I am a firm believer in the flow of mind, just let the mind flow and see what comes up.  We put a lot of attention into details as well because we think that culture is born from small little details.  We spent about two months in the rehearsal room just playing for hours and hours the songs and trying to find new little ways of doing them and hooks here and there.
Did you find it a difficult thing to try and achieve an album that could be listened to musically, whilst also being the basis for a movie?
Well the whole process ended up going so weird.  Initially it was the twelve songs and the twelve short movies, but then we decided to make just one full length feature with all the songs from the album in the movie.  But then in the third phase we decided that listening to all the songs in the movie would be just too much, so we have ended up doing a whole separate score.  So actually when you see the movie you will only hear two full songs from the album as they are.  All the rest, everything else that is in the movie, when it comes to the music has been remade and remixed.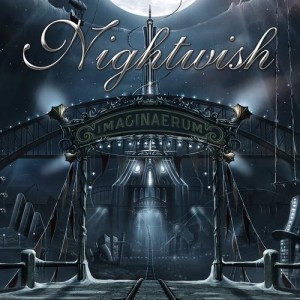 In this digital age, it's great to see bands like yourself and Edguy for example, releasing albums that are still true "albums", with so much attention to detail with the whole package from the listening experience, artwork, booklet etc…that's obviously a pretty important thing for the band?
This is so important for us.  We want to make actual albums with the booklet and artwork and details everywhere.  It's a little frustrating that generally, bands are not really making these real albums anymore.  It happens so many times to me where I hear a really good song on the radio and go buy the album and the rest is total crap, it happens all the time.  Think about the Black album from Metallica, there's not a bad second on that album, or Thriller from Michael Jackson, every single bar is pure excellence.
Song Of Myself – one of the more theatrical songs on the album, what can you explain about how it came together, particularly the spoken word part at the end?
Well I just wanted to end the album with the ultimate personal catharsis and that's basically what the song is about.  Maybe my biggest literary hero is Walt Whitman who is this 19th century American poet who has this poem called Song Of Myself so the spoken part in the end pays homage to that.  I tried to imitate him to a certain extent and wrote as he would have written his poems.  The philosophy behind this poem is that each band member got to choose three people that are dear to them, then everybody got to recite a line or two.  Kind of like immortalizing the people that matter the most to us, people like wives and husbands, children and mothers and fathers, best friends.  It's long as hell and when you hear it for the first time you are like, what the hell is this, it's kind of weird, but when you understand the philosophy behind it, maybe it opens up.
Now onto the movie aspect , do you have a firm date of when this is likely to be released, I think I read something like April 2012?
We have a strict deadline when the movie has to be ready and that's mid April.  But when it comes to the actual proper release, I absolutely have no idea.
How involved have you been in the translation of the songs and music on the album, into the final script of the movie?
The movie itself has been living its own life for over a year now.  Basically the band provided the music and the original vision and we haven't had much to do with it after that.  We realize that we don't understand anything about screen writing or acting, so we will leave that to those who know what they are doing to do their job!
Importantly, have you actually seen any of the final movie yet, or is that not quite ready?
I have seen the final cut, yes.  It's now edited fully and they are just starting with things like special effects.  It's about an hour and a half and looking really, really good.  I was positively surprised how believable it is.  It's going to be interesting for fans because many seem to think this is a musical, but it's actually a drama, fantasy movie and nothing to do with a musical as such.
You have released a video clip for the song Storytime, is this in any way what we can expect from the movie in a visual sense?
We basically wanted to do that clip to be a bit of a behind the scenes of what's going on with the movie.  So things like all those clowns and fooling around, that does actually appear in one scene of the movie.
How much appearance do you guys have in the movie?
In two scenes we do, I was very firm to the director not to write us into the movie because we want the movie to be believable and none of us can really act haha!  If we had roles and had to talk, it would just never work.  Whenever I see a movie with someone like Justin Timberlake or Jon Bon Jovi acting, no matter how well they can act, it just doesn't feel right to me, they are singers not actors.  So that's what we wanted to cut out, but you can see us in two scenes playing as a band in the background as a cameo role.
You have your first show for 2012 coming up in about 5 weeks in the USA. I see you have already had some rehearsals, how has it been to play the new songs and how do you think they mix in with the older material?
We have had a few weeks' rehearsals now with the whole band.  It's been a lot of fun and the new songs are working out great but it took a little while to remember the old songs as we haven't played them for other a year, so there was some rust.  The set list has certainly been a challenge.  There's so much you need to remember when compiling the set list and the last thing we ever want to do when making a set list is play an album from beginning to end so that's not something we are going to do.  We will open up with a new song and then a few old songs.
Given the visual aspect of the album is such a huge importance, how are you planning on incorporating that into the live show?
This time we will have huge screens to go with the pyrotechnics and stage props relating to the movie maybe.  It's still in the planning phase but somehow we are going to bring it to the stage.  Unfortunately this production is so expensive and huge we can't really take it outside of Europe.
Speaking of outside of Europe, any discussions about a return visit to Australia as yet?
Well there's some talk about the ending of 2012 or even the beginning of 2013.  The Australian leg will definitely happen, it's just a matter of when exactly.  I just love Australia, it's no secret.  It's my favourite country in the world and I have been there on vacation a couple of times.  A 6 week road trip a few years ago from Perth to Cairns, which was the best journey I ever did, so it's going to be a pleasure coming back there to play some shows again.
Well Tuomas, we are out of time, thanks for giving up your time, have a great Christmas and all the best with everything that 2012 brings!
Thankyou, its definitely exciting times ahead, take care!
Essential Information
From: Finland
Band members: Anette Olzon – Vocals, Tuomas Holopainen – Keyboards, Marco Hietala – Bass/Vocals, Erno Vuorinen – Guitars, Jukka Nevalainen – Drums
Latest release: Imaginaerum (Dec 2nd 2011, Roadrunner Records Australia)
Website: www.nightwish.com