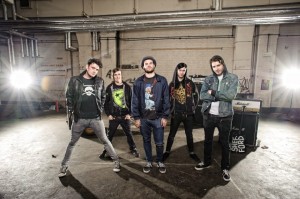 3Wise records are proud to announce the release from one of the most exciting new bands from the UK, THE SMOKING HEARTS.
Graceful is definitely not a word to describe THE SMOKING HEARTS. Their live Shows have seen guitars smashed and drum kits sprawled across stages and it is not uncommon to find half the band playing in the crowd while singer Ben Mills is in the back of the venue, on the bar or hanging from the rafters, all while coercing the crowd into joining the party.
Formed in 2007 with the intention to be a mix of Rock 'N' Roll and punk rock the band released their debut album and toured to rave reviews from British Music Press.  The journey hasn't been easy with the bands former lead singer inexplicably quitting the band via a text message leaving the band high and dry.  But THE SMOKING HEARTS are survivors and fighters. Armed with their strongest material the band added new vocalist Ben Mills to the fold.
The resulted product is the aptly titled sophomore album 'Victory!' Once again proving their unique blend of high energy Rock N Roll whilst having the dexterity to resonate with punk, metal and hardcore fans alike.  As guitarist Simon Barker enthuses " They're songs we didn't think would ever be heard, to have recorded them and be releasing them feels like we cheated Death".
Clocking in at just over the half hour mark, 'Victory!' is a celebration. Featuring backing vocals from over 40 of the bands friends 'Victory!' is a party of an album, the soundtrack to every good night out. THE SMOKING HEARTS intend on celebrating their victory worldwide.
'Victory!' will be available nationally on Friday February 17 through 3Wise/ Sony. The band will make their maiden voyage to Australia as part of the mammoth SOUNDWAVE FESTIVAL 2012.
"This is head banging, beer-spitting, ear-bleeding Rock 'N' Roll at its loudest and proudest… Boasting enough power to raise the dead" – Kerrang!
"Equally known for destroying venues as they are for their balls-to-the-wall take on punk rock." –Noisecreep/AOL Music
"Their incendiary songs and live energy is pure perspiration soaked entertainment to the max. These boys deserve your attention and deserve to be huge." – Big Cheese
"What more could you ask for?" – Rocksound
WATCH 'A DAY IN THE LIFE OF THE SMOKING HEARTS'
LISTEN TO THE TRACK 'SEATBELTS'
THE SMOKING HEARTS – Soundwave Festival 2012
Saturday 25 February – Brisbane, RNA Showgrounds – SOLD OUT
Sunday 26 February – Sydney, Showground
Friday 2 March – Melbourne, Showgrounds – SOLD OUT
Saturday 3 March – Adelaide, Bonython Park
Monday 5 March – Perth, Claremont Showgrounds