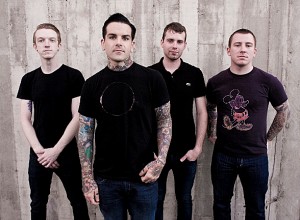 From Official Bio:  For a band that has surprisingly stayed under the mainstream radar, The Dear and Departed have already accomplished far more than other bands with greater notoriety. Their 2007 debut full length, Something Quite Peculiar, earned an "AP Recommends" nod from tastemakers at Alternative Press and spawned a video that was featured on MTV.com. Other impressive features include a recent scene of the band's recording session on TLC's hit show "LA Ink", on which frontman Dan Smith is a cast member. Their music has also attracted high profile fans from Davey Havok and Jade Puget of AFI to Chad Gilbert of New Found Glory, the latter of whom was brought on to produce their latest release, Chapters as well as their newest release Every Waking Moment.
The Dear and Departed are instantly recognizable by their signature mix of flowing vocal melodies and delicately layered guitar work, creating a sweet, optimistic sound that never crosses the line to syrupy. It's easy to see the influence of their favorite bands – classic artists like The Smiths and The Cure, as well as contemporary acts – but the members come by it honestly. Having been born in England and raised in New Zealand, founding member Dan Smith, aka Dan Under, grew up surrounded by bands like New Order, Duran Duran, and the Jam, which cultivated his love of the Punk and New Wave sound that he brings to his own musical endeavors.
Now with their newest album Every Waking Moment released in November, we had the chance to get Dan to answer some questions for us about the band because we think they're one of the Best Things You've Never Heard!
Let's start with the basics first – for those that aren't aware of the band, what brought the band together and what is the inspiration behind the band name?
I guess the common bond of wanting to write similar music and rejecting the unfortunate necessity of a regular job brought the band together. The name came to me in a sleepy daze. It seemed to fit with what we were trying to go for best. The name INXS was taken already so we decided to go with the Dear & Departed.
You have twenty seconds in an elevator to try and convince someone to listen to your new album 'Every Waking Moment' without resorting to bribery or violence, what do you tell them?
The thought of convincing anyone of anything makes me cringe really. If you dont feel something, move on. If youre not open minded to listen and possibly discover something new, then move on. Fairly simple.
Can you introduce each member of your band and give us a rock 'n' roll fact or myth about each of them?
Darren – Guitar and addicted to Pop Tarts. Child actor and excels at cooking pop tarts.
Jimmy – Drums and addicted to pizza. Endorsed by Toddland to wear their tiny shorts. Huge hockey fan. Has Ron Katellas autograph tattooed on him.
Scott – Guitar and addicted to telling great stories. Father of 9, all to different mothers, all artificially inseminated.
and I'm Dan – I try to sing and have an awful memory. What was the question again?
With this being your second album released earlier this month, how has the overall reaction been to it so far?
Pretty shocking in the best way. As much as bands really only write and play music for themselves, it means a lot when its received in such a positive way by fans. Thats essentially the fuel the machine runs on. Maybe the reserve tank.
The album itself is a killer, in the four years since your debut album, what if anything did you do differently this time around?
Thank you. Im not really sure what we did differently. I think just natural progression and growth would be the main thing contributing to it. We were different people back then and the band had some different members too, so finding the right mix can be a hard task but i think we have found it. It took us a while, but we had a good idea of what we wanted to do for this record, so writing was exciting and something to consider a bit of a new beginning or breath of fresh air.
Chad Gilbert from New Found Glory produced the album, why was he the right choice to produce this album?
Well, i think Chads ear for music and his enthusiasm for the band were the two huge factors. We did the EP with Chad and Paul Miner also and thought it turned out great so asking them to help with this was, as they say, a no brainer.
In terms of your song writing, what do you consider to be the most important ingredients that make up a Dear And Departed song?
We dont really have a solid recipe behind writing songs. Its kind of a mess until we all sit down and arrange it, but it works which is the main thing. We all contribute. The ingredients to good music will depend on the people in the band, mixed with what they love most about music that stays in their head. I think we're all pretty open to working with each other and like enough of a diverse range of music to keep things interesting. Except Darren.
Both lyrically and musically, what or who inspires/influences your music the most?
Lyrically, i think the greats affected me from a young age. Lennon, Curtis, Smith, Moz, Sumner, Hutchence, Mackaye, Aukerman, Joseph.
Obviously people would recognise you as a main tattoo artist on the TV show LA Ink, and I have to say that I came across your band because of the show, do you feel the exposure has been a help or a hindrance for you?
Its been a great way to get our music across to a lot more people than we probably would have been able to get across to. Thats all. Theres a billion bands out there and a billion ways to discover music, so if people liked what they heard from seeing us on the tv then thats great. It was worth it. Thankfully we are not a constructed boy band or competition entry on a tv show so what you saw is what the band is. The cameras came to the last show of the Alkaline Trio tour we did. Such a great band and tour, so we were happy it all came across positive.
How do you balance your tattooing versus playing with the band?
Up until now its all worked out pretty well. Its not easy, but i love both, so i have no other option than to make it work. I have to. Nothing should come easy but the end result i guess is being able to do what you want with no compromise. Even though they both compliment each other, they are both quite different so its nice to be able to look forward to different things. When they both start affecting each other in an unhealthy way, then ill deal with it, but for now…im happy making them both work.
Touring wise, what have you got in the pipeline in support of this new album?
2012 is looking very bright. Ill leave it at that.
Now for those that haven't yet seen you perform before, what can people expect from one of your live shows?
Pyrotechnics, cage dancers, motorcycle stunts and lasers. So many lasers.
Coming from New Zealand, do you think we could see The Dear And Departed ever making a trip down here to Australia to play some shows on one of your trips back to NZ?
I hope so. I lived in Australia for 3 years and it seems we have a lot of people who dig the band from there now. We have never toured there, but we would love to.
With a sound that is a perfect mix of Punk and New Wave, is it tough in the LA market that isn't really that well known for its New Wave bands?
Yeah, i mean it would be easy to do something that is typical from this area, or stay within the recipe that brings a certain amount of success here but we're not interested in any of that. We just wanna do what we do, anything else that comes from people liking us is such a bonus.
Lastly, here's a chance to gaze into your crystal ball. In the next year, The Dear And Departed will have:
1. A Bundaberg ginger beer endorsement.
2. A private jet or a van with air conditioning.
3.Sponsored an under 8's soccer team.
Well hopefully we'll see you in Australia in some way shape or form whether it be with the band or as a tattoo artist, but all the best Dan and I'm off to listen to your album again. Thanks mate.
Youre a gem.
Essential Information
From:  Santa Ana, California
Sounds like: New Wave Rock
Band members: Dan Smith-Vocals, Scott Sprigg-Guitar, Jimmy Walsh-Drums, Darren Parkinson-Guitar
Website: Official Facebook Page, http://www.thedearanddeparted.com/
Latest release: Every Waking Moment (Equal Vision Records)