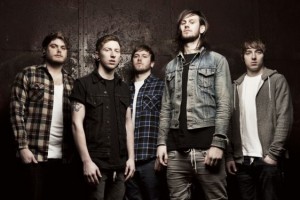 UK's WHILE SHE SLEEPS signs to Shock Records to release debut mini-album: 'The North Stands For Nothing'
Full-length album coming early 2012
We are thrilled to announce that Shock has inked a deal with UK's WHILE SHE SLEEPS. Hailing from Sheffield (a.k.a. 'Steel City'), these 5 metallers are off to the best start any band could ask for.
Over the last year alone WHILE SHE SLEEPS have supported Bring Me The Horizon, Silverstein and Your Demise in high profile slots as well as doing the festival circuit at Hevy Fest, Slam Dunk, Grasspop Metal Meeting and Groezrock. They've played over 300 shows across the UK and mainland Europe with no signs of slowing down.
WHILE SHE SLEEPS will be releasing their debut 9-track mini-album The North Stands For Nothing on Friday December 9 to introduce them to unsuspecting Australian audiences, followed by a full-length album early 2012 which they are currently recording with Carl Bown and Colin Richardson (Trivium, Machine Head)
WHILE SHE SLEEPS formed with the blue collar and hard-nosed work ethic that resonates so strongly with the Steel City locals. It is this ethic that has grabbed the attention of the press, radio and TV worldwide, with Kerrang, Metal Hammer, RockSound and Revolver already behind them, as well as highly sought after spins from the likes of BBC Radio One, XFM, Total Rock and Kerrang TV.
Upon hearing what they've got on offer our horns are wearing out – fast.
WHILE SHE SLEEPS will be the name on everyone's lips while they grab 2012 by the balls and make it their own.