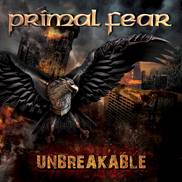 Released: 20 January 2012
If you're talking about today's European top metal acts the discussion is heading straight towards Primal Fear. Former Gamma Ray vocalist Ralf Scheepers and bassist/vocalist Mat Sinner, two of the most respected German metal musicians founded the band in late 1997.
With eight studio albums released, two live products and a best of Primal Fear are certainly one of nowadays most beloved and respected European Heavy Metal bands. Their last studio album "16.6 – Before The Devil Knows You're Dead" became their second highest chart entry in Germany on Pos. 46. The following world tour incl. two headlining tours in the US and Canada with a headlining appearance at the prestigious ProgPower festival in Atlanta. The world tour was recorded in all continents and released on CD "Live In The USA" and on DVD "All Over The World" in summer 2010.
After a sensational tour through South America in spring 2011, more dates in Europe plus an outstanding appearance on the 2011 edition of the Wacken Open Air, the band was fired up to enter the recording studio to start tracking their ninth album "UNBREAKABLE". The target was crystal clear – producer & bassist Mat Sinner: "After touring for two years without breaks, the guys realized the fan favourites very well and we wrote an untamed, powerful and crushing album together". "Unbreakable" was produced by Mat Sinner, engineered and mixed by Achim Koehler & the House Of Music studios and some more studios in Germany & Sweden between summer and autumn 2011.
"Unbreakable" combines the skills of the strongest Primal Fear line-up ever, with a well-balanced "back to the roots" vibe and an ambitious learning process during their longest tour so far. Classic and ultra-fresh Primal Fear riff-rockers like "Strike", "Give Em Hell" or the high speed track "And There Was Silence" will hit the bulls-eye, like the rhythm paced metal anthem, first single and new video clip "Bad Guys Wear Black". Less experiments, more rock! But there will be a nine-minute epic journey with a lot prog approach named "Where Angels Die", a classic wonderful ballad "Born Again" and the melodic power bomb "Metal Nation". Singer Ralf Scheepers adds: "the plan was to record an album for the fans with rough metal riffs, screaming vocals and good melodies …… and finally it became a monster – a tough 'bang-your-head' metal album called "Unbreakable".
Magnus Karlsson and Alex Beyrodt are worldwide respected guitarists – together they are unbeatable! Ralf Scheepers vocal performance shines bright on a new level on all new songs. And what can go wrong if you're backed by one of the best rhythm sections in metal with Randy Black and Mat Sinner? Plus backing vocals by the "Fantastic Four": Ralf Scheepers, Mat Sinner, Erik Martensson and Oliver Hartmann. You can hear the result on Primal Fears new statement called "UNBREAKABLE"!
Don't miss the German Metal Commando when they're coming to your town!
Primal Fear
Ralf Scheepers – Vocals
Alex Beyrodt – Guitars
Magnus Karlsson – Guitar, Keyboards
Randy Black – Guitars
Mat Sinner – Bass & Vocals
www.frontiers.it