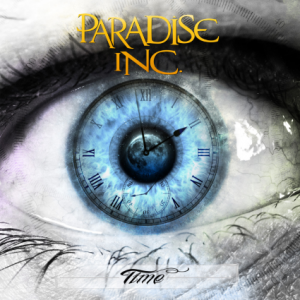 In 25 words or less: If you love European styled 80's melodic rock, Time is a quality album worthy of your attention.
Well here's a first for me…it's my first review of a band from Brazil.  Well mostly Brazil, with then a truly international cast of contributors.  Melodic rockers Paradise Inc. feature as it's core a quartet of Brazilian musicians who have cut their teeth playing in cover bands delivering songs from the likes of Def Leppard, Bon Jovi, Lynch Mob, Firehouse and Pink Cream 69.  With the addition of German rock singer Carsten "Lizard" Schulz, you have yourself Paradise Inc.  Referring back to those previously mentioned bands and if you add in Jaded Heart, then you actually have a very neat reference point for the style of melodic rock delivered by Paradise Inc.  It's got some crunch to it, there's an emphasis on some catchy chorus's and there's some blazing guitar work throughout.
The title track Time is a strong opener and really kicks into gear once it hits the chorus.  With the contributions of Paul Logue (Eden's Curse, David Readman) and Dennis Ward (Pink Cream 69, House Of Lords, Krokus, Khymera) on production/mixing and mastering respectively, one of the most striking things about this release is the high quality sound.  Tracks such as Who's Fooling Who and I Will Wait see the band at their most melodic and feature quite heavily the keyboards of Alessandro Del Vecchio (Glenn Hughes, Edge Of Forever, Eden's Curse, Lionville, Shining Line).  Wait And See is a much heavier track and for me didn't really fit in with the rest of the album, particularly when up against the smouldering mid-tempo No More Mistakes, which is one of the strongest songs on the album.  The appearance of Scottish vocalist Doogie White (Rainbow, Cornerstone, Yngwie Malmsteen) on the track Not In Paradise adds another "name" to those involved.
Paradise Inc. don't deliver anything you haven't heard already with their brand of European styled 80's melodic rock, but Time is definitely a quality album worthy of checking out if this is your style of rock.
Essential Information
From: Brazil
Check it out if you like: Crunchy melodic rock such as Jaded Heart, Firehouse, Khymera.
Release Date: October 21, 2011
Record label: Avenue Of Allies
Producer: Paul Logue (Eden's Curse, David Readman)
Website: www.paradiseinc.net
Tracklisting
1. Time (Live And Learn)
2. Close Your Eyes
3. Who's Fooling Who
4. I Will Wait
5. Wait And See
6. No More Mistakes
7. You
8. Set Me Free
9. Steel Or Stone
10. Not In Paradise (feat. Doogie White)
11. Steel Or Stone (Acoustic – Eur. bonus)