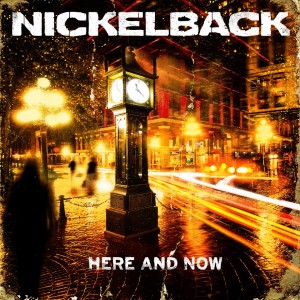 Multi-platinum rock band Nickelback have smashed the Aria charts with their first Australian #1 debut for seventh studio album Here and Now. First single 'When We Stand Together' was also the number 1 most added single to radio and peaked at #12 in the Hot 100 Radio Airplay Chart.
Here and Now had the biggest international debut in Nickelback's history.  The album also debuted at #1 in Canada and Japan, #2 in Germany and Switzerland, #7 in NZ with the UK at #10. But one of the closest battles of all was in the US. With a #2 debut, Here and Now was the highest debuting new album of the week in one of the closest margins between #1 and #2 in the history of the Billboard chart…with just 419 units between the two spots. 
Produced by Nickelback and recorded at Mountain View Studios, Vancouver, BC, Here and Now is the follow up to 2008's widely successful Dark Horse which at 3-times platinum, debuted at #3 on the Aria chart and produced five radio singles.
With Here and Now Nickelback continue to please listeners with their trademark party brew of fast-lane indulgences; some tunes tamed by somber reflection while others crackle with a devilish wink and a smile.
"We are thrilled with the debut of our new record Here and Now and deeply appreciate that our fans have embraced it all over the world," said front man Chad Kroeger.   "It's truly an amazing feeling for us.  We are so thankful that we get to make music for our fans and can't wait to play the new songs when we hit the road next year."
Nickelback is currently one the biggest rock bands in the world having sold over 50 million albums over the course of their career and sending over 18 singles to the top of the radio charts. Since their 2001 breakthrough hit song 'How You Remind Me', Nickelback has sustained one of the most enduring and consistent careers of the last ten years and was rightfully named Billboard magazine's 'Band Of  The Decade' in 2009.
They can now add a #1 Australian album to that ever growing list of achievements!
Here And Now is out NOW through Roadrunner Records
www.roadrunnerrecords.com.au
http://www.nickelback.com/home/
http://www.facebook.com/Nickelback
http://twitter.com/#!/nickelback
http://www.myspace.com/nickelback
http://www.youtube.com/nickelbacktv