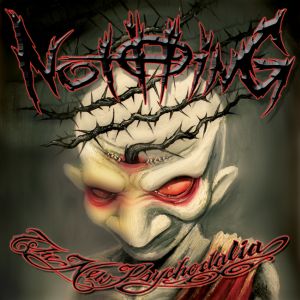 JEFFREY NOTHING
January 20, 2012 (Suburban Noize/Shock)
+Debut solo album from Mushroomhead front man+
+Touring Australia with (hed) p.e. February 2012+
For more than a decade JEFFREY NOTHING has been the haunting voice behind Cleveland's pioneering alterna-metal collective Mushroomhead. His distinctive vocals have driven Mushroomhead's frightening extreme performance style, which has garnered them an enormously devoted cult following and allowed them to sell more than one million albums worldwide.
Now JEFFREY NOTHING is ready to open the door and reveal the skeletons buried beneath the floorboards with the release of his debut solo album 'The New Psychodalia' on Suburban Noize Records.
Mixing hypnotic rhythmic grooves and punishing riffs, along with JEFFREY NOTHING 's beautifully deranged lyrics, 'The New Psychodalia' is a tormented soundscape that will shake listeners to the core.
JEFFREY NOTHING will be touring Australia as special guest of label mates (hed) p.e. who will be here in support of their latest studio album 'Truth Rising'.
HED to HEAD 2012 Australian Tour
(hed)p.e. & JEFFREY NOTHING (Mushroomhead)
Feb 1 – Amplifier, Perth
Feb 2 – HiFi Bar, Brisbane (with special guests RECOIL)
Feb 3 – Manning Bar, Sydney (with special guests RECOIL)
Feb 4 – Prince Bandroom, Melbourne