Well it's that time of year, with the tick of December as XMAS trees are being put up in houses worldwide, now it seems the annual tradition is for some metal masters to lend their contribution with some XMAS metal tunes as your soundtrack.  In 2011, we already have the following 3 releases doing the rounds….
BLACK LABEL SOCIETY – GLORIOUS CHRISTMAS SONGS

Black Label Society's Glorious Christmas Songs That Will Make Your Black Label Heart Feel Good will be available in Australia and New Zealand on Friday 9th December!  This is a DIGITAL release only and features I'll Be Home For Christmas, O Little Town Of Bethlehem & It's A Wonderful World out on RIOT Digital.  
DORO – MERRY METAL X-MAS
On Friday December 9th the queen of metal, DORO Pesch, will release THE X-Mas metal anthem, Merry Metal X-Mas (featuring Onkel Tom Angelripper)!  Merry Metal X-Mas will be released as digital download (available via iTunes) and limited coloured 7" vinyl (christmas tree green – exclusively available at the Nuclear Blast Mailorder: http://bit.ly/sItTDv).  Check out the official video trailer for Merry Metal X-Mas in which DORO talks the song and Christmas itself: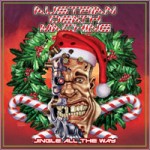 AUSTRIAN DEATH MACHINE – JINGLE ALL THE WAY

The one and only Austrian Death Machine spent some time in the studio recently, mostly to lift weights, but also to record a few new songs. The songs are based on the ultimate holiday movie, Jingle All the Way, which stars Ahhnold, of course! The songs are a regaling tale of the pursuit of a one "Turbo Man" doll, sung by Tim Lambesis and Ahhnold.
Released by Metal Blade Records, The digital version of Jingle All the Way will be available for download wherever downloads are sold as of December 6th, 2011 and the limited 7″ vinyl single will be available shortly thereafter and can be pre-ordered now. This piece of vinyl will be the perfect stocking-stuffer for the most brutal of friends and family. Ahhnold only asks that the vinyl not be gifted to "puny wimps" or "girly men".