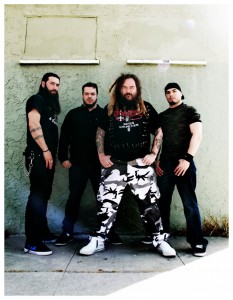 "I think it's all about the energy in our show and everybody does the best they can and it doesn't matter if we're playing for ten people or ten thousand people we still have the same energy on every night.  No matter what and it's a good time for the band, we're coming out of an American tour that we just finished and should be a perfect time for Australia."
Max Cavalera has been a main player in the Metal scene for a almost 30 years through his bands Sepultura, Nailbomb, Soulfly and now with Cavalera Conspiracy, the band that saw him reunite with his brother Iggor after 10 years of beng apart and not playing together, they've now given us two albums, their newest being 'Blunt Force Trauma' released earlier this year which is a brutal Metal album that needs to be heard.
On the way to Australia for the first time as Cavalera Conspiracy for The Big Day Out as well as their own headlining shows, we had the opportunity to speak to Max about 'Cavalera' as he calls the band and what we can expect when they hit our shores in January as well as a bit of a preview of what we can expect from the next Soulfly record and the future of Cavalera Conspiracy.
This is your first time to Australia as Cavalera Conspiracy, what's taken so long?
We were supposed to go a while ago we were going to open for Judas Priest but the rumour I heard is that when they heard Cavalera they thought we were too heavy and I thought that was fantastic.  If Judas Priest thinks we're too heavy we're doing something right.  Then we got kicked out of that tour, so I was just like we'll wait until something comes up, we're going to continue doing what we do so we're going to continue touring, then this offer came out of the blue to do the Big Day Out and do some other headline shows and it actually came in perfect time as it's going to be the last thing Cavalera is doing for a while. It's going to be the end of the world tour for 'Blunt Force Trauma' and then after that I got back to Soulfly for a while, I've got a new Soulfly record coming out next year and then with Cavalera we're just going to do the third album later on in the future, so it as great, it came out at a perfect time, you know, I don't know why it took so long but it's perfect and it's the first time I'm going to be in Australia with Iggor since 94, Sepultura Chaos AD tour was the last time we were together in Australia, 94, so it's a long time ago.  It's going to be great, I think we're going to be super excited to be back in Australia with Iggor, with Cavalera and we're going to have a great time.
What can people expect from a Cavalera Conspiracy show?
Well the show has really progressed a lot since the band started, we're getting more and more tight as a unit and the four of us playing live we know each other better.  The set list also has been changing through the years, of course now there's two records out we can play a lot more Cavalera material and we still play some Sepultura classic stuff, some of the old stuff; 'Roots' and 'Refuse Resist' and stuff like that but now it's more combined with the Cavalera stuff so you know you play a Sepultura song, you play two Cavalera songs, or three Cavalera songs then another Sepultura song then two or three more Cavalera songs, so it feels more like a Cavalera show which is what we wanted from the beginning and we'll finally be able to do that.  It's great, it's very energetic, very powerful set, I don't even have time to change a shirt on the Cavalera set, it just goes one song after the other, and it's all about the energy and its great.  I think it's all about the energy in our show and everybody does the best they can and it doesn't matter if we're playing for ten people or ten thousand people we still have the same energy on every night.  No matter what and it's a good time for the band, we're coming out of an American tour that we just finished and should be a perfect time for Australia.
Do you still enjoy playing the old songs and can you see there ever being a time you won't need to play them anymore?
I still enjoy playing them, you know I think there's something about a song when it's old like that like 'Troops Of Doom' or 'Inner Self', it takes people back to that time, so I see a lot of time at the back of the venue we're playing the song and the guy stands there with his hands standing up and he's almost like freaking out, almost in a state of trans, it's like unbelievable and I feel that man I feel from them, and I talk to them after the show and they're like 'I can't believe you played 'Troops Of Doom', that was so awesome' and I think that's great to hear that and it's something that only happens with old songs.  New songs, it takes them years to get to that point, and to play them with Iggor which is the original guy I did these songs with and wrote them with Iggor when I was in Sepultura and it's great.  There's something really special about that and that's why I like doing them in the Cavalera set, there's some magic about them, it's really cool.
As you mentioned, you're here playing the Big Day Out as well as your own headlining show, how do you treat a festival show compared to a club show?
It is different, the festival is shorter, we don't get to play that much.  I'm not sure the Big Day Out they haven't told us how long we have to play yet, but normally its 45 minutes, the most we play at a festival is an hour, it never goes more than an hour and our headline show is an hour and a half.  We get to play more obscure songs and the headline show is also smaller and you get closer to your audience so you can talk to the audience and touch them, big festivals you're a little far away and there's different dynamics, but we do good on both.  We're a band that's prepared for both, we do really good on our headline shows and we do really good at festival shows, Cavalera Conspiracy is built for both and we love doing both.  I love the festivals and I love the headline shows, we just like to play, being live to me is the best feeling in the world to me and I love to play it.
You've been to Australia a few times, what's your take on the Aussie metal crowds and how they compare with those around the world?
It's one of the best and I'm not just saying that to kiss your ass or anything ha ha but it's true, Australia from the beginning from my Sepultura days, the first time I went over I was so excited, I was like 'wow they really like their metal here' and I came back many other time with Soulfly in Big Day Out in 98 and we came back with Hatebreed and Megadeth and with City Of Fire.  Australia's been good to me man, the 'Third World Posse' EP was released only in Australia, it was an Australian thing that Sepultura had, it was only for Australia and very special, and I think I have a cool connection with the Australian audience and I think every time I'm there they really appreciate it and they like having me there, and I like to be there, I like the place, I like the country and I love the fans and we have great fans and we have great shows so I'm very excited to be back.
Your second album has been out now for a while, how has the reaction been to this one?
The reactions been great, it's growing on people I can tell, we're playing more stuff from the new album and I can tell the people are singing the songs more now, stuff like 'Killing Inside' and I Speak Hate' and 'Genghis Khan' and I hear crowds singing these songs and it's really catchy and I think it's a proof that the album was approved by them.  On the other hand there's a lot of really thrashy stuff like 'Torture' and 'Blunt Force Trauma' which is really hardcore powerful thrash stuff just pure brutality and I love playing those too, they don't have really a lot of sing alongs and they're more thrashy sort of songs and they're more for the mosh pit, more of a circle pit reaction and I think judging by that, it was the right album to make.  It's a little heavier than the first one, a little more aggressive and it was the way we wanted to do it and we succeeded.  I think mission was accomplished we entered the studio to just make a more aggressive record, it was the only thing on my mind when I went to do this second Cavalera.  I told myself I want to make a more aggressive record.  I want to make a more brutal record than the first one and whatever else happens it will happen.  Some good moments on the record like 'Killing Inside' and 'Genghis Khan' and 'I Speak Hate' gave me a surprise, I wasn't really expecting them to turn out the way they did, it's really cool, I'm glad that people like it and I'm glad  to be playing them.
Two records in now, is it safe to say that Cavalera Conspiracy is a band that is here to stay?
Yeah I think so.  I'll always have Soulfly because it's the band I created, the band that pretty much saved me and my career after Sepultura, so Soulfly always has a place in my heart but Cavalera is very special because of Iggor and my connection with my brother.  I will continue making records with him and we're going to go at our own pace and we're not in a hurry and we don't need to release a lot of albums, we can take the time and release albums slowly and make sure they're good records and do them in a certain amount of time.  The same with the touring, with Cavalera we don't tour as much as Soulfly, it doesn't do that much touring but when we do it it's very special and very unique, so that's what I like about Cavalera, it's a little more exclusive than Soulfly.  But I love doing both, I love to be part of both and it's something that I can't explain, playing with my brother it's something I wanted to do for a long time, the ten years he's been apart from me have been really difficult and now to be back talking to him again, playing music with him again, it's great, it's fantastic.  It's something I really look forward to doing you know…
Has playing with Iggor again lit a fire under you?
Oh yeah, it was awesome, it was a feeling that the first time I jammed with him it was like the time never stopped, it was like those ten years never mattered, we were right back where we left off in 96.  That just showed to me the power of music.  We grew up, we discovered our instruments as kids when we were in Brazil as little kids, together, me and him, we started playing together we learned how to play them together from nothing, from scratch and through the years we got good at it, we got better at it and we learned to write songs together and I learned to write riffs and show them to Iggor and he really liked to put drums on it and we still do that today.  Very similar to when we were kids, the same energy the same excitement, so making a Cavalera record to me today is very exciting, same excitement as when I was doing Sepultura records and its very cool and its awesome to play with Iggor again and I think he's a great drummer, he's gotten better through the years and he's one of the hardest drummers too, he really hits hard on the snare and you can feel the power.  Like every night I'm right in front of him, he's right behind me and I feel the power of the snare the way he hits it is just thunder man and it's fucking great to be able to hear him play with that much fire on an every night basis, it's amazing.
Is there anything that you take in to Cavalera that you have learned from both Sepultura and Soulfly?
Yeah I think everything I did from Sepultura, Nailbomb, on the way you learn about things and in Soulfly I learned to produce the albums of Soulfly, starting with Soulfly 3. I produced both Cavalera records and I feel very good about it and a lot of cool decisions I had to make and it was really fun to make and cool to produce those records and get exactly the sound I was looking for.  Those are the things I bring to Cavalera, those are the things I've learned through the years, a lot of years with Sepultura just watching producers and see what they did and applied them to my own things and then I decided to do that on my own records and produce them myself and I've been doing that for a couple of years and it's great, it's very exciting because nobody really gets to mess with the vision you have. So you know I think a producer and can be a good thing and a bad thing.  A producer can come in and change and entire band into something they're not, it's a bad thing and if you know what you have and you like what you have then you should just go for it and explore that, if you know what a band is like just got for that and explore that and get more out of it and what the band is about.  Sometimes a producer can come in and change all that and you're not yourself anymore and that's a bad thing, so if I have control to produce the Cavalera records, I make sure that doesn't happen, we stay loyal to a lot of the principles that was created with Cavalera and stay true with that, all the way to the end.
We just got word about the new Soulfly record coming in March, while we're here can you give us any insight as to what we can expect on that?
Yeah it's Soulfly's most extreme record ever.  We got a new drummer, David, he comes from the extreme school of Death Metal playing and he really did a great job on the record, it's killer, there's a lot of double bass and some of the stuff even sounds like old Morbid Angel and Suffocation and some kind of like Death Metal.  It sounds like Soulfly but it's kind of a new Soulfly, it's like we took everything we'd done until now and redid it in a most extreme way and to have the band to sound extreme now after eight albums is very exciting, very rejuvenating, it feels like a new beginning in the band.  We also have a new bass player, Tony Campos he was in Asesino and Static X, it's a new band, kind of more exciting to have new members in the band, me and Mark did everything else, all the guitars and Mark did all the solos, I think  it's a very exciting record, I'm very proud of it. There's a couple of guests on it, there's Dez from Devil Driver on one song, there's Travis from Cattle Decapitation sings on one of the songs, there's one song I did with my kids called 'Revengeance', a song with all of my kids, it's pretty cool.
Lastly, do you have a message for your Australian fans before heading Down Under?
Yeah, I can't wait man, it's going to be great, I think the shows are going to be amazing, going to be legendary, it's awesome to be back there with Iggor since '94 we haven't played there with Iggor and it's the first time for Cavalera, it's very exciting, I can't wait.  I'm ready, we are ready to fuck shit up in Australia and hopefully the fans are ready too.
Essential Information
From: Brazil
Band members: Max Cavalera – rhythm guitar & vocals, Iggor Cavalera – drums, Marc Rizzo – lead guitar, Johny Chow – bass
Latest release: Blunt Force Trauma (2011, Roadrunner Records)
Website: http://www.cavaleraconspiracy.com
Big Day Out Tour Dates
SUNDAY, 22 JANUARY, 2012 – GOLD COAST PARKLANDS
THURSDAY, 26 JANUARY, 2012 – SYDNEY SHOWGROUND
SUNDAY, 29 JANUARY, 2012 – MELBOURNE FLEMINGTON RACECOURSE
FRIDAY, 3 FEBRUARY, 2012 – ADELAIDE SHOWGROUND
SUNDAY, 5 FEBRUARY, 2012 – BROWNES STADIUM (proposed permit pending)
Tickets available via www.bigdayout.com and www.ticketmaster.com.au
Cavalera Conspiracy – Headlining shows – Australian Tour Dates 2012
Tuesday 24th  January- Panthers- Newcastle
TICKETS AVAILABLE FROM WWW.OZTIX.COM.AU & WWW.MOSHTIX.COM.AU
Friday 27th January- ANU BAR- Canberra
TICKETS AVAILABLE FROM WWW.TICKETEK.COM.AU 132 849
Saturday 28th January- Metro Theatre- Sydney
TICKETS AVAILABLE FROM WWW.TICKETEK.COM.AU 132 849
Wednesday 1st February- Billboard -Melbourne
TICKETS AVAILABLE FROM WWW.TICKETEK.COM.AU 132849 & WWW.MOSHTIX.COM.AU