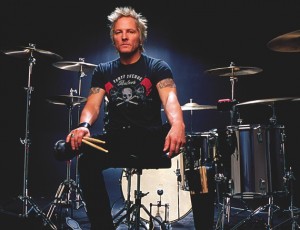 "People don't understand, they think you guys are out there and you're making millions of dollars and flying around in private jets but there wasn't always happiness, it was a discouraging time, because you wanted it to be… but I had no control, talk about lack of control, and I think that's where the drugs and the alcohol came in because if I'm not going to be able to say anything about anything I might as well get fucked up, so that's what we did, just drank.  Now I'm not that guy anymore."
Drummer Matt Sorum is probably best known for his work in Guns N Roses from 1990 – 1997 before it all went terribly pear shaped for one of the biggest rock bands in the world, but we're sure many of you are aware of the G N' R story so no need to fill you in.  Prior to Guns N' Roses he was a member of The Cult and after Guns N' Roses was a member of Rock 'Supergroup' Velvet Revolver which featured both Slash and Duff from Guns N Roses, after two albums with Velvet Revolver and the departure of their singer Scott Weiland and currently on the hunt for a new one, this time off has given Matt the opportunity to focus on new projects, new bands, producing, TV and plenty of other projects that you'll have to read on to hear about, some you'd never even guess in a million years.
Matt was invited to Sydney as part of the Grand Opening Party of The Hard Rock Cafe and thanks to Davidson Communications we were able to have a great chat with Matt Sorum, he's a great talker, and we could've easily kept going if we both had the time.  One of the coolest rockers we've spoken to, he gave some some insight into what the current status of Velvet Revolver is and a possible idea of who their new singer could soon be and could've been that unfortunately never eventuated.  Also, of course we had to ask what would happen if Axl Rose gave him a call to put the band back together and he gave us his take on just what could make that happen!
Welcome back to Sydney, you're here for the grand opening of The Hard Rock cafe here, how cool was it for you to be involved with this?
I was just wondering why they asked me ha ha ha ha.  I don't know, don't you have anybody else's number?  I thought that was pretty cool, well I'd known Mark Spillane because I'd worked with his band Syndicate and I'd been talking about coming down here and jamming with those kids and supporting them you know.  God, I was on a bit of a whirlwind last week and its was a decision that was like 'Oh God, I'm going to be tired.'  Thursday I played Mexico, flew in did LA on Friday, flew to New York on Saturday, flew back from New York Sunday then flew here, so I was a little bit like this is gonna be a burner.  By the time I'd got on the airplane, I'd lost my passport, I made the last flight after about four hours at the airport and by the time I got on the airplane I was just knackered and I slept the whole fuckin' way, it was great, I was by myself, I'd even lost my girlfriend in the transition, she went home, because I had to buy another flight on Qantas, it was stupid amount of money and I said I guess it's just me going on this trip, so by the time I got on the plane I was all alone, I was thinking, I think I'm gonna fuckin' sleep for like twelve hours which was great.  I got here and I felt pretty good, came straight to The Hard Rock and jammed last night, the band was fairly consistent, we had a couple of little do-hickies, nothing major for rock and roll.
Did you get a chance to check out any of the bands yesterday?
I did, I saw a bit of the girl group, Screaming Bikini, they were pretty cool.
I saw you down there rockin out to Syndicate too.
Yeah I was signing a lot of autographs at the point, I wanted to watch the band.  The drummer's spectacular and I like that singer kid, they're all good players.
Now you have been here with both Guns N' Roses and Velvet Revolver, what's your take on the Aussie rock crowds compared to those around the world?
Great. Great rock crowds, you know I think I would have to say for white people, they're probably the best white rock crowd in the world.  Like Latin's take it up just a notch, just a slight notch, so the Aussie's gotta take it up and they can beat the Latin's.  The Latin's are fuckin' crazy, in South America, mental.  I mean something about the South Americans, they don't get as much as we do, or even Australia, Australia gets a little bit less than maybe North America and Europe so I think it's more about they're not spoiled, they're very grateful you're here, they're like 'Fuck, you came a long ways to play for us.' Right?  I think it's that mentality, because Americans just suck, Americans are fuckin' spoiled, you know they're like 'oh yeah, it's just another band coming through my town' and they're gonna be like (motions bored clapping) it's like come on, number one, we're musicians and we have egos and give us a little love for fucks sake, we're up here sweating our balls off.  But the Australians are great, I think they always have been and I think the backbone of Australia is the working class, so it's got that working class, beer drinking, rock and roll AD/DC down and dirty, Angels, Rose Tattoo, it's built from hearty stock.
I spoke to Slash last August and he was saying you were in the process of auditioning new singers for Velvet Revolver.  Have you in fact found the new guy?  Can you give us a scoop?
(Matt leans back in his chair and folds his arms looking sly) How did he react to that?
He was the one that told me you were auditioning singers including an Aussie guy who was in the running for it…
Yeah the guy from Australia never came around, I don't know what happened to that guy. But we spent a lot of time sort of like waiting for Slash to get home to try guys because he worked all last year, like a year and a half.  By the time he got back we had Corey Taylor in the band and we'd done a bunch of songs with Corey Taylor and Slash wasn't hearing it… me and Duff were ready to go with Corey Taylor, we were like 'Let's Go' this is manly rock, it's different.  It wasn't as swagger rock, Weiland was swaggery and so was Axl and this was more like (motions a solid stand at the microphone) and Slash likes the swagger, and I do too but… so he didn't go for it.  I was a little bit bummed, because Corey's a good dude, he's a good worker I think we could've killed with that line up.  In respect to Slash, everyone's gotta be on the team.
So no one yet?
Nah, they're trying out a guy I think tonight or tomorrow, Jimmy Gnecco from a band called 'Ours', but we'll see how that works, he's a real kind of artsy singer, he sings like Jeff Buckley-ish he's got a lot of pipes, he's got a lot of range.  I think Slash needs that high range, even Weiland had a little bit lower register and it didn't quite… the thing that worked about Guns N Roses was Axl's fuckin' shit on top of the guitars and the power of Guns N Roses, it's like AC/DC, fuckin' Brian Johnson, he's up there.  You know you've got the rhythm it's just fuckin' heavy, but the top end is that vocal.
So the status of Velvet Revolver is, you're just waiting?
Yeah we're just waiting.  We haven't put a fork in it, there's been days when I'm like 'FUCK IT!' can't we just say it's over?  But why?  We don't have to.  If it resurrects itself, so be it.  Slash is able to go out and get a real taste of, and in Slash's defence, he's put up with a lot of shit, we all have and after that experience with the last guy that was similar to the first guy it was kinda like I just wanna go have fun.  Make some decisions, play some rock and roll, go on stage on time.  I get it, I just went on the road with Motorhead last Summer, and I'm like, whoa this is pretty easy, go on stage, play some Rock and Roll, come off, get on the bus and go to the next place.  It's really an easy life.
So if I was to say to you, you get a call from Axl saying 'Matt, I want to put the band back together, your line up' would you do it?
I mean probably have to be discussion in to, I don't know if I'd want to dive back into the drama, I really don't.  I'm a different guy and I even didn't enjoy it then, it was very difficult. People don't understand, they think you guys are out there and you're making millions of dollars and flying around in private jets but there wasn't always happiness, it was a discouraging time, because you wanted it to be… but I had no control, talk about lack of control, and I think that's where the drugs and the alcohol came in because if I'm not going to be able to say anything about anything I might as well get fucked up, so that's what we did, just drank.  Now I'm not that guy anymore.  I want to go into something and feel good about it, it's not just about the money.  So it'd have to be about, so Axl, where are you at?  I don't know about going on stage at 1 O'clock in the morning, I like to be in bed by 1.  Let's give the people a show, let's have a good time.  I'd like to have the conversation, I'd like to get everybody in a room, I talked to Steven Adler this morning, he text me, we're friends now, I feel for him, is he capable of pulling it off? I'm not saying I'm the guy, if they want me that's cool, but I said it in the press once before, maybe they should just take both of us out, if he can't play the whole set, just play the Appetite, you guys can afford it, give them everything.  At least give them THAT line up, give them Izzy, Duff, Slash, Axl and Steven or me if the band doesn't think, or whatever, but I can't say I'm in any position to… I took that job with Guns N Roses, when I was in that band all I did was have fun, the one thing I didn't have to do was make any major decisions.
In retrospect, I look back and I go 'wow.' When I got in Velvet Revolver, I remember being much more of a business head, like let's do this and try not to fuck it up and when things started getting fucked up again and when things started to fizzle, it's really 'oh shit…' because it's hard, we were moving again, let's keep going, let's go, let's go.  You know I watch bands like Foo Fighters and these machines, Dave Grohl's the leader and he's like 'Let's Go!' and the bands like 'OK Dave' and I'm like God, why can't I just be like that?  Or Metallica, because they've had their problems but they've worked out their differences, and they go we've got a great things here, we're adults, let's be men.  I think that's all it would take, would be two guys sitting in a room, Slash and Axl, and say let's just talk this out all the way to the end, with somebody else sitting there.  Just fuckin' spill, it might take a month of serious therapy, Mick Jagger and Keith Richards have been through way more shit than those two knuckleheads, I mean and they sit there and they say 'Guess what, we're going to go out on tour next year to keep our 25 bedroom mansions in the south of France' and that's really where it's at with the Stones, they've got lifestyles ha ha ha ha, they've gotta go out again now, they're like 70, geez… Once you become that level, now you've become that level and you've felt that sensation, now keeping that sensation is like a drug.  Slash knows going out on stage is the one thing that keeps him alive, he's the hardest touring guy I've ever seen or Lemmy Kilmister, I'll see Lemmy Kilmister back in LA and he's at the Rainbow Bar and Grill and he's just waiting to go back out, he loves it, it's his life.  I love it too, I'm a little bit different now, it's never going to be comfortable but I want it to be a little bit easier.  To go out and play Rock and Roll, have a good time, Duff McKagan goes out on the road with Loaded, fuckin' stays at the Quality Inn, he doesn't give a shit, but he's always been that guy, I just wanna go play.  Yeah, but he'd rather be on the big stage, headlining the main dressing room ha ha ha ha
I know you've had the chance to work with some Aussie talent, most recently you mentioned you worked on the Syndicate album, what is it you enjoy about working with new bands?
Oh the fire in their eyes, I'll be a bit of a mentor with them too, I always try to feel for kids, and it's such a tough business, now more than ever.  When I see these kids that want it, you just gotta fuckin' do it, you gotta realise that you're chances are, the window of opportunity is about that big (motions a tiny amount with his fingers) and you're gonna have to work harder than you've ever thought you've worked in your entire life and it ain't easy.  People can say whatever they want about any band but getting there and pulling it off that's a whole other story, even Velvet Revolver, we went through hell to get there, we did, and we came from a cache that was pretty big.  We still had to deliver ha ha, but I like working with new bands, I like doing a lot of different projects now and I'm being given the freedom, I'm not like a rich man where I'm lazy, I'm not like, I don't have 'fuck you money' You know what I mean?  I like to work, I like to have that sort of fire in me, so I'm doing different projects, I produced Cherie Currie's album that's coming out next year, for Blackheart and Billy Corgan's on that, The Veronicas from Australia are on it, Brody Dalle, Slash is on it, Duff's on it, a couple of Aussie guys played guitar and bass on it too from a band called 'Mink', Nick Maybury and Grant Fitzpatrick are the rhythm section.  So that's going to come out on Blackheart, and I just produced a band in Brazil called 'Kiara Rocks' So I'm doing a lot more producing, I have my own recording studio.
So what else have you been up to?
I just did an art project called mattsorumart.com it's called canvases of epic rhythm and just put that out as a series, kinda like an interesting collaboration with a bunch of guys, George Clinton and Bootsy Collins, Bootsy did this weird shit with him and more city scapes more photography and I did this light photography where you play drums and you create images, go to mattsorumart.com it's a flash site so you can't go there on your iPad.  So I've got that out and then I'm producing a film called 'Sunset Strip' I'm an executive producer, it's a history of the strip from the 20's and 30's to the present.  Got  a great cast, Johnny Depp's in it, Mickey Rourke, so that's coming out next year, I've got a lot of stuff coming out next year which I'm excited about, it's all sort of been this whole year working up to jumping a whole other barrage.  I finished a series in America called 'Rock Star Fantasy Camp' I played the mentor, I don't know if you saw it for VH1, that was fun, I got offered to do it, at kinda my stage in my career I'm just kinda looking for fun stuff to do and different shit, so I went on there and let me do some TV stuff and see what happens there, and I was kinda vying for The Apprentice which is a big show in America, I just thought I could win that fuckin' thing, I think I'm a pretty smart guy and I was like, fuck, I'll do this.
I did a bunch of weird shit, I did Celebrity Ghost Stories, which I had this really great ghost story, I did Dog Whisperer for my dog, just doing weird stuff and I'm kinda going through a bit of an entrepreneurial stage I'm looking for creative things to do.  I'm coming out with actually a supplement line, of Omega 3 fish oils, swear to God.  I tell you I'm very close friends with Sammy Hagar, to me he's like my mentor, if I just steady Sammy Hagar, the guy lives like a king, he's got beautiful residences all over the world, he's got a place in Cabo on the beach and I'm kinda like looking at the next phase of my life, like passive income, just stuff when you're making money when you're sleeping, kinda like the old days of the record business.  My Mom would say 'Matt why are you still sleeping?' Mom, the record stores open, people are buying my record.  That was the old days, now you're in a band, gotta go on the road to make money, gotta go to work, so I'm coming out with this supplement line called 'Viking Fit' it's the cleanest fish oil from Norway, I'm Norwegian, it'll be out next year.  Omega 3, this is getting so bizarre because I'm like a healthy guy now, like here's Matt talking to me saying 'It's the new drug' it's the best thing you can take in your life, it's best for your heart, your skin, your weight so it's going to be amazing ha ha.  Hey I swear to God this is going to be huge ha ha ha.
Essential Information
From: USA
Website: www.mattsorum.com, www.mattsorumart.com,www.velvetrevolver.com
Event: Hard Rock Cafe – Sydney Grand Opening