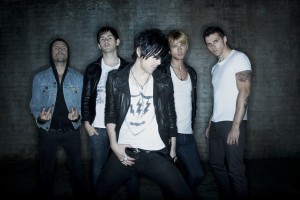 In a career filled with millions of albums sales, sold out stadiums and a slew of awards, ('Best British Band' 'Best Single' and 'Best Album' trophies at the Kerrang! Awards) the LOSTPROPHETS have also managed to craft a space for themselves and created a sound that is essentially their own.
On the back of their brilliant album 'The Betrayed', the LOSTPROPHETS will be bringing their explosive live performance for two exclusive sideshows in Sydney and Melbourne.  "Lostprophets are big and brash and brilliant. And this is rock'n'roll radio." –  NME
There are no signs of the juggernaut slowing down as the LOSTPROPHETS prepare to unleash their 5th studio album in April 2012.
Touted by Kerrang magazine has one of the hottest new bands on the planet, KIDS IN GLASS HOUSES have surpassed all expectations and are firmly cementing their place at the top of the rock world.
Rather than dine out on the safety of previously attained success, KIDS IN GLASS HOUSES are leaning in to the future and daring to become something more. Their meteoric rise is set to continue with the release of their third album 'In Gold Blood' with BBC calling it 'a hook-laden collection of hum-along pop-rockers that's surely destined to peal at the top of the chart'
VERSAEMERGE have been turning heads since their inception. Their debut album 'Fixed At Zero' has propelled them to the forefront of the scene. "It has the charisma to draw in your attention and the substance to keep it as well. Looking for a new obsession? Say hello to VersaEmerge." – Absolute Punk
 TICKETS ON SALE FRIDAY 9th DECEMBER 9AM
TUESDAY 28TH FEBRUARY SYDNEY, THE METRO– LICENSED ALL AGES
www.ticketek.com.au
THURSDAY 1ST MARCH MELBOURNE, BILLBOARD– 18+
www.oztix.com.au
Presented by Soundwave Touring