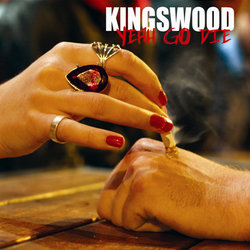 KINGSWOOD is rock'n'roll revival at its finest, or wildest, both onstage and off.
'YEAH GO DIE' combines howling harmonies, suspenseful breaks and a heart-pounding drumbeat that drives the song right through. The untamed, Page influenced riff is accompanied by melodic vocal harmonies that reflect the name KINGSWOOD – a mythical forest utopia where free thought and pure music flows amongst the trees.
The four-piece indie rock band from Melbourne, formed in 2007 when three high school mates and one mutual friend came together.
Best described as stoner indie rock influenced by the greats – Led Zeppelin, Beatles and Stones. They do justice to these legends with their incredible vocal harmonies, explosive front man, incendiary guitarist and white hot rhythm section.
With a clear art for song writing, backed by all four members lending their vocals to the mix, KINGSWOOD provides a refreshing strength to their wholesome Aussie rock shenanigans.
Bassist, Mango – a.k.a. Jeremy Hunter. Was once so hard up for cash he subjected himself to medical experimentation. An expert in bullshit detection.
Drummer Justin "J" Debrincat is at his happiest when simply hitting things. HARD. After numerous arrests and disenchantment with public defenders he got his own law degree. Now he defends himself.
Guitarist Alaska – real name Alex Laska, is a mad VCA professor who bucked the system. This multi instrumentalist was in line to become either a doctor or a conductor but instead got stoned and headed to the kingdom of Indie Rock. There's no turning back now, only up.
Lead Singer Fergus Linacre. Most simply describe his voice as a weapon. Like a wild brumby he is impossible to tame, naturally unpredictable, yet fluid and inspiring to behold. His vocal range is like that of a Ferarri, from idle to sonic boom in a heartbeat. To hear is to believe.
Originally christened as 'The Service', KINGSWOOD have become well known in their home city of Melbourne, for putting beers on tables at The Evelyn, The Tote and The Espy, and supporting the likes of British India, Vasco Era and The Red Coats. See KINGSWOOD in action
  Saturday December 3rd – The Town Hall Hotel Newtown, Sydney
w/ Fangs & Foreign Objects
Saturday December 17th – The Vineyard, St Kilda
 New Years Eve, Saturday 31 December – The Espy, St Kilda