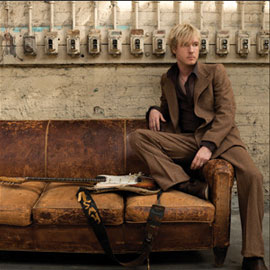 The guitar driven, blues prodigy, KENNY WAYNE SHEPHERD, is coming to Australia. There are few artists whose names are synonymous with one instrument and how it's played in service to an entire genre. This is one such artist.
KENNY WAYNE was given his first guitar at 3 years old, was playing by 7 after meeting Stevie Ray Vaughan and sharing the stage with New Orleans legend Bryan Lee at 13. Utter the phrase "young blues guitarist" within earshot of anyone with even a cursory knowledge of the modern musical vanguard and the first name they are most likely to respond with will be KENNY WAYNE SHEPHERD.
"At this point, most people who know about me know I can play guitar," KENNY WAYNE says. "As far as my approach to guitar on this record, it's not about showing people how much I can play. It's about really choosing the right notes and playing them at the right times so that every note penetrates people, and they feel it inside and it's not just some fleeting thing that just goes right by them."
Praise comes thick and fast for this multi-Grammy nominee who has secured a swag of awards including two Billboard Music Awards, two Blues Music Awards and two Orville H. Gibson Awards. He also holds the record for the longest-running album on the Billboard Blues Charts with 'Trouble Is'. Still barely in his 30s, this Louisiana born axeman and songsmith has been selling albums by the million, shining a light on the rich blues of the past and forging ahead with his own modern twist on a classic sound he has embodied since his teens. His six studio albums (3 of which are platinum-selling), and his seven Top 10 singles including 'Blue on Black' (#1 on the Rock Charts for 17 consecutive weeks), 'Somehow, Somewhere, Someway' and 'Slow Ride', cement his place in the deep heritage of the blues genre.
KENNY WAYNE SHEPHERD'S new album How I Go serves as a strong reminder of the chops that caused Guitar World to place him right behind B.B. King and Eric Clapton on their list of blues guitarists, and it's the strongest indication yet of his gifted songwriting talent.
"The net effect of this kind of talent and effort—is a soulful experience that covers a lot of ground. This album is very much worth the wait." – Joe Coffey PREMIER GUITAR
"I've got a lot of a career left ahead of me and a lot of records left to make," he says. "I'm hoping to be playing music when I'm in my 80's like B.B. King. I've got a lot more songs left in me to write and record. My fans want to hear new music, they want to hear new albums, and then when they hear a new record they want to come out and hear us play that stuff live."
Having toured for nearly 20 years, KENNY WAYNE says "I get up on stage every night to play my heart out and to try to turn people on their ear, man. I want to bring light into people's lives with my music. If I can make people feel good for an hour and a half to two hours and forget about whatever might be stressing them out, then I'm doing my job."
So let's forget the world for a while and relish in KENNY WAYNE SHEPHERD'S unique blues infused rock hitting Sydney & Melbourne this Easter.
4 April 2012
The Corner Hotel, Melbourne
Tickets: www.cornerhotel.com.au
03 9427 9198
5 April 2012
Factory Theatre, Sydney
Tickets: www.factorytheatre.com.au
02 9550 3666