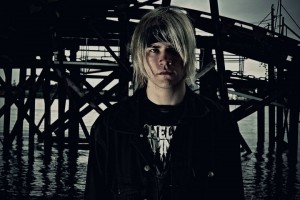 "You know a lot of people have been saying that it's just building on what we've done in the past, it's slightly different but it's not a total departure.  It's just kind of a progression I guess and that's a pretty good feedback for me, that feels pretty good to hear someone say that to me."
From Bio: TOXIC HOLOCAUST mutated into existence in 1999, when Joel Grind merged his love for classic punk and metal into his ideal band. Like his influences – Bathory, Venom, English Dogs, Possessed, Broken Bones – TOXIC HOLOCAUST featured blazing riffs, gravel-throated vocals, and a deadly fixation on the evil in man and a post-apocalyptic world. Grind wrapped all of these elements up with a DIY attitude.
In the tweleve years since forming the band and four studio albums, four EP's and one live album in, the latest release being studio album 'Conjure and Command' this year, all is in full motion for Joel and Toxic Holocaust with no sign of slowing down.
We chatted to Toxic Holocaust master mind Joel Grind about the band, their kick ass album and what fans can expect when they hit town in January to come and play.
The new album has been out for a few months now, what's the reaction been to it?
So far so good man, it seems like the press coverage and the fan reaction has been really good for it.  You know a lot of people have been saying that it's just building on what we've done in the past, it's slightly different but it's not a total departure.  It's just kind of a progression I guess and that's a pretty good feedback for me, that feels pretty good to hear someone say that to me.
This is your first album in 3 years, how did the songs come together for it?
Pretty much similar to the way that past records have, I just sat with my guitar and kind of came up with some songs and demoed them out with a drum machine and then presented them to the band this time as opposed to make my way through them myself ha ha.
What's the meaning behind the title 'Conjure And Command'?
It's basically about Necromancy and conjuring up a life form and commanding them to do your bidding.
The song 'Bitch' or as I call it, the love ballad on the album, was that written about anyone / anything in particular?
ha ha ha ha I was going to say that's the song that everyone thinks is about an ex-girlfriend or something.  No, it's just basically all about the Salem witch trials and stuff and the burning of witched at the stake.
This is your fourth album, but your first to feature the band in the recording studio instead of you previously doing all the parts.  What prompted the decision to do that this time around?
For 'An Overdose Of Death…' we toured for about two and a half years with these guys and the chemistry was just there and we were all pretty much on the same page and it just seemed the right thing to do.  It just flowed so much easier in the studio having a full band, it just made it, you know, it took so much burden off me.  When I was in the studio in the past it was more about getting everything done and making sure that everything is right and it's not really the best way to be in the studio, sometimes when it's good it's just because of the spontaneity.  This time around I actually got to focus more on being creative as to just opposed to hurrying up and finishing the record ha ha.
Did that cause you to look at the recording process differently and allow you to pick up on things you may not have before?
Absolutely, I kind of got to see it from a different perspective and it was good to just step back and instead of just sinking, I got to just listen and that's one of the greatest benefits I've had from working this way.
Was it hard doing it that way for you being so used to your previous methods of recording?  Were you itching to do it all?
No actually again, it was kind of a relief, these guys the drummer and the bass player are much better at their instruments than I ever was at their instruments, so it was never like one of those things where it was I wish I could just do it myself because they were actually doing a better job than what I could do.
As far as influences go, I think the list was as long as my arm which is great and gives a major diversity in the music but if I was to ask you what song / album made you want to be a musician would you be able to tell me?
ha ha, I'd probably say Venom 'Welcome To Hell' was probably the record that kind of made me change from just being a fan to wanting to start a band like this.  I think it's mostly because of the fact that it's pretty raw, it's pretty stripped down and it's not that far away from what someone can do when they're starting out.  It's pretty basic but that's kind of why it's great you know.  That's always kind of been my motto and I've never tried to get too technical with Toxic because of the fact that I remember the feeling the first time I heard 'Welcome To Hell' and I don't want to stray from that too much.
You're currently on tour in Prague I believe, how have the shows been going?
Excellent man, excellent.  We're about four weeks into the tour and we've got about a week and a half left and I can say that all the shows went really good, a lot of them have been sold out and they've been really crazy ha ha a lot of maniacs at that show.  It's good to see that, come over here, we're playing with a band called Kvelertak and they have crazy fans and we have crazy fans and it's kind of pretty cool to see them all kind getting along and all kind of getting off on both bands, cause our styles aren't that similar so it's kinda cool to see that people are in to it.
What's the new material going down like?
Yeah, actually believe it or not for the people that haven't heard us before that's the stuff that's going over the best live.  That's kind of awesome ha ha.  The people that have been with us for a while have their favourites from the old stuff obviously and that's going to be the stuff that they want to hear but for the people that have never heard any of it it's kind of cool to see that the new songs are the ones that are winning them over the most.
Now while you're out on the road, are you constantly writing for a new record or is it something you wait for to get off the road to write?
Unfortunately no, when I'm on the road it's really difficult for me to write, it's usually so chaotic to just get to the shows and when you're at the shows you're just getting your gear ready or changing your guitar strings or warming up or doing whatever, there's not a whole lot of time to write.  So what I do when I'm on tour is I think of a lot of ideas and I'm always thinking of new song ideas and titles and lyrics and stuff like that and what I kind of do when get home is just kind of work it all out when it's quiet and I just get a chance to relax and that's when I write all the stuff.  But I keep in the back of my mind what I want to do when I'm on tour it's just unfortunate that I don't get the chance to write it.
Is that's why it's generally a few years between albums?
Yeah because we tour so much man.
How long are you on the road for this one?
Right now in Europe we're on tour for six and half weeks, we basically just did a month and a half in the US and we came pretty much directly over here to do this, so now we're gonna take a couple of weeks off in December and then fly to see you guys.  Then do that, right when we get back Australia we're going to South East Asia and then from Asia we're going back to the USA to do another tour ha ha it's like a never ending cycle.
As you just said, you're heading to Australia in January for a string of shows, what can fans expect to see?
We're going to play a lot of songs from all of our records, we're not going to do one of those things where the band plays only their new stuff, I kind of hate when bands do that so we're definitely going to be doing stuff from all our records.  It's just going to be intense, it's going to be loud, just aggressive and I hope the crowd feeds on that and gives it back to us, cause we're gonna give it all we got.
You've been here once befofe, what are some of your memories of Australia from that previous visit?
Yeah, I remember drinking a whole lot of beer ha ha actually I remember drinking a whole lot of liquor, mostly beer.  You know I remember the shows being really good, a lot of underground metal heads there, so I'm really looking forward to that and a lot of beautiful girls, so I'm really looking forward to coming back.
Have you found that the Metal fans in Australia differ from those around the world?
To a degree, they definitely differ from the ones in the USA, that's for sure.  Believe it or not in the USA when we play we kind of get more punks than we do metal heads, you know I think Australian metal fans are a bit more in tune with Germany and things like that, super die hard about Metal and really extreme in a way ha ha which is a good thing in my opinion.  Really loud and a lot of head banging and stuff, it's really cool to see it.
Doing this now for over 10 years, what do you personally see has been the biggest change in Toxic Holocaust?
Most of it's been a blur ha ha but hmm, I think my song writing has gotten a lot better and I think my lyric writing has gotten a lot better and I think that's just from doing it for so long and really just knowing what I need to do musically and stuff even before I pick up a guitar I know what direction I want to go in.  Maybe in the past that was the thing I didn't have the best grip on because I was so new at it, I was kind of just winging it really.  Now I have a lot clearer vision, I think that's the biggest change.
What's next after this tour?  Do you think we'll see another album sooner than later?
I think it's going to take a little bit, we got a lot of tour offers coming up and we're going to do some of the festivals in the Summertime in Europe so if there is going to be an album and it's going to be soon it'll probably be around early 2013.
Do you have a message for your Australian fans?
Thanks for the support and I think it's been too long since we've been down there so we're really excited about coming back down.
Essential Information
From: Portland, Oregon USA
Band members: Joel Grind, Phil Gnaast , Nicholas T. Rage
Latest release: Conjure and Command (Relapse Records, Riot! Entertainment)
Website: http://toxicholocaust.bandcamp.com/
Catch Toxic Holocaust when they hit Australia in January