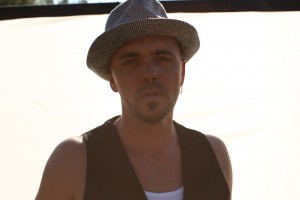 Enigmatic Canadian singer songwriter Hawksley Workman is preparing for his second visit to Australian soil in January next year, leaving behind the depths of a bleak Ontario winter for our sunny summer shores. Landing early in the New Year, his live dates commence in New South Wales on 4th January, and wind up in South Australia ten days later. Delivered from the mythic Muskoka wilderness, the Juno Award winning Workman arrived on the scene just over a decade ago with a fearlessness rooted in an undeniable vocal panache. Around the time of the release of his debut album 'For Him and The Girls', Hawksley published a string of letters in an Ontario newspaper to an imaginary love, Isadora, capturing the imagination of the public and encouraging a devoted fanbase.
Workman's catalogue – including the titles Lover/Fighter, The Delicious Wolves, Treeful of Starling, Between the Beautifuls, Los Manlicious, MEAT, MILK, and the original oneof- a-kind Christmas album Almost a Full Moon – includes pop tunes, country jangles, anthemic rockers, hip-hop dance beats and gut-wrenching ballads. His forthcoming new album 'Full Moon Eleven' is a reimagining of the Christmas album he wrote for his Grandmother while living in Paris 10 years ago, and will be will be available via itunes on November 8. Blessed with unbridled creativity, Hawksley has produced eighteen albums, including those for Juno Nominated artists such as Tegan and Sara, Great Big Sea and Justin Rutledge. His unquenchable thirst for collaboration has driven many songwriting partnerships, from Oscar-winner Marion Cotillard to the iconic Jane Birken, and French legend Johnny Hallyday. As an actor Workman has appeared in films such as Score, Hockey a Musical (he also wrote a portion of the music), Youkali Hotel, and Stormy Weather, and as a performer, he's headlined prestigious venues like Massey Hall in Toronto and The Olympia in Paris, as well as opening for heroes Morrissey, David Bowie and The Cure.
Without doubt one of the most intriguing artists to emerge from Canada, don't miss the opportunity to catch Hawksley Workman live as he tours his new album, 'Full Moon Eleven' in January 2012.
Tickets on sale now – "Full Moon Eleven' released November 8
http://www.hawksleyworkman.com/

HAWKSLEY WORKMAN
Australian Tour 2012
Wednesday 4th January 2012: The Clarendon Guesthouse – Katoomba (NSW)
Tickets: Ph (02) 4782 1322 or www.clarendonguesthouse.com.au
Thursday 5th January 2012: Brass Monkey – Cronulla (NSW)
Tickets: Ph: (02) 9544 3844 or www.brassmonkey.com.au
Friday 6th January 2012: Notes – Newtown (NSW)
Ph: (02) 9557 5111 Tickets: www.noteslive.net.au
Saturday 7th January 2012: X & Y Bar – Brisbane (QLD)
Ph: (07) 3257 1259 www.xandybar.com.au Tickets: www.oztix.com.au
Sunday 8th January 2012: Joe's Waterhole – Eumundi (QLD)
Ph: (07) 5442 8144 or www.musicliveatjoes.com
Thursday 12th January 2012: Caravan Club (VIC)
Tickets: Ph: 0411 569 180 or www.caravanmusic.com.au
Friday 13th January 2012: Northcote Social Club – Northcote (VIC)
Tickets: Ph: (03) 9486 1677 or www.northcotesocialclub.com
Saturday 14th January 2012: Jive – Adelaide (SA)
Tickets: www.jivevenue.com – Ph: 08 8211 6683