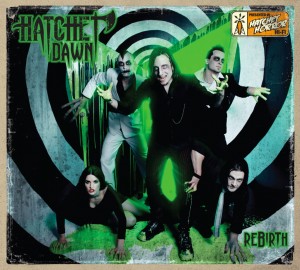 In 25 words or less: Dark, foreboding, moody, haunting and menacing.
Purveyors of their "toxic horror rock" since the band was formed back in 2007, following on from their 2009 EP release Faith In Chaos, Melbourne's Hatchet Dawn now announce their arrival with debut album Rebirth.  Dark, foreboding, moody, haunting and menacing, listening to this album really could be from the soundtrack to your favourite horror flick.  I know that will be said a lot about this album, but I can't help but describe exactly what I hear.  Musically, Hatchet Dawn's brand of metal has more in common with the sounds of the 90's such as Coal Chamber and Korn, than say that of the more upbeat brand of shock rock from the likes of Wednesday 13.
Heard in isolation, the songs have a tendency to have a sameness about them, but with scene setting instrumental pieces interspersed throughout the album such as opening track Toxic Oracle, the 13 track, 41 minute album really is best consumed in it's entirety from start to finish to truly appreciate the intention of the album.  On songs such as first single Dark Symmetry, vocalist Bert Cuzens plays a huge part in setting the scene for each song, with a vocal performance that ranges from guttural growls, through to more haunting vocals that at times have an almost Layne Staley, Alice In Chains feel about them
Hearing the bludgeoning guitar riffs that dominate the album, my mind just can't help but imagine that with each riff, a hatchet hacking away at body parts and there is no better example than Mother Destruction.  Beneath however, there are certainly plenty of little guitar flourishes and interludes to be heard.  Although the album was self produced by guitarist and founding member Howsie Noise, along with bass player Billie-Jade, no expense has been spared in delivering the albums incredibly raw sound with the likes of Grammy Award winning Neil Kernon (Sex Pistols, Queen, Cannibal Corpse, Nile, Hall & Oats & Judas Priest) mixing the album along with the mastering talents of Alan Douches (Sepultura, Misfits, Killswitch Engage, HIM & Mastodon).
Whilst Rebirth is the band's musical statement and one that will surely attract the band some overseas attention, to get the full Hatchet Dawn experience, you also need the visual and theatrical aspect, so if you dig their music, make sure you go see them perform live, or if you can't do that…watch the video clip below!
Check out our interview with Hatchet Dawn right here…
Essential Information
Check it out if you like: Dark, haunting metal
Release date: Out now
Record label: Green Media/MGM
Producer: Howsie Noise & Billie-Jade
Website: www.hatchetdawn.com
Track listing:
1. Toxic Oracle
2. Planet of Terror
3. Dark Symmetry
4. Juggernaut
5. Red Osiris
6. Mother Destruction
7. Necromatra
8. Untold
9. The Catacombs
10. River Snake
11. Burn The Cage
12. Rebirth
13. Death Proof 69