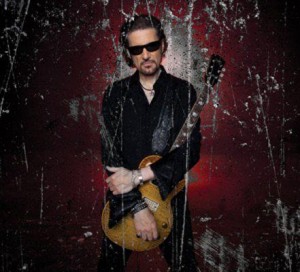 Former Kiss guitarist Bruce Kulick returns to Australia after two years to celebrate his recording career with Kiss 1985-1997
Can you believe that it was 25 years ago in 2012 that Kiss' top 3 single (UK) and biggest anthem since the 70s was released when Crazy, Crazy Nights ruled MTV?
Can you believe that it also 20 years ago since Kiss' drummer Eric Carr passed away (1991) from cancer and Kiss returned with Eric Singer in the drum stool and released its heaviest album since 1982's Creatures of the Night with Revenge or when Kiss went as dark as they ever did with Carnival of Souls in 1997?
It was 1984 when Bruce Kulick made his recording debut with Kiss ghosting on the 1984 smash hit album Animalize, the second album released with out the trade mark make up.  Bruce went on to record 1985's Asylum, 1987's Crazy Nights, 1988's Smashes Thrashes & Hits, 1989's Hot In The Shade, 1992's Revenge, 1993's Alive III, 1996's Unplugged and 1997's Carnival of Souls.
Bruce Kulick remembers the era well and is coming to Australia to blast out some of the classic tracks that made up these multi-platinum selling albums in February 2012.
"Australia was one of the countries that Kiss didn't perform live between 1981 and 1994, there was a 15 year gap between 1980 and 1995 when the band finally made its return.  We have a lot of catching up to do and celebrate the songs from that era – some of which Kiss never played live ever, or only on rare occasions." Bruce said.
After releasing his third solo album in early 2010, BK3, Bruce has remained incredibly busy performing all over the US with the "American Band" Grand Funk Railroad, performing live all over the world solo and with ESP, in addition to his session work and contributions to Kiss' multi-platinum Kissology DVD series.
Bruce's two Australian shows are on sale now from the venues and websites below:
Melbourne – THURSDAY 2 FEBRUARY
The Corner Hotel
Swan Street Richmond
www.cornerhotel.com
Ph 03 9427 9198
Sydney – SATURDAY 4 FEBRUARY
The Factory Theatre
www.factorytheatre.com.au
Ph 02 9550 3666
Official Website:
www.kulick.net