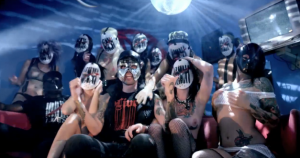 Deuce's music video for his new song, "Let's Get It Crackin'" encompasses all the craziness that can happen within a motel from topless strippers in Halloween masks to a female fight club, all ending in bloodshed. Filmed at Pink Hotel in Los Angeles, directed by Nathan Cox (Marilyn Manson, Linkin Park, Black Veil Brides).
VIDEO: http://bit.ly/deucelgic
Deuce is a songwriter, producer, singer/rapper hailing from Los Angeles, CA. As the co-founder, former lead singer and main songwriter/producer for Hollywood Undead, Deuce emerged as the creative force that led the band to staggering albums sales of their debut, Swan Songs, which also reached #1 on the Alternative, Hard Rock and Rock album charts. Deuce is known for his signature masks and ability to jumpstart any party with his often raunchy and vulgar lyrics. Since his departure with Hollywood Undead in 2010, Deuce has performed in front of thousands at 2011's Epicenter and has been gearing up for the release of Nine Lives.
Buy "Let's Get It Crackin'" on:
iTunes – http://itunes.apple.com/us/album/lets-get-it-crackin/id482436602?i=482436603
Deuce Official Store & Super Deluxe Bundles – http://www.myplaydirect.com/deuce
For more information on Deuce, please visit www.deucela.com.
Like Deuce on Facebook at www.facebook.com/DeuceLA.
Follow Deuce on Twitter at www.twitter.com/#!/Deuce9Lives.
Photo (Credit: David Jackson Photography): https://10thst.box.net/s/ra5b75jkpiza5ye3fhit