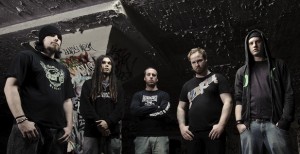 Official bio:
"Formed in 2010, Dawn Heist are a five piece band from Sydney, Australia brandishing their own unique style of metal infused with melodic synth/programming and accompanied with a driving vocal tone that sets the band apart from the norm and creating a definite need for more.
Dawn Heist have recently been in the studio with ARIA nominated producer Greg Stace, fine tuning their already massive sound to create the debut release.  "Dawn Heist are an upcoming force that will not be ignored" Greg Stace.
Dawn Heist have been showcasing their new sound live in the past few months through a extensive list of national tours and supports which include, Terror (USA), The Haunted (SWE) Daysend and Five Star Prison Cell (VIC) at venues such as Factory Theatre, The Manning Bar, Bald Face Stag and the Basement in Canberra.
Signing with management and booking heavyweights The Flaming Arts Agency in January of 2011, Dawn Heist have wasted no time embarking on the bands first overseas tour in March 2011, Dawn Heist have successfully navigated through Indonesia, Singapore and Malaysia setting up a solid fan base throughout the South East Asia region and giving the band a first hand taste of things to come in the near future.
With an undeniable edge and vigorous live show, Dawn Heist have the world at their feet and are certainly an upcoming Australian export to watch closely.
DAWN HEIST'S "Time Wave Zero" available now through the bands Facebook page, Itunes and on order at most Australian CD stores. Order your copies now and get a taste of what's to come from this exhilarating and powerful unit."
** COMPETITION: If you want to win a copy of Dawn Heist's release "Time Wave Zero", simply email us at mtrbwy@maytherockbewithyou.com, along with your name and address! **
Hey guys, thanks for taking the time to do this interview! First things first, Dawn Heist may not yet be familiar to a bunch of our readers, so let's start with the basics first, when did the band first get together and what was the background to choosing Dawn Heist as your band name?
The band has been together since mid 2010. The name Dawn Heist came from a news article about a jewelry heist, it sounded cool and became the working title for the band that just stuck.
In your own words, how would you describe the music of Dawn Heist?
Melodic Metal with rhythmic drive and programming.
Can you introduce each member of the band and give us a rock 'n' roll fact or myth about each?
I will introduce each member of the band you can decide wether the information given is fact or myth
Zee – Bass / Programming – He apparently was an extra in the original Power Rangers movie, we hired him based on that fact alone.
Ellis – Guitar – He used to be the stand in touring guitarist for 90's pop rock sensation Fuel.
James – Percussion – He is a distant relative to Napoleon Bonaparte, which explains him being French and really short.
Lee – Guitar – Claims to have killed more insects by snorting them than Mortein.
Pat – Vocals – Considers himself better than everyone else in the band at their own instrument.
You have twenty seconds in an elevator to try and convince someone to listen to your new CD 'Time Wave Zero', without resorting to threats or violence, what do you tell them?
I would lie and say that the song currently playing in the elevator was off our current release and if they liked it the could buy a copy via the bigcartel website.
Looking back now on the process of writing and recording 'Time Wave Zero' what are some of your most prominent thoughts and memories?
The most enjoyable thing for us when recording is hearing the end result. Once we can sit down and appreciate it as fans, there is always a huge sense of achievement.
You have also just released your video clip for 'Nine Worlds', can you share what you were aiming for as far as the concept for this video?
Our concept was to simply have a great performance clip as the end result. Being our first clip we didnt want to spend too much time on storyboards and concepts. All we wanted to get across was a great sense of what to expect from us live, and 'Nine Worlds' is such a favourite for us to play live that it was easy to enjoy ourselves whilst doing it.
What or who inspires and influences your music the most, in both a lyrical and musical sense?
Lyrically I get inspired by great concepts that are original and engaging. Musically I think it is combination of everyones different influences that bring the Dawn Heist feel to the mix. We all have such varying styles from electro, classical, all the way to modern day metal.
In terms of your song writing, what do you consider to be the most important things that need to feature in a Dawn Heist song?
Programming and rhythms have become a huge part of what we do. They have both become major contributors to what you could describe as the Dawn Heist sound.
If you were a person in the crowd at one of your gigs, what five words would you walk away using to describe the performance you just witnessed?
Energetic, polished, fun, engaging, AWESOME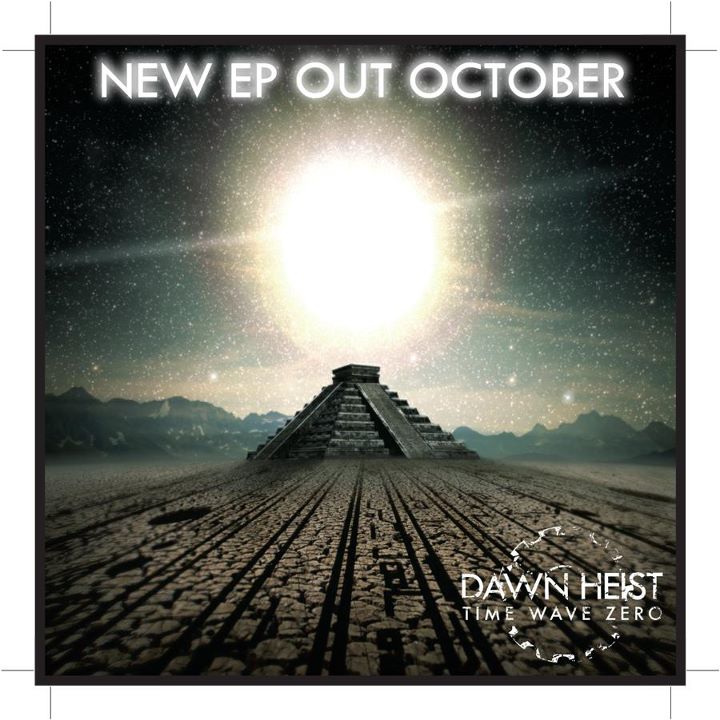 Earlier this year, you toured South East Asia…how did they respond to your music and has there been international interest shown from other parts of the world?
South East Asia was an amazing opportunity to engage an emerging scene for live music in general. Metal has been widely embraced there and the crowds are just insane. We were getting people from the crowd thrown at us while we were on stage playing. It's such an enthusiastic vibe over there at the moment and sharing the stage with Terror was a big bonus. Since the tour there it has opened quite a few doors to other parts of the world once you have that type of touring experience under you belt. It's a great confidence booster.
As far as the style of metal that Dawn Heist plays, what's happening up in Sydney at the moment – is there a thriving scene of similar styled bands?
Not really, I guess on one side of the argument, heavy music is heavy music and there shouldn't be that much of a distinction, but we do more often than not fall into a grey area between hardcore and metal. It can work for and against us at times but I don't see us changing too much about what we are doing on account of that. We are playing music for us at the moment and are quite content with where we are at.
Here's a chance to gaze into your crystal ball. In the next 6 months Dawn Heist will have:
1. Another international tour under our belt.
2. Most of the material for a new release written.
3. A few hospital bills to pay.
** COMPETITION: If you want to win a copy of Dawn Heist's release "Time Wave Zero", simply email us at mtrbwy@maytherockbewithyou.com, along with your name and address! **
Essential Information
From: Sydney, Australia
Sounds like: Melodic metal/progressive metal
Band members: Pat – Vocals, James – Drums, Lee – Guitar, Ellis – Guitar, Zee – Bass
Website: www.facebook.com/dawnheistband
Latest release: Time Wave Zero (2011)