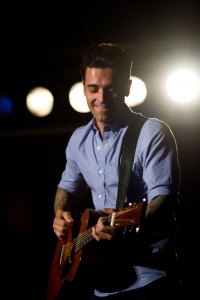 DASHBOARD CONFESSIONAL has cultivated the kind of connection with fans that most songwriters spend a lifetime pursuing. Since the release of their breakthrough debut album 'Swiss Army Romance' Chris Carrabba's fearless honesty has inspired fierce loyalty with his fans whilst inadvertently becoming the soundtrack to an entire generation.
Returning with their 6th studio album 'Alter The Ending' their most confident and optimistic outing to date with billboard.com calling it "A perfectly blended concoction of acoustic melodies, graceful harmonies and powerful anthems". Chris Carrabba will be 2 performing solo shows on the back of his Soundwave Festival appearances.
Forming from the ashes of seminal pop punk band Something Corporate, JACK'S MANNEQUIN have amassed a legion of fans around the globe winning their hearts with introspective and heart felt lyrics.
Weaving intricate guitar parts through piano-laced rock, JACK'S MANNEQUIN have cemented themselves as crowd favourites with their inspiring live performances  "Front man Andrew McMahon knew exactly how to get his fans to that feverish pitch that felt as if it could bring down the whole building." – Rocknroll Ghost
The ability to write unforgettable hooks has catapulted RELIENT K to the top of the pop rock realm. This is evident on the bands full length 'Forget And Not Slow Down' with Absolutepunk.net calling it "Instantly infectious" and Billboard declaring, "This may be the BEST album that Relient K has ever put out, period!"
 TICKETS ON SALE THURSDAY 22ND DECEMBER 9AM AEST
 MONDAY 27TH FEBRUARY SYDNEY, MANNING BAR – 18+
www.ticketek.com.au / www.oztix.com.au
WEDNESDAY 29th FEBRUARY MELBOURNE, PRINCE OF WALES – 18+
www.ticketek.com.au / www.oztix.com.au / www.moshtix.com.au
 Presented by Soundwave Touring