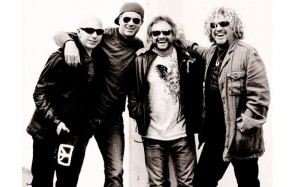 CHICKENFOOT EARNS GRAMMY NOMINATION FOR 3D PACKAGING OF CRITICALLY ACCLAIMED "CHICKENFOOT III" ALBUM FROM eONE MUSIC and earMUSIC/Edel
Chickenfoot Scheduled to Play The Mark & Brian Christmas Show at Los Angeles' Nokia Theatre on December 15th Before  January 2012 European Tour
LOS ANGELES, CA—December 9, 2011—Chickenfoot –the supergroup featuring guitarist Joe Satriani, drummer Chad Smith, former Van Halen bassist Michael Anthony and frontman Sammy Hagar – have earned a GRAMMY nomination for the "Best Recording Package," for the creative 3D design of their recent Chickenfoot III (eOne Music/earMUSIC/Edel) album. The GRAMMY-nominated band plans to return to Los Angeles with touring drummer Kenny Aronoff to perform at the Mark & Brian Christmas Show on December 15th at the Nokia Theatre and will embark on aEuropean tour in January 2012.
Designed by art director Todd Gallopo, Chickenfoot III, features an elaborately designed 3D package with optical illusions and special codes giving fans a fully immersed creative Chickenfoot experience, creating a spectacle with spectacles.  With special "3D optical enhancers," otherwise known as old-skool 3D glasses that come with each package, the cover and inside photos feature artwork that trick the eye by looking through the two different red and blue lenses of the glasses.  Having used a special state-of-the-art 3D camera rig to create the designs, Chickenfoot gives fans a truly multi-dimensional experience throughout the packaging that also offers a 3D photo of each band member with stats and Q&As, QR codes for behind the scenes 3D video content from the photo shoot on smartphones and much more.  A look through the red lens even reveals a very special message on the CD itself.
The band recently wrapped a sold out 2011 Road Test Tour that took them through San Francisco, Los Angeles, St. Louis, Chicago and New York with a stop for a performance on Jimmy Kimmel Live!.  In each city along the tour, Hagar made a donation to a local food bank in a special partnership with Feeding America to encourage fans to do the same to help fight hunger, an important message that he also intended to convey through the music video for "Three And A Half Letters (I Need A Job)."
The first single from Chickenfoot III, "Big Foot," debuted at #1 on the Mediabase Classic Rock Chart holding the position for 11 weeks, earning over 1.85 million listeners, and the album received critical acclaim.  Chickenfoot III features 10 tracks with so many moments of epiphany that one can barely take them all in on first listen.  Colossal, stadium-shaking riffs abound on earth-movers such as "Alright, Alright," "Last Temptation" and "Lighten Up." Tradition meets innovation on the Nashville pop-tinged "Different Devil," the Delta-blues flavored "Something Going Wrong" and the aching rock ballad "Come Closer."  Chickenfoot III debuted at #9 on the Billboard Top 100 and follows the band's 2009 debut album, which debuted at #3 on the Billboard Top 100 and was certified gold for sales over 500,000 units by the Recording Industry Association of America.
Special video releases, announcements and tour dates can be found at the band's webpage  as well as their podcast, YouTube, Facebook and Google+ pages.