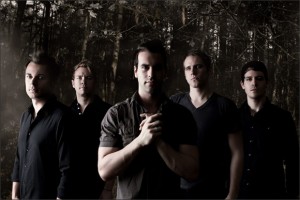 "You'll hopefully hear everything played well and like it is on the record rather that thinking who the hell is this, is this some terrible Conditions cover band!  You will probably see me, Brandon, fall off the stage, throw a mic or two, punch the air a lot.  You'll see Alex throw his guitar down, who knows…we have a very energetic and entertaining show."
Releasing their full length album Fluorescent Youth in September 2010, the Virginia, USA based Conditions have toured relentlessly since to establish their brand of hook laden rock infused with a hefty dose of heart felt, pop.  They have shared stages in the US and Europe with the likes of Paramore, New Found Glory, Red Jumpsuit Apparatus, and Good Charlotte and had appearances such as the Vans Warped Tour, Taste of Chaos, Bamboozle Festival, and SXSW Music Conference.
Now it's Australia's turn when Conditions venture here in 2012 to play Soundwave Festival.  Fresh from some writing sessions for the new album, we got a double dose with this interview featuring both lead singer Brandon Roundtree and guitarist Alex Howard.
Hey guys, thanks for taking the time to chat today!  So where in the world do we find you right now, are you guys off tour and enjoying some rest time?
We are at home which is Richmond, Virginia and been writing a little bit actually.
Early next year, you are headed out to Australia for the first time for Soundwave Festival, you guys must be pretty pumped?
We are extremely excited, we can't wait to play a little music and do a bunch of touristy stuff.
So when you say touristy stuff, what in particular have you got high on your list to check out?
Man, where do we even start.  Definitely want to go to the place where all my friends go to and get to pat koalas and wombats…but I want to go a step further and dive at the Great Barrier Reef!
During 2011, you have played something like over 150 shows I think I read, that's a lot of time spent in a van, but how do you think you are going to go spending 15 or so hours in a plane to get to Australia?
Haha that will definitely be a change of pace for us, it's definitely a lot different to what we are used to.  We've always wanted to come to Australia and for that matter anywhere out of our country.  It seems like through the internet and the likes of Facebook we've had a bit of love coming from Australia for a while now and people saying "come down and play in Australia.".  In our heads, we were like it's never going to happen and now it actually is.  So it's very exciting to actually be happening.
Have you toured much outside of the USA yet?
We did the UK back in 2008, but we haven't been back since so Australia will be the only other overseas thing we have done.  Otherwise it's only been the US and Canada.
Getting the opportunity to chat to a bunch of the Soundwave Festival bands, a common theme is usually that they are looking forward to hanging out with a bunch of their friends in other bands.  So I am sure you guys have a bunch of bands on the lineup you have toured with before?
Yes definitely.  We've done a ton of touring with VersaEmerge so it will be fun to hang with them down there.  When we were in the UK we played with You Me At Six and also got to hang out with them a bit when they were doing their last record in Los Angeles.  There's definitely a bunch of other bands I'm excited to watch as much as I can.
How do you guys go playing these larger festival type lineups versus a smaller club show, do you guys have a preference?
We're definitely happy to play anywhere and we'll take whatever we can get as we believe so much in what we are doing.  But if I had to say an honest personal preference I would definitely say I prefer the small, packed out club shows as I love feeding off that energy and sharing sweat with everyone haha!
Festivals have their place as well though, as at club shows people are coming along knowing who we are and to specifically see us which is obviously great.  But at festivals there is still an element of that, but you've also got the people passing by who might stop and listen and gives us a chance to expand our fanbase.  It's a buzz to get someone come up and say, "I'd never heard of you guys before.  I was walking by and liked what I heard and am glad that I saw you".  It's great to have that opportunity.
Given we haven't seen you out here in Australia before, how would you describe yourselves as a live band?
We do pride ourselves on the fact we've been told that we sound like the record so that's a good jumping point.  You'll hopefully hear everything played well and like it is on the record rather that thinking who the hell is this, is this some terrible Conditions cover band!
You will probably see me, Brandon, fall off the stage, throw a mic or two, punch the air a lot.  You'll see Alex throw his guitar down, who knows…we have a very energetic and entertaining show.
As far as the influence on your live performances, do you each have any specific memories of live performances you have personally seen, or bands in general, who are major sources of influence when it comes to performing?
My first concert ever was when I was about 11 years old and saw the Foo Fighters play, so that was the first ever live experience.  It was in Virginia and that is where Dave Grohl is originally from.  He's playing there too family and his Mum was there too, it was such an amazing show.  After that I was like I just need to play in a band.
Every time I see Jimmy Eat World play I get goose bumps, Circa Survive is incredible alive and Brand New I've seen a few times now.  I've seen them at every stage of their career way back on their first record when they were hardly known and they even. blew me away, way back then.  I saw them recently and they still blow me away.
How diverse are the musical influences within the band from band member to band member?
Well they certainly cover a wide range.  Our drummer for example likes stuff such as Dave Matthews Band, just because he idolizes that drummer.  Our bass player is the metal and hardcore guy, the really intense angry stuff.  Both of our guitar players have similar musical upbringings if you will, with the pop, punk stuff and then I'm (Brandon) the weirdo where my first record was a Seal album, but I generally like darker, moodier, introspective stuff, Radiohead is my favourite band of all time.
It's been a while now since your last album Fluorescent Youth has been out and you mentioned earlier about having been busy writing songs, so where are things at exactly with a new album?
I think we are planning on recording when we get back from the Australia tour.  We will probably record the album around April, but yeah we've been writing a fair bit.  As of right now we have about five fully complete songs that are kind of contenders for the album, but we plan to write up until we head to Australia.  So we hope to expand that five to about 15 songs so we are really prepared when it comes time to record.
What were some of the key learning's from the experience of writing and recording that first album and what are you looking to deliver with the new one?
Well with that first album, we were kind of like lets do the best record we can to get a foot in the door and listening back to it, sure we love it and are proud of it, but it's kind of almost monotonous musically.  This time around we want to be a lot more experimental, varied and diverse, so we are conscious of writing this record to be more of a bouquet rather than a one trick pony!
Just before we finish up, has there been any talk yet of you guys playing any sideshows whilst you are out there?
I think there might be a chance we might get to do a couple and I really hope we do as we would love to get as much chance whilst we are down there.  No confirmation yet, but we hope so!
Well guys, thanks for chatting, have a great tour here in Australia and hope that Great Barrier Reef dive happens!
Thankyou, see you down under soon!
Essential Information
From: USA
Band members: Brandon Roundtree – Vocals, Jason Marshall – Guitar, Alex Howard – Guitar, Ryan Tinsley – Drums, Corey Thomas – Bass
Latest Release: Fluorescent Youth (2010, Good Fight Music/Riot! Entertainment)
Website: www.facebook.com/conditionsband
SOUNDWAVE FESTIVAL VENUES AND DATES
SATURDAY 25 FEBRUARY – BRISBANE, RNA SHOWGROUNDS
SUNDAY 26 – FEBRUARY SYDNEY, SHOWGROUND
FRIDAY 2 – MARCH MELBOURNE, SHOWGROUNDS ***SOLD OUT***
SATURDAY 3 – MARCH ADELAIDE, BONYTHON PARK
MONDAY 5 – MARCH PERTH, CLAREMONT SHOWGROUNDS