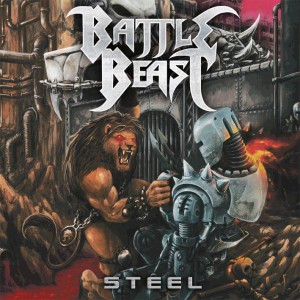 Official Bio: "BATTLE BEAST were born in the year 2008 in Helsinki, Finland in order to represent the traditional Heavy Metal sound – bringing you high screams, old school riffs and strong choruses. In a nutshell: power!
In May 2010, BATTLE BEAST had the big opportunity to support ex-Iron Maiden singer BLAZE BAYLEY as they were performing in Finland during the "Promise and Terror"- tour. BATTLE BEAST played in 4 of 5 shows with another Metal band called MERGING FLARE on Blaze's tour in Finland and received nothing but positive feedback. Later that year the band attended the W:O:A Metal Battle in their home country and won the national contest, which enabled them to perform at the Wacken Open Air in Germany and represent Finland in the international Metal Battle finals. Battling 26 other bands from all around the world, BATTLE BEAST emerged victorious. Not only this splendid victory but also the honoring as "Radio Rock Star 2010" in August of 2010 by Finland's leading rock radio channel "Radio Rock" played a part in contributing to the ever-growing interest in the band on behalf of various renowned record labels.
In November 2011, BATTLE BEAST jumped at the opportunity to sign a record deal with Nuclear Blast so that their previously self-released debut album "Steel" – which has only been purchasable in Finland so far – will be made available worldwide in January 2012. Furthermore, the sextet will support their label mates NIGHTWISH on the upcoming European part of their big world tour – check out http://bit.ly/syXgb9 for the dates!
The journey has just begun…"
Check out our interview below with guitarist Anton Kabanen…
Hey Battle Beast, thanks for taking the time to do this interview! First things first, Battle Beast may not yet be familiar to a bunch of our readers, so let's start with the basics first, when did the band first get together and what was the background to choosing Battle Beast as your band name?
Hey! BATTLE BEAST was officially founded in 2008, although me, Pyry and Juuso were playing together already for quite a long time before that.  Nitte and Eero joined the band in 2008 and after a few keyboardist changes, Janne joined the band as well in 2009.  I wanted a name that is strong and catchy, like the songs we play, so I came up with BATTLE BEAST.
In your own words, how would you describe the music of Battle Beast?
Heavy Metal. Simple, powerful, catchy and melodic.  There are screaming vocals, blistering guitar solos and straightforward riffs.
Can you introduce each member of the band and give us a rock 'n' roll fact or myth about each?
BATTLE BEAST are Nitte Valo (lead vocals) who by the way isn't related to Ville Valo, Juuso Soinio (guitar), the tallest guitarist I know, Pyry Vikki (drums) who demolishes more drumsticks than anyone else in the world because he is the hardest hitting drummer, Eero Sipilä (bass and backing vocals), the secret son of Steve Harris, Janne Björkroth (keyboards and backing vocals) the producer genius and then there's me, Anton Kabanen (guitar, lead- and backing vocals), the songwriter guy with a split personality.
Your album "Steel" shall be released early next year on Nuclear Blast and the song Enter The Metal World has already been released, is that a good indication of what we can expect from your album?
Yes. The album is overall full of straight forward Heavy Metal songs.  Some of them are slower, some faster.  Plus there will be a bonus track, Stay Black, on the worldwide release.  It's actually a demo song that ended up on the album.
You have released a video clip for Enter The Metal World, can you share what you were aiming for as far as the concept for this video?
There's a whole story behind that song but the video clip story is somewhat different compared to the original storyline of the song.  We wanted to have cyberpunk elements on the video so that's why there is a lot of scrap iron lying around and a cyborg scientist who is a slave to the yet unknown machine overlords, creating an army of terminators against his own will.  But the lyrical content of the song reveals a different story:  The main protagonist, The Beast, enters a world dominated by machines where he relentlessly fights terminators, monsters and artificial intelligence for his own survival, while seeking a mysterious woman he's so obsessed with.
What or who inspires and influences your music the most, in both a lyrical and musical sense?
There are too many sources where the inspiration comes from.  But in general I enjoy cyberpunk related movies, literature and pictures.  William Gibson's novel "Neuromancer" has had a big influence on me as well as James Cameron's movie "The Terminator".  Then there's also the Japanese dark fantasy manga and anime series called "Berserk", by Kentarou Miura.  A couple of the album's songs are based purely on that series.  Many older action and sci-fi movies inspire me. Flicks with Van Damme, Bruce Lee, Rutger Hauer, Christopher Lambert, Schwarzenegger, Stallone. etc… When it comes to bands the most inspiring definitely are Judas Priest, Manowar, Accept, W.A.S.P., and Black Sabbath (the Tony Martin era). And in case if someone wonders, I'm usually the one who's responsible for all the songwriting in the band.
In terms of your song writing, what do you consider to be the most important things that need to feature in a Battle Beast song?
Simplicity. Which means things like repetitive rhythmic elements, catchy melody lines and straight forward guitar riffs. And it's important to have powerful vocal parts as well when making a Heavy Metal song.
Earlier this year you played at the Wacken Open Air Festival, arguably the biggest heavy metal festival in the world. Can you tell us about that experience?
It was the second time we played there and it was great of course! Too bad we got to play only 25 minutes because we were just starting to warm up just before our show ended. No matter.  The audience truly seemed to enjoy our show and we won many new fans during that gig.  All in all, a great festival that every metal head should experience at least once in a life!
If you were a person in the crowd at one of your gigs, what five words would you walk away using to describe the performance you just witnessed?
Loud and powerful, like thunder!
What kind of movie soundtrack do you think your music would be best suited to?
A sci-fi action movie soundtrack.
Finland is certainly a big country for METAL. As far as the style of metal that Battle Beast plays, what's happening over in your part of the country, Helsinki at the moment – is there a thriving scene of similar styled bands that you guys might call your peers?
Actually most of the metal bands here play very different kind of music compared to our style.  But there are cool bands here like Brymir who play symphonic and epic metal.  We already are in close contact with them because we share the same rehearsal room and we help out each other when possible.
Here's a chance to gaze into your crystal ball. In the next 6 months Battle Beast will have:
1. Toured the world with Nightwish.
2. Started the recording sessions for the second album.
3. Had visitors from outer space.
Essential Information
From: Finland
Sounds like: Heavy Metal
Band members: Nitte Valo – Vocals, Anton Kabanen – Gutiars, Pyry Vikki – Drums, Juuso Soinio – Guitars, Eero Sipilä – Bass, Janne Björkroth – Keys
Website: www.battlebeast.fi
Latest release: Steel (27 Jan 2012, Nuclear Blast/Riot! Entertainment)